Stockport film and TV studios opens with eco-responsibility in star billing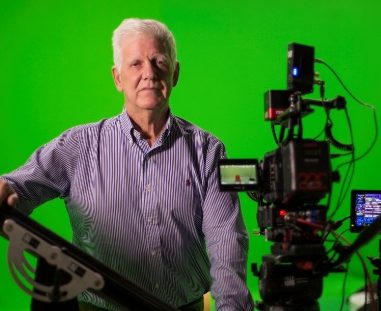 X

Register for free to receive latest news stories direct to your inbox
Register
Carbon neutral independent film and TV production facility, The Vectar Project, has launched two new state-of-the-art virtual studios at its base in Heaton Mersey, Stockport.
Virtual production pioneer The Vectar Project is the first independent and self-funded studio to bring this game-changing film and television production technology to the North West, offering a vital service for commercial use, film and television production and even live events, such as virtual conferences, which will be available and accessible to producers of all sizes.
The newly-refurbished studios offer real time virtual production, which combines live action footage and CGI or photo real backgrounds in real time, using green screen, Hi Definition LED screens or XR stages.
The studios also fulfill the future-focused Vectar Project's ambition to offer no-energy filming, delivered not only by its real-time virtual sets, but by further green enhancements such as LED lighting powered by the sun, paperless production and virtual attendance for producers.
Producers using this technology no longer need to add visual effects in post-production, as they can be worked on and developed throughout pre-production, it also reduces the need for set building and worldwide travel, especially when not possible or affordable.
The Vectar Project launched in 2019, and was born out of 'Z Film Studios', which has been part of the North West TV and film production industry for the past 25 years.
So far the Vectar Project has worked with BBC, ITV, Netflix, Universal, Amazon Prime and has helped to delivered content for TV shows including Big Talk Productions' Cold Feet, Saffron Cherry's 'The World According to Grandpa', films including Genesius Pictures' Mrs Lowry & Son, featuring Timothy Spall and Vanessa Redgrave, and commercials for brands including Lenor and Dreams, plus many other projects yet to be announced.
To ensure the new technology is accessible to emerging talent, and to support diversity in the industry, The Vectar Project is launching Green Days, a new initiative for small productions, offering free pre-production support and studio access for selected projects, to help them realise their ambitions.
Preference will be given to films focused on climate change, and a dedication to saving the planet's resources and upholding green policy will be essential to be selected.
Managing director of The Vectar Project, Tom Henderson, said: "The film industry has done so much to create awareness of the damage we are all doing to our planet, but it is often as guilty as anyone of wasting resources. The pandemic has forced us to rethink the ways we do things and the Vectar Project is adopting methods to help productions to specifically address these issues."
He added: "Remote frame accurate, real time monitoring of films on our stages is a viable alternative to global travel.
"Building reusable virtual sets and digital location backdrops for use in greenscreen and LED XR studios is a viable alternative to building and scrapping sets and working on outdoor locations.
"It does require rethinking the production approach, however, climate destruction leaves us no choice. We can only change the world if we change our own world first. I truly hope at The Vectar Project we can be part of the solution."