Training providers invests in facility to train HGV engineers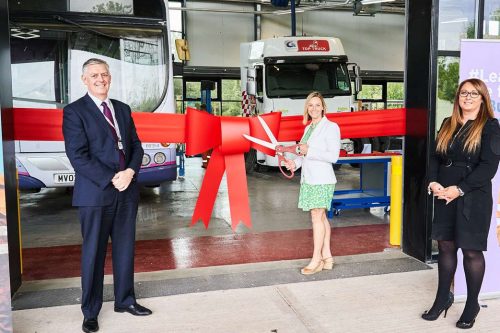 North West apprenticeship training provider, Total People, is set to create a hub for bus, coach and Heavy Goods Vehicle (HGV) engineering apprenticeships thanks to £750,000 investment.
The funding from its parent company, LTE Group, will support its south Manchester training facilities.
Based at the rear of the campus, the facility, has been redesigned to meet the specific needs of the HGV curriculum.
The investment includes the the installation of large roller shutter doors to accommodate large HGV vehicles, a brand new mezzanine area for classroom based learning, new mechanical and electrical services installations which provide specialist ventilation, lighting, power and data.
In addition, learners can refine their industry-standard engineering skills on a Dennis Dart ADL model vehicle which has been donated by one of Total People's employer partners, First Bus.
Not only will the new facility support current apprentices and employers but it will also provide higher vocational training for learners across LTE Group and in time, support new skills in green vehicle and electric vehicle technologies.
Helping to officially launch the hub was former racing driver and TV favourite Vicki Butler-Henderson who visited the newly refurbished facilities and dedicated logistics bay.
The Fifth Gear and former Top Gear presenter toured the workshop and classroom spaces, before meeting Total People apprentices and learning all about their industry focused training and skills.
The redevelopment is part of the LTE Group's £140m Estates Strategy, which is set to transform the city's education provision.
The strategy includes the building of a brand new Manchester city centre campus for Total People's further education partner, The Manchester College, and higher education provider, UCEN Manchester.
John Thornhill, LTE Group chief executive, said: "The official launch of the latest stage of our Group's ongoing investment in training and skills across Greater Manchester is a fantastic achievement.
"As a Group, we're proud to be supporting Total People's vision to become an industry-recognised leading provider of Bus, Coach and HGV engineering programmes both regionally and nationally.
"This facility will not only support trainees and employers of today but will develop in line with the growing electric and green vehicle technologies."