Shoe maker investing in staff after emerging from restructuring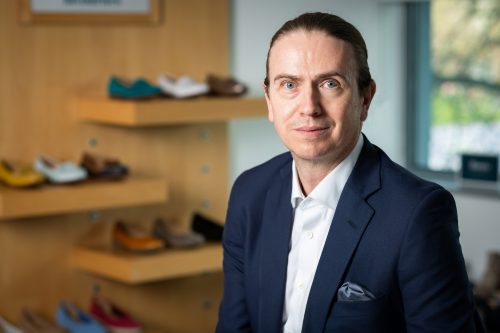 Skelmersdale-based shoe manufacturer Hotter Shoes has launched its biggest people development programme.
The UK's biggest shoe manufacturer aims to upskill its teams across several specialisms, enabling the business to respond quickly to customer orders.
The firm, which was forced to axe 59 stores and hundreds of jobs in a restructuring last year, has recently recruited around 40 head office staff, and, as one of the largest employers in Skelmersdale, now employs more than 330 staff in its HQ.
It saw its online sales rise in 2020, despite economic turbulence, and is on course for 31% growth in 2021.
Hotter has committed to significant investment in leadership and technical career development schemes for its teams across departments, including manufacturing, customer service, distribution and engineering.
Operations director, Paul Harnetty, joined the business last year and has since outlined a vision to implement an extensive training and skills programme to invest in the firm's shop floor staff.
This includes training staff across the firm's manufacturing, finishing and distribution sections to be multi-skilled in each area, supporting them to achieve new qualifications and enabling them to rotate through areas of the manufacturing processes.
Harnetty said: "We're an exciting, people driven and dynamic business with a fantastic team of specialists manufacturing high quality products. I'm thrilled that we have launched Hotter's biggest people development programme yet, encouraging people to complete a range of qualifications and helping to maintain our ethos of exuding optimism and positive attitude as we invest in our teams."
He added: "It's all part of our focus of instilling a culture which promotes staff engagement and motivates people to be the drivers of business change, as well as invest in future leaders."
Management training programme, 'Stepping Forward', which covers 14 subjects for 21 supervisors and team leaders, was kick-started earlier this year and runs until August. Hotter has also opened up 'value-add' training programmes for staff to enrol on, with courses including forklift driving, first aid, IT and leather/shoe quality.
Additionally, Hotter has enrolled nine members of its team onto the globally-registered Lean Management course, a continuous improvement qualification which will empower those qualified to take the firm's future operational changes forward and train colleagues in its concepts.
Ian Watson, Hotter Shoes chief executive, said: "There's no doubt that our teams do an incredible job – manufacturing 1.3m shoes a year is no small feat.
"They're the experts in their disciplines and we're pleased to be equipping them with leadership and new technical knowledge alongside this, bolstering their career development and allowing us to become a thoroughly agile business.
"As a major employer in Skelmersdale, I'm proud we're rolling out a wide-ranging training programme which invests in people in the local community, future-proofing their valuable shoe manufacturing skills as well as the Hotter factory for years to come."
The Hotter brand serves more than four million customers in the UK and overseas.
It has undergone a major digital transformation in the past year in response to the COVID-19 pandemic and is on course to achieve further growth in 2021 and beyond. Its factory in Skelmersdale is crucial to its success as it looks to become a more agile business which invests in the skills of tomorrow.