People: Addleshaw Goddard; Anwyl Partnerships; Black Opal Travel Group; Jefferies Solicitors; Powell Williams; GM Local Enterprise Partnership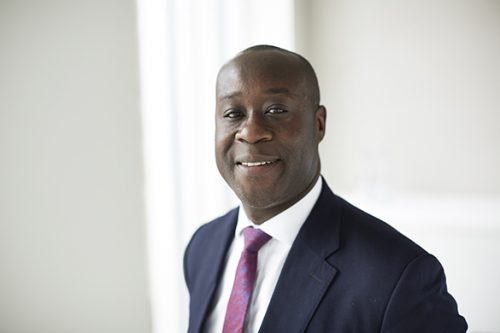 Global law firm Addleshaw Goddard has appointed a new head for its Manchester office.
Harold Brako, head of finance litigation for the firm in Manchester, has taken over from Mike O'Connor as head of office following the expiry of Mike's three-year term in office. Harold will assume leadership of Addleshaw Goddard's operations in the city.
As an experienced litigator, Harold is singled out by his clients as "very solutions driven" and "unflappable" and consistently highlighted as a top tier lawyer in the main legal directories. He provides advice to a wide range of finance sector businesses and banks in both the North West and internationally.
Harold has played a key role in the North West legal community throughout his career, having joined Addleshaw Goddard in 2017 from Shoosmiths, where he founded and headed up its Manchester office. He will combine his new leadership responsibilities with his litigation work.
Harold said: "I am honoured and immensely proud to be taking on this role, not least as a visible role model for diversity and inclusion. I look forward to helping drive Addleshaw Goddard's ambitions in the local market as well as working closely with the wider Manchester business community."
John Joyce, Addleshaw Goddard's managing partner, said: "Harold is one of our most prolific and well-connected partners, and his profile in the region and past experience made him an obvious choice to lead our office and continue to build upon Mike's past work.
"Mike has our sincere thanks for all of his hard work over the past three years, the last of which has had some very unusual challenges, and the enthusiasm, ideas, and good humour that he has bought to the role."
Over the past 12 months, the firm has made a number of significant investments in its Manchester office, reaffirming its commitment to the North West legal community, including the recruitment of Mike Burns to lead its employment team from Eversheds Sutherland, and the appointment of Samantha Haigh and George Danczak to partner in its most recent round of promotions.
::
Mike Nevitt has been appointed as managing director of Anwyl Partnerships. The established industry figure will take over the reins from Tom Anwyl, who continues in a group director role.
Mike is now in place and will assume full operational control of the Partnerships business. He said: "Anwyl Partnerships has a proud history and is a brand that is synonymous with quality, trust and guaranteed delivery. For me, this role is not only a great opportunity, but a huge challenge within a fantastic and thriving business.
"The business has, without doubt, carved a solid reputation within the affordable/social housing and extra care sector in the North West and North Wales, and it is these solid foundations on which we aim to grow the company further still."
A bricklayer by trade, Mike has travelled through the industry ranks, working at senior levels with BAM and Pochin, prior to assuming board director roles at both Bardsley Construction and Mulbury Homes.
Tom Anwyl said: "Mike is the perfect person to take on this role. As the business evolves, it's important that we, as individuals, evolve with it, and that includes myself. Mike will bring a new perspective and vision, with fresh ideas and energy.
"Now is a very exciting time for Anwyl Partnerships. We have our strongest ever order book, a sound financial infrastructure, a brilliant team and supply chain. We now look forward to the next chapter with Mike helping steer us ahead."
::
Hale-based Black Opal Travel Group has welcomed senior travel consultants Keri Gee and Louise Vernon.
Established in 2019, family-run Black Opal said it not only managed to weather pandemic storm, but move into its new premises.
Managing director Jamie Smith said: "With the world tentatively opening up again, we're in great shape to work with new clients, our new home in Hale is a big part of that."
Regarding the new appointments, he added: "They both have a wealth of knowledge and experience, having worked locally in the sector for years. No doubt they will be familiar faces to some locals."
Keri and Louise both joined the team from another Hale travel agency, Omega Travel, when the business closed last year.
Black Opal Travel Group's move marks the return of a travel company in Hale. It said the opening of the travel lounge on Ashley Road is a welcome addition to the high street, which suffered several closures last year.
Jamie added: "We are a one-stop shop for all things luxury travel.
"Being a small, family-owned business meant that we could be more resilient and adaptable during lockdown. We also used the time to secure our ATOL and ABTA statuses directly so we can offer clients the utmost security."
::
Growing personal injury firm Jefferies Solicitors, based in Altrincham, has had a new solicitor and a new paralegal join its growing firm this May.
Gillian Chapman has worked as a personal injury lawyer for more than 20 years, having qualified as a fellow of the Institute of Legal Executives.
Gillian worked for a well-known trade union law firm pursuing workplace accidents, public liability and civil assault cases and ran the Court of Appeal case in Gibbon vs Manchester CC defining the law on Part 36.
She said: "I am looking forward to working with the highly regarded personal injury team at Jefferies Solicitors who share my passion for fighting for the right compensation for accident victims."
Lydia Parrington joins the firm's expanding catastrophic injury team as a paralegal.
She graduated from the University of Manchester with a first-class LLB Law in August 2019, and has worked as a catastrophic injury paralegal ever since.
She said 'I'm really looking forward to progressing my career in catastrophic personal injury with Jefferies Solicitors."
::
Chester building consultancy Powell Williams has made three senior appointments across the business.
Alex Gould has been appointed partner in the London office, while the Chester team has welcomed associate partner and senior principal designer John Rutter, and senior surveyor Matthew Bielby.
Powell Williams has seen activity increase over the past 12 months, with a significant volume of dilapidations and project management work seeing the team assisting both tenants and landlords in responding to the changing conditions created by the pandemic. This, alongside the upturn in transactional work expected, has resulted in a firm-wide recruitment drive.
Health and safety expert John Rutter will provide principal design to clients right across the UK, proving a standalone service and supporting project management and development monitoring instructions. Latterly PD lead at Safety For Design, John has an impressive portfolio of construction project experience within CDM and construction health and safety.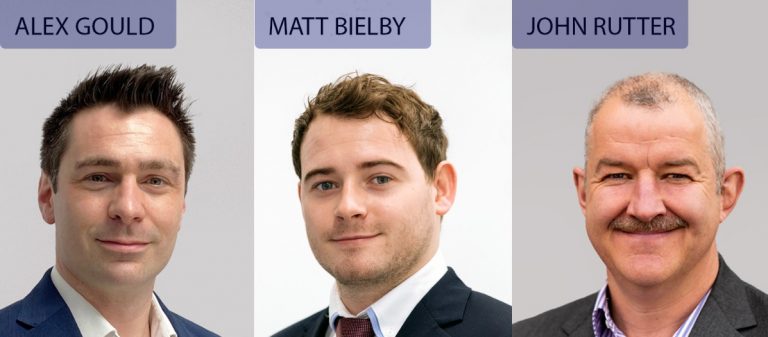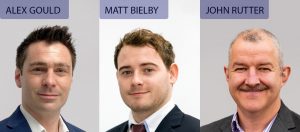 Matthew Bielby, who trained at Cushman & Wakefield and joins Powell Williams from Faithful+Gould, will continue to build on his expertise of supporting clients across all sectors with contract administration, dilapidations, defect diagnosis and planned maintenance advice.
Founding partner, Andy Williams, said the business model has fared well during the pandemic, thanks, in part, to the firm's partner-led structure and collegiate ethos.
"We have focused on being adaptive to the challenges wrought by COVID, on effective communication, quality and delivery of services, which have served to create new opportunities and build on long-term client relationships," he said.
"Our existing business model and the commitment of our team enabled us to adapt quickly to the new ways of working with no interruption to client service, and take on instructions from new clients who needed immediate strategic support for their short-term property requirements. We will retain many of these going forward and, with expected growth in work from our existing clients, have sought to increase our head count across our national network of offices."
He added: "Recruitment within our sector is fiercely competitive and it is, therefore, all the more satisfying to attract such high quality candidates as Alex, John and Matthew, skilled and motivated individuals who are enthused by the work we are doing here."
Founded in Chester in 1990, Powell Williams has offices in London, Birmingham, and Leeds. Clients include the BP Pension Fund, Standard Life, Cube Real Estate, AEW Europe and Aviva.
::
The Greater Manchester Local Enterprise Partnership (GM LEP) has welcomed the appointment of an export manager to help small and medium-sized enterprises (SMEs) in the city region make the most of opportunities to do business abroad.
Christos Kottis has joined the Department of International Trade (DIT) North West as export manager for Greater Manchester. Kottis will be part of the DIT North West team at the Growth Company, a strategic partner to DIT which delivers international trade services to companies across the North West.
With 25 years of experience working for SMEs as well as larger businesses, Kottis's international trade expertise has been gained across various industry sectors.
His role will involve engaging with SMEs across Greater Manchester to promote the opportunities on offer to both existing and new exporters to maximise their international trade volume, in line with the Government's vision for Global Britain.
The value of goods and services exported from Greater Manchester is an estimated £15bn per annum, with the potential to increase further, creating sustainable growth and quality jobs for the city region.
Mike Blackburn, GM LEP board member, said: "It is great news that the Government has invested in growing international trade opportunities for Greater Manchester businesses. This is another example of local partners working with national government to the benefit of businesses in our city region.
"As a region we have done amazingly well to attract investment from across the world, and the next step in our Greater Manchester International Strategy will be to increase our levels of exports globally. We welcome the appointment of a dedicated export manager for our city region and Christos will have our full support in his new role."
Christos Kottis said: "I am delighted to be part of this exciting project with DIT North West and the Growth Company.
"Working closely with the Greater Manchester Combined Authority (GMCA), the GM LEP and other strategic partners, we are putting together an ambitious export plan to complement the new Greater Manchester International Strategy beyond 2021, taking advantage of our strategic enablers like decarbonisation, digital connectivity and city region diplomacy."