People: Mulbury; Prospect Homes; Foursquare Group; Bridging Finance Solutions; Endless; HCRG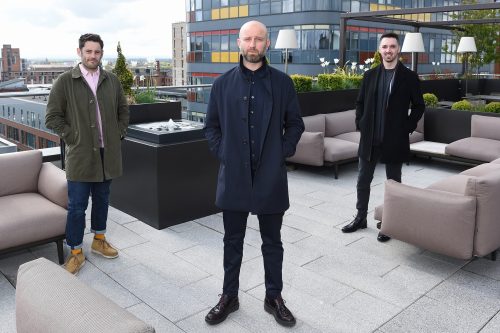 Mulbury has bolstered its city centre development expertise with the appointment of two new development managers.
The company has appointed Jamie Sutton as development manager, while Adam Turner joins as assistant development manager.
Jamie, who lives in Knutsford, joins from RLB where he worked for five years as an associate delivering residential and commercial schemes worth up to £30m, including working alongside Mulbury on its Excelsior Works development of 108 luxury apartments in Castlefield, which completed in 2020.
He will help to deliver the recently approved Oldham Road and Bendix Street apartment developments in Manchester's New Cross district which, between them, will deliver more than 300 apartments.
Mulbury, which has offices in Lymm and Manchester, is now on site at Oldham Road having agreed a £32m forward funding deal with Cheyne Capital in January.
Meanwhile Adam will manage a third New Cross development, the 73 apartments planned for the former Goulden Street police, fire and ambulance station, now named Peelers Yard.
Adam, from Newton-le-Willows, has eight years' quantity surveying experience, including five years at Taylor Wimpey where he delivered more than 600 homes with a value worth £50m.
Nick Legget, development director at Mulbury and head of the company's Mulbury City division, said: "Jamie and Adam have a wealth of knowledge and experience delivering high value and high quality schemes. Their appointments really bolster our city centre capacity and capabilities.
"They'll be instrumental in helping Mulbury deliver its strong pipeline of key city centre developments, including almost 400 new homes in the heart of New Cross."
::
Liverpool-based Prospect Homes has appointed engineer Craig Holding to play an integral part in the company's expansion plans, by adding further expertise to the technical team.
Craig, 43, from Leigh, has joined the company after three years with Mulbury, where he was an engineering manager. Prior to Mulbury, he has also worked at Keepmoat in a similar role.
He said: "I've joined the company at a really exciting time. Prospect is going in a very positive, forward thinking direction and has plans to grow its operations over the next few years.
"I'm one of a number of new members to join the company so this fresh perspective means we're all really passionate about taking the company to the next level. I'll be working closely with Riverside, who Prospect Homes is part of, to develop larger scale mixed tenure opportunities as well as private sites for Prospect Homes."
Prospect Homes is part of The Riverside Group and all profits are gifted back to The Riverside Group to fund a wide range of social purpose business including affordable homes and care and community support services.
Craig studied The Built Environment at college. He then went on to achieve a HND in Civil Engineering and a BTEC in Construction. When he left, he went straight into work as a junior engineer at Allen Civil Engineering.
Nigel Yates, managing director at Prospect Homes, said: "Craig is a real asset to the business. He comes with plenty of experience and knowledge meaning our current and future sites are in excellent hands to enable us to continue to deliver quality, much needed new homes across the North West."
::
Foursquare Group, the Liverpool company that helps independent hospitality venues to start up, run, grow and protect themselves, has bolstered its team with a third and final non-executive director as it continues its 'customer-first' approach to new areas and markets.
Garry Lee, a former CEO of a multimillion-pound tech business, has joined the board after Simon Taylor and Louise Kissack became non-Eeecutive directors earlier this year.
Foursquare Group offers a range of services for independent hospitality businesses, helping them implement policies, procedures, contracts, compliance, operations and manage people, as well as helping businesses train their staff to be better and safer in the working environment.
Over the past 18 months, the group's commitment to the independent hospitality industry has been evident, with its UK first Pay What You Can COVID-safe scheme, and the ongoing support Foursquare Group has provided throughout the pandemic.
As the group expands and diversifies, it has bolstered its leadership team to ensure the company delivers the very best products and services possible.
Garry's main focus will be on the creation and development of two new online products for the group that will see it diversify and continue its expansion. He has gained his experience and credentials after taking a tech business from £250,000 to £14m and launching the UK's first triggered emails back in 2001, leading to market automation.
Liam Jones, founder and CEO of Foursquare, said: "The world has changed over the last 18 months. We've all had to adapt to new ways of working, connecting with one another and receiving information. We've been busy figuring out how our business can adapt to take account of this, and I'm delighted with the plan we have.
"Over the course of the next six-12 months, we will be launching two new online products and streamlining our existing ones to offer a more dynamic and bespoke experience for our Indie clients. Garry's skills and experience in the technology industry will be a key part of the process for us."
Garry added: "I love supporting small businesses and working with businesses that have a strong set of values to help people, so this opportunity is incredibly exciting for me and I'm looking forward to contributing to growing the business and helping some amazing local restaurants."
::
Bridging Finance Solutions continues to grow and strengthen its nationwide team, appointing Angie Jones as business development manager for the North West.
A former private banking relationship manager for NatWest, Angie brings a wealth of personal finance experience to her role. She has developed strong relationships with a vast professional network, including individuals and businesses, through three-plus decades of employment at NatWest.
Angie said: "This is a significant and important move for me having worked within the banking industry for so many years. The changing nature of the sector, however, means that the cultivation of personal relationships that where once considered so important are being replaced by automation and online processing.
"Whilst BFS is undoubtedly tech driven, a recognition of one-to-one service and building lasting relationships remains a priority, which I believe is incredibly important.
"BFS is growing quickly and it's great to be part of this exciting enterprise. Even whilst expansion is under way, the firm's values remain the same and BFS undoubtedly owns a strong family driven ethos and one that is built on relationships, both in house and externally."
Steve Barber, BSF managing director, said: "Angie owns a vast amount of experience within the banking and wider finance industry. I believe that she is ready for a fresh challenge, working with a new product that is not available to customers on the high street.
"She has some strong contacts, and is already building her network further across the North West where part of her role will be to educate customers on the varied and flexible uses of bridging finance."
::
Private equity investor Endless has announced a further seven promotions across its offices in Manchester, Leeds and London following its recent announcement of the appointment of four new partners.
In the Endless Manchester office Lee Abbott has been promoted to director. Lee joined Endless five years ago following roles at KPMG and Bodycote. During his career so far at Endless Lee has led a number of complex and high profile due diligence projects, which have been integral to securing investments including complex carve-out transactions and accelerated acquisitions.
Also in Manchester, Sian Williams has been promoted to investment manager. Sian joined Endless in 2017 having previously qualified as a Chartered Accountant at PwC.
Tom Jack, partner leading Endless's Manchester office, said: "We're delighted to be able to congratulate Lee and Sian on their well deserved promotions.
"These are great milestones in their careers and reflects their fantastic contribution to our business across a range of investments."
The appointments follow a year of significant deal activity for Endless, which included investments into Hovis, one of the most iconic food brands in the UK, and Amscan International, an international market leader in party products. Most recently Endless completed its first investment from £400m Endless Fund V with the acquisition of Findel Education, a leading e-commerce specialist in educational resources.
Enact, the SME fund investing Enact Fund II of £30m, was similarly busy and completed the acquisitions of Realise, an apprenticeship provider, Evolutions, a leading TV post-production business, Bartoline, a heritage manufacturer of decorating products, and, most recently, the acquisition of Edbro, a leading manufacturer of hydraulic cylinders based in Bolton.
::
Gezz Van Zwanenberg has been appointed as the new chief operating officer for Prescot-based HCRG's health and social care division, where he will play an instrumental role in helping the team meet ambitious growth targets.
Gezz has a background of leadership in both operational and strategic roles in the military, health and business settings. He served as a squadron leader in the RAF, and as a consultant nurse in critical care Gezz was awarded the Ambulance Service Institute President's award for Critical Care Air Support to patient care during operations in Afghanistan while leading the CCAST teams.
He has also been recognised for leading multiple large successful projects including, winning the Health Service Journals 2017 patient safety award. In the past year, Gezz has been part of the NHSE/I London critical care cell in response to the pandemic with a clinical lead/liaison role between NHS, Military, LAS and the Nightingale hospital, as well as maintaining his role as the Nurse and Project Lead in NWL which he has held for 10 years.
Gezz said: "I am delighted to join the HCRG family. I am excited to start this new role and I am really looking forward to adding value, energy and influencing colleagues, teams and patients."
Gezz will support the management teams across the portfolio of brands, including CRG, HCL, Jigsaw and Sugarman, and will be responsible for group wide operations, as well as taking the helm of a number of the smaller business units, to ensure each arm of the business is fully supported and empowered to grow.
In his new role, Gezz will also be taking responsibility for the group wide clinical governance agenda, diversification agenda and the continuous improvement plan.
Gary Taylor, group CEO, said: "Gezz brings a wealth of experience and a great blend of leadership, management and clinical skills and insight. He complements the fantastic management team I already have in place and will support me and the team in expediting the growth of our sustainable staffing services, whilst also enhancing the care delivery and occupational health arms of the business with his wealth of clinical expertise."