North West business briefs: LJLA; Liverpool FC; Open Media; Metalube; Frank Whittle Partnership; Chase de Vere

Liverpool John Lennon Airport (LJLA) has become the first major airport to launch the phone charging service Joos, which enables passengers to charge their devices 'on the move' throughout the airport. With the power bank rental service passengers no longer need to wait by a power point or leave devices in a 'charging locker'.
Joos provides next generation phone charging, allowing users to pick up a power bank at one Joos Box and return to any other, whichever is most convenient. To use, people simply download the Joos app, scan the QR code on the Joos Box and take their power bank. They can then charge on the move before dropping it off ahead of their flight.
As the travel sector reopens, it's more reliant than ever on passengers having access to their phones for ticketing, payments, entertainment and vaccine passports. Joos facilitates a seamless travel experience and ensures users can stay safe and connected throughout their time at the airport.
With Covid in mind, Joos includes advanced safety measures to minimise the risk of viral transmission between passengers. Joos's power banks are made from medical-grade antimicrobial plastic and are quarantined between use until any potential viral agents are broken down.
Lucy O'Shaughnessy, commercial director at LJLA, said: "We are always on the look out for new and innovative ways to further enhance the passenger experience and with more and more travel related information now being stored on passengers' smart phones, our partnership with Joos will help to take away the fear our passengers may have about their phones running out of battery life, just when they need it most."
Josh Baah, co-founder & COO of Joos, said: "We're delighted to have installed at LJLA and begin our expansion into the travel sector at this great airport. Joos is perfect for those in a rush ahead of their holidays, ensuring their devices stay charged and they can access tickets, apps and entertainment without worrying about battery."
::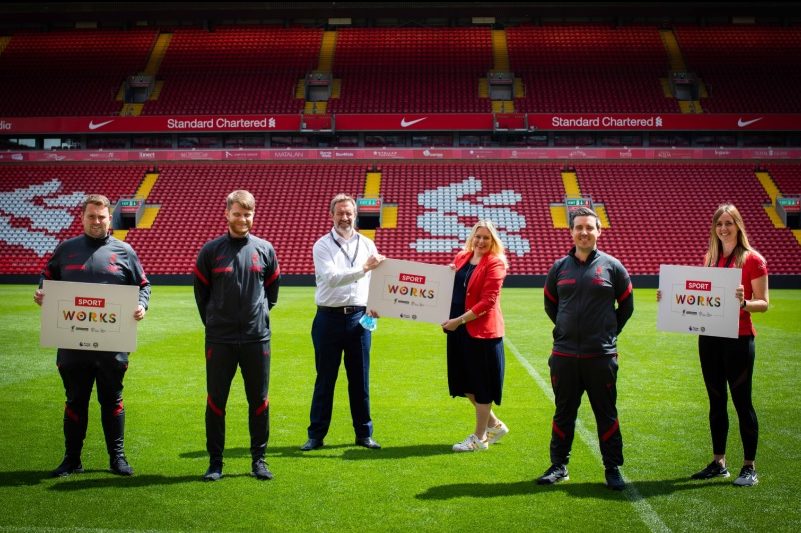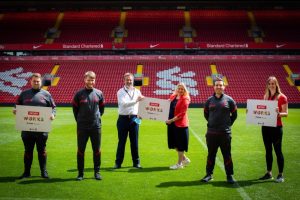 The Minister for Employment, Mims Davies, paid a visit to Liverpool FC's Anfield stadium to meet with a group of young people who are part of the Government's Kickstart Scheme. The Kickstart Scheme provides funding to create new jobs for 16- to 24-year-olds on Universal Credit who are at risk of long term unemployment by giving them the skills and experience needed to thrive in work.
Nine Kickstart recruits, who are the first to be hired by LFC Foundation and partner organisations Liverpool Football Club and regeneration group Regenda under the Kickstart Scheme, met with the Minister at one of their weekly training sessions. The young people, who are working across various areas of the organisations including human resources, communications, and finance as part of their 25 hours of paid employment, will also all achieve a level two qualification paid for at the end of their six-month work placement.
The LFC Foundation is providing employability training and resources for the new Kickstart recruits via its Sports Works programme, which is delivered in partnership with Liverpool Football Club, The Regenda Group and training provider, The Learning Foundry, and funded by the Premier League and Professional Footballers' Association Community Fund (PLPFA.)
Minister for Employment, Mims Davies, said: "It's fantastic to see young people begin their Kickstart journey with Liverpool FC, working for one of the most iconic clubs in world football and in a range of exciting roles from HR to finance. Our Plan for Jobs is creating fresh opportunities, boosting job prospects and supporting employers to recruit as we push to build back better and level up across the whole of the UK."
Matt Parish, CEO of LFC Foundation, said: "It's fantastic to be able to offer a wealth of opportunities for local young people to get their foot in the door and gain valuable work experience to prepare them for the world of work. We currently have nine Kickstart recruits with us, seven based at the Foundation and LFC and two at The Regenda Group. This will increase to 20 recruits for the next cohort that is due to start in August."
::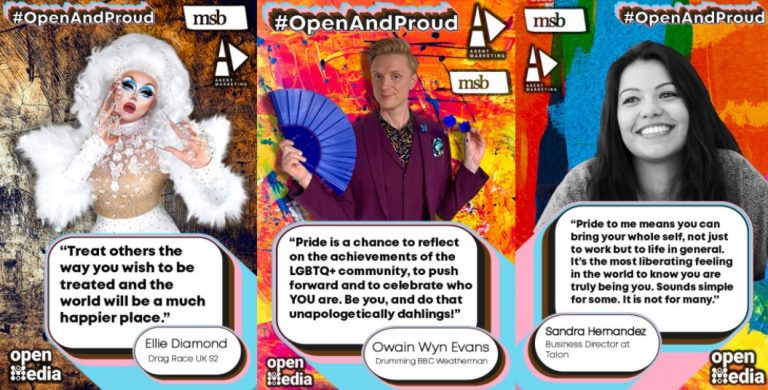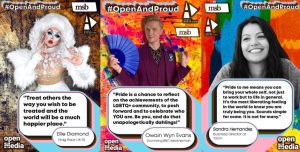 Liverpool-based Open Media is supporting Pride Month for the second year running, with its combined digital out of home and social media campaign. '#OpenAndProud' is designed to celebrate the LGBTQ+ community with a month of inspirational quotes and creative from a diverse range of people nationwide.
The campaign launches with Ellie Diamond and Cherry Valentine from Drag Race UK Season 2 and also includes a wealth of representatives from the media industry, charity and public sector.
For the second year running, Open Media has collaborated with Liverpool firms Agent Marketing and MSB Solicitors, with both businesses sponsoring the month-long campaign as a show of solidarity for the LGBTQ+ community.
#OpenAndProud is part of a longer list of socially responsible campaigns created internally by Open Media.
The past two years have seen the company also show support for International Women's Day and Black History Month, utilising the impactful combination of social media and digital out-of-home advertising to give a voice to these communities and provide physical space for them to share their messages and stories.
::
Lubricant manufacturer, Metalube, has joined forces with German partner, Plastic Vision, to market Metachain, a range of fully synthetic, high-temperature chain oils. The range has been formulated using the latest synthetic base oils, anti-oxidants and anti-wear additives to meet the specific demands of chain applications in high- temperature processes where conventional oils fail to perform.
Plastic Vision is highly experienced in international procurement, including purchase, production, and logistics. The partnership with Metalube will focus on the whole of Europe including Russia and Turkey. The Plastic Vision team will be led by industry expert Uwe Berghahn, who has more than 30 years' experience in the field.
He said: "We are really excited to take Metachain to the European market. We know that further afield in South America the product is running on some of the world's largest presses and giving producers significant annual savings in volume reduction alone."
Metalube's commercial manager, Matthew Buffin, said: "We are really confident that Plastic Vision, led by Uwe, has the depth of knowledge in machine manufacturing to make significant inroads into the European Wood Press market. Metachain is a relatively new lubricant, but is now fully tried and tested with fantastic results – we know that it withstands more load and temperature and can significantly outlast even the best alternative chain oils."
Metalube is part of the Irlam-based Bishopdale Group, a private holding company for a group of industrial lubricants brands – Metalube, Molyslip and UOP. The company exports 95% of its production to more than 90 countries worldwide and has offices in Manchester, Dubai, Mumbai, São Paulo and Shanghai.
::
Preston-based Frank Whittle Partnership (FWP) has overseen a significant revamp of one of Cumbria's top tourist attractions ahead of its re-opening following lockdown.
The architecture, design and masterplanning practice has provided its full range of services for the comprehensive internal remodelling of Rheged, near Penrith, a popular place to meet, with gallery, cafe, shops and cinema. It reopened its indoor facilities on May 17, as England's path out of lockdown continued, and visitors can now enjoy a range of new facilities, including a new pizzeria and café, a children's play and creative area and a relocated art gallery.
Rheged is owned and operated by the Westmorland Family and FWP has worked closely with its internal team on the project, which has included creating a new office for the business. FWP's ground floor redesign includes a new open kitchen and 100-seat pizzeria and café. It says "particular care" was taken to ensure the new customer experience creates a warm comfortable environment.
The FWP team has been working for more than three years on the remodelling of the centre. The Rheged work is the latest in a number of major projects that FWP has delivered for the Westmorland Family, including helping deliver Westmorland's £35m project to build Gloucester Gateway, the UK's most eco-friendly services on the M5, and the upgrading of the company's flagship Tebay Services on the M6 in Cumbria.
David Robinson, managing partner of FWP, said: "We have built up a strong relationship with the Westmorland Family over a number of years, helping to turn their visions into reality. We've worked closely with their internal team on the Rheged project, providing our full range of services for the comprehensive remodelling of the centre. The work we've carried out adds even more to the centre's great offer of cinema, shopping and dining in a spectacular Cumbrian setting."
::
Chase de Vere, the national firm of Independent Financial Advisers, has announced the launch of its personal injury and court of protection business, following a successful integration with Bury-based Nestor.
Chase de Vere acquired Nestor Financial Group, which specialises in working with personal injury and clinical negligence solicitors and their clients, in October 2020.
Chase de Vere already had an established PI team but now has a stronger presence with the combined business operating under the Chase de Vere Personal Injury & Court of Protection brand.
The company is aiming to grow its business further.
"We have brought two teams of recognised experts together and, taking the best practices from both businesses, developed a market-leading proposition," said Stephen Kavanagh, CEO, Chase de Vere.
"The next stage of our development will be growing our adviser team and we are actively looking to recruit Personal Injury advisers working from our London and Bury offices."