People: Parfetts; Sutcliffe; Forbes Solicitors; Oglethorpe Sturton & Gillibrand; One Brand Magic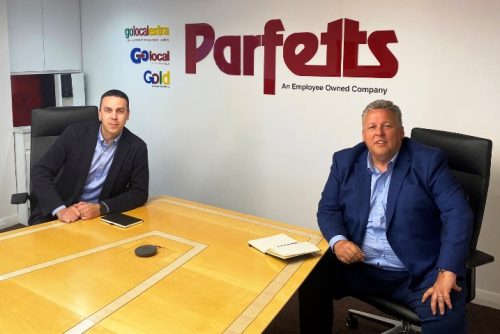 Parfetts has announced a raft of board-level changes to create a platform for further growth.
The Stockport-based wholesaler and symbol group operator has appointed Guy Swindell and Noel Robinson as joint managing directors (designate), taking up their full roles on January 1, 2022.
Guy Swindell is promoted from retail director, where he has led the company's expansion in recent years. He has spent more than 20 years at Parfetts and worked within every layer of operations.
Noel Robinson joins Parfetts from Bestway, where he has spent the past three years successfully relaunching Bestway Vans and taking responsibility for Best Pets. He has held several senior roles within wholesale.
Current Joint managing directors Greg Suszczenia and David Grimes will remain in their roles until January 1, 2022, to ensure a smooth handover. Greg Suszczenia will then become chairman of the executive board and continue to represent Parfetts on the Unitas board.
From January 1, 2022, David Grimes will stay on the Parfetts executive board as continuity director until June 2022. To ensure further continuity, Greg and David will also take up two new positions on the Parfetts Employee Trust Board from January 1, 2022.
Greg Suszczenia said: "I'm super proud of what the company has achieved in the last 12 years. Challenges and opportunities never go away, namely, how to maintain growth of sales and profitability while keeping our employee-owned status and culture.
"It sounds easy, but it isn't and needs renewed vigour and enthusiasm to take our company to its next major milestone of £1bn turnover – this can only come from a fresh leadership team. In Guy and Noel, we have a wealth of knowledge and talent to do just that.
"As chairman, I will do my best to be a good one and look forward to watching the business grow and develop. I would like to take this opportunity to thank all colleagues, both past and present, for all their hard work that has got us to where we are today."
Iain Martin was promoted to the role of financial director from financial controller on June 1, 2021. Iain has been the company's financial controller for 15 years and assures stability in a crucial area.
Guy Swindell said: "Greg and David have done a fantastic job in guiding the company through a period of rapid growth while maintaining a customer-focused culture that is unrivalled in the sector. As an employee-owned company, we are uniquely positioned in the industry with a model that clearly benefits our customers and is the ideal partner for suppliers.
"I look forward to working with Noel and the rest of the team as we continue to develop the business and drive growth."
Parfetts is on target to hit 1,000 Go Local Symbol group members by the end of next year.
Noel Robinson said: "I have over 30 years experience in wholesale, but I'm excited to be joining an employee-owned business with such a great culture, track record and future ahead of it. I'm looking forward to working with Guy and my new colleagues, together with customers and suppliers, to develop mutual business growth moving forward."
Parfetts recently announced its delivery offer into the Midlands and has launched The Local, an off-licence-focused fascia.
::
Civil and structural engineering firm, Sutcliffe, has boosted its workforce with three new recruits, with the company still actively looking to fill two more positions in the coming weeks.
New to the team are senior BIM technician Benjamin Downey, geo-technical scientist Daniel Evans, and structural engineer Adam Leek. It represents a 16% increase to the workforce since the start of 2021.
Previously working for five years at Lancashire County Council as an environmental services officer, Daniel has a wealth of experience in the geo-technical field, while his new colleague, Adam, has worked most recently as a graduate structural engineer at Warrington-based Atkins. A BIM expert having worked as a BIM manager in a host of roles before joining Sutcliffe, Benjamin brings more than a decade's worth of experience to the company.
It comes as the multi-disciplinary, BIM-accredited, chartered consultant engineers, which has offices in Liverpool, Manchester, North Wales and London, has won a host of new national projects since April. New contracts include building reinstatement valuation survey work for Truro College in Cornwall, plus work to develop Home Bargains stores across the country, ensuring that Sutcliffe now has work scheduled up until February 2022, with further scope to take on more projects in the weeks and months to come.
In the Liverpool City Region, the company is also working at the new CCC Waste Management treatment facility in Kirkby, as well as collaborating with Onward Living and H21 to construct 62 homes and 91 apartments for a new extra care unit on Hawthorne Road in Bootle.
Managing director, Sean Keyes, said: "We are constantly on the search for new talent and to grow our team. After overcoming the most challenging 12 months the industry has ever seen, I am immensely proud to be in a position to boost employment in the Liverpool City Region."
Earlier this year Sutcliffe appointed three new directors to its board, promoting Jacqui Johnson to communications director, Anoop Jayakkar to technical director and Ian Robinson promoted to finance director. It also welcomed seasoned structural engineer, Graham Swanson, as its new associate designate in the structures team, Mike Armes as senior technician and Michael Wiggins as graduate environmentalist.
::
Forbes Solicitors has announced the promotion of five new partners as part of 14 promotions across the firm.
Kirsty Varley and Sarah Rogers in the firm's housing and regeneration litigation team, along with employment lawyer Amy Stokes, Tim Smith in the insurance team and commercial property law specialist Matthew Jones have all joined Forbes's 49-strong partnership.
The partner promotions follow a series of successes across the firm's specialisms during the past 12 months. Amy Stokes has been instrumental in developing a business immigration service to help SMEs navigate Brexit changes, while Kirsty Varley and Sarah Rogers have continued to support housing associations nationwide in managing complex issues associated with anti-social behaviour during a period of changing emergency coronavirus laws.
Matthew Jones has advised on significant commercial property deals, helping the commercial property team return to pre-pandemic deal levels less than nine months after the outbreak of COVID-19. Tim Smith continues to develop the firm's offering to local authority and social housing clients dealing with environmental claims, particularly tree-related cases including tree root subsidence and falling tree/branch claims onto highways, and also Japanese Knotweed claims.
Other promotions have seen five professionals move up to associate level and another four members of the firm promoted to senior associate. The promotions took place across a range of practice areas including wills, probate, tax and trusts, governance, procurement and information, employment and housing and regeneration.
Chief executive, Oliver Burton, said: "During the past 12 months we've seen businesses reinvent themselves and rethink how they work to survive and thrive in markets impacted by economic uncertainty. Our team has supported organisations on this journey, as well as leading our own teams and ensuring everyone is working towards our shared ambitions.
"The promotions recognise all of this hard work and tenacity to work together with clients to protect and promote their interests. It's really rewarding to see people delivering success for their teams, clients and themselves as they progress in their careers."
::
Established law firm Oglethorpe Sturton & Gillibrand has appointed two new partners.
Mark Hutchinson-Lyons and Avelina Wright have both been promoted from associate solicitors to become partners at the firm, which has offices in Lancaster and Kirkby Lonsdale.
Mark, 41, has specialised in private client work for the whole of his legal career. He is a full member of the Society of Trust and Estate Practitioners, the internationally recognised leading professional organisation in his area of law, and is chair of its Lakes and Lancaster branch.
His work involves dealing with estate planning for a wide range of clients, preparation and advice on wills and preparation of Powers of Attorney.
Mark joined the firm around seven years ago as a solicitor and later became a senior solicitor then associate solicitor. He said: "I particularly enjoy private client work. It is a blend of highly technical legal work but it's also very personal as you work for families – often for different generations of the same family over time – and try to help them during what can be the hardest times in their lives."
Avelina Wright is a specialist in agricultural and rural property matters, acting for farmers, including land owners and tenants, landed estates and charities. She is based in Kirkby Lonsdale. Her experience includes sales and purchases of farms, bare land and landed estates, agricultural tenancies and grazing licences, and overages and development agreements.
She was a co-founder of the Agricultural Law Association's North West group and remains a regional coordinator. She said: "Having enjoyed a childhood in my family's woodlands in Germany and then, from the age of 12, living in rural Lincolnshire surrounded by cabbages and tulips, it was inevitable that I would feel at home acting on behalf of farmers and landowners."
She took a degree in Law at the University of Exeter, including English Law and German Law, amounting to an LL.B European. She then moved to Germany to complete a Master's Degree in Comparative Law. Avelina started her law career at Henmans in Oxford and joined Oglethorpe Sturton & Gillibrand two-and-a-half years ago.
As part of her promotion, Avelina will take on managing the firm's Kirkby Lonsdale office, following the retirement of Sarah Miller at the end of May.
The firm has just announced a series of other promotions. Charlotte Russell (head of residential conveyancing), Catherine Roberts (commercial litigation) and Hayley Housley (wills and probate) have been promoted to associate. Anna Wilkinson (family), Bryony Robin (commercial property) and Laura Brereton (wills and probate) have been promoted to senior solicitor.
::
Manchester-based integrated communications agency, One Brand Magic, has recruited a new head of digital alongside promoting existing senior staff into head of PR and board director positions.
Aisha Choudhry will lead the firm's digital marketing team having previously held senior positions at Delineo and Fast Web Media and bolsters the agency's provision of digital strategy, SEO, PPC, paid social and content marketing.
Former account director, Katie Beckham, has stepped up to the position of head of PR following three years with the firm and has assumed responsibility for all activity across the channel.
Finally, Andy Wood has joined the board to provide creative representation on the leadership team. His appointment follows three successful years leading the agency's creative function.
Director, Will English, said: "These three appointments come at an exciting time for us.
"Creativity is central to everything we do, so it's fantastic to have Andy join the board. Katie's an exceptional PR operator and makes the natural step up to lead that team. And in Aisha, we've landed a true digital marketing superstar at the perfect moment – so much of our new business and organic growth is leaning that way."
Established in 1973, One Brand Magic says it is one of Manchester's longest running independent integrated marketing agencies.