People: Teledata; Atticus Land and Development; OFR Consultants; Mojo Mortgages; INTU Your Home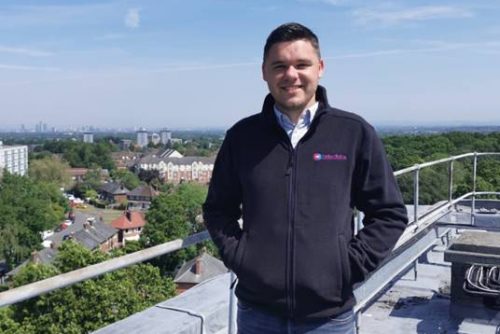 Manchester cloud hosting and data centre operator Teledata, has strengthened its team with the appointment of Seb Graham as commercial development manager.
Seb joins from managed service provider San IT, where he spent eight years developing his career across a number of roles including technical support, projects, solution design, helpdesk management, marketing, process improvements and sales.
In his most recent role as commercial director for San IT, Seb worked to help businesses plan and implement technology and infrastructure upgrades across a host of solutions and workloads including cloud services, on-premise servers, hosted servers, networking and VoiP.
Seb said: "I'm really excited to be joining Teledata. They have such a strong team of experts collaborating to deliver great results collectively, and i'm hoping to add to this by bringing a fresh and authentic approach to the account management and sales function and root some new procedures to further the hard work that's already been done, helping to continue to grow the business through the formation of new partnerships, products and services."
Director, Matt Edgley, said: "We're delighted to welcome Seb to the Teledata team. He has a wealth of experience – both from a technical and a consultancy perspective – and a well rounded skill set which will see him fit in perfectly with our culture of consultancy-led partnerships, building strong relationships with partners and clients and helping them to get the most out of their IT by planning infrastructures bespoke to their needs, and to meet their business challenges."
Founded in 2005, Teledata provides colocation, cloud hosting, workplace recovery and data centre services to businesses across the UK.
::
Cheshire-based Atticus Land and Development has announced the appointment of its latest recruit, Richard Ingram, who joins Paul Humphries and his team as an associate.
Richard's appointment comes after a hugely successful last 12 months for the land and development company, which has seen it continuing to expand the range of services offered to volume housebuilders, local authorities and housing associations across the North West and Wales.
Bringing with him a wealth of housing development and project management experience, Richard has previously held posts at Jigsaw, Your Housing Group and, most recently, as head of development at Johnnie Johnson Housing.
Director, Paul Humphries, said: "I'm really pleased to welcome Richard to the Atticus team at what is an exciting time for the business as we continue to grow and work with more partners to deliver much needed housing supply.
"Richard has a proven track record when it comes to housing development and project management which will ensure we continue to drive our business plans forward."
Richard Ingram said: "I'm pleased to be joining the Atticus team as an associate and working with their established portfolio of clients. Atticus has made a name for itself in the housing sector over recent years as a company with a can-do attitude, and I am looking forward to adding to this philosophy."
::
OFR Consultants, the Manchester-based fire engineering consultancy, has continued to progress its ambitious expansion during the past 12 months, despite the global challenges due to COVID. The team is now 85-strong UK wide with a further 10+ people due to join in the coming months.
In total, 16 technical professionals, including graduate fire engineers, associate directors and research associates, have joined the team already, with a further three people joining in important business support positions.
Since its inception in 2016, OFR has extended its reach with offices now in Edinburgh, Glasgow, Leeds, Oxford, Bath and London.
New Manchester team members include graduate fire engineer Oliver Shaw, Natalie Fitzsimmons as finance assistant, as well as Martyn Ramsden, research associate, Christine Leigh as principal fire engineer, Colin Bennett as associate director and Karen Cheetham as bids coordinator.
Manchester office director, Simon Lay, said: "As a business we have always been committed to investment into the profession – by providing opportunities for professionals within our industry. That is why, despite the challenges that we have encountered over the past year with remote working and working safely on site, we have achieved our growth objectives and have maintained a strong pipeline of projects.
"We welcome our new colleagues and look forward to making them a valued part of our team here at OFR."
OFR Consultants is wholly owned by its internal shareholders, the team of people who lead and work within the business.
::
Online mortgage broker Mojo Mortgages has announced the appointment of Cassie Stephenson as its new director of mortgages as the Macclesfied business looks to scale its team to 50 mortgage advisers across the UK over the next 12 months.
The business, which has expanded its team over the course of the pandemic, has experienced unprecedented demand over the past few months – driven by the need for a digital-focused service as well as a booming property market, with the ongoing Stamp Duty holiday playing a part.
Mojo, which now counts the likes of Uswitch, Zoopla and Snoop as digital partners, has seen year-on-year partner mortgage submissions rise by 165% compared with pre-pandemic levels, with traffic and enquiries to its site also up by 200% compared with the start of 2020.
Stephenson joins Mojo following her time at fellow online broker Habito as VP Operations, as well as previous spells at Atom Bank, Tesco Bank and Lloyds, and will play an instrumental role in helping to scale the broker over the coming months as society returns to some normality.
She said: "I am delighted to be joining the team at Mojo as the business enters its next stage of growth. It's no secret that the past year has been challenging but the market appears to be gaining some real momentum with new government-backed schemes, competitive rates amongst lenders and a bustling property market, so it's an exciting time to join the team.
"No-one has really perfected the end-to-end process for customers yet and there is still some important work to do in this area. I also feel open banking hasn't been utilised as much as it could be, with practices such as paper document requests still in place which feel so outdated. There is more work to do with lenders to allow automated submissions and execution-only experiences and this is one area I'll be working on closely in the coming months."
Chief executive and co-founder, Richard Hayes, said: "Cassie's appointment will play a pivotal role in the future of Mojo as we continue to revolutionise the way consumers access mortgages, advice and information to an industry that still continues to baffle many people.
"We want to help customers to fully understand the process and become more financially confident by empowering them to learn more about mortgages and, of course, find the best deal for them. Not only for those that come to us, but across the wider industry."
::
INTU Your Home, part of AET Global, is continuing its drive for commercial growth with the appointment of Lee Miles as new sales director.
He will join the team to help develop the INTU brand and strengthen its relationship with the trade, as well as helping to amplify the consumer offering.
Having worked across all channels of the bathroom, plumbing and kitchen sectors, the 49-year-old brings excellent strategic process and analytical capabilities to the INTU sales team.
Lee started out as one of the youngest sales representatives at Armitage Shanks, aged just 22, and over the past 30 years has held senior sales roles in various blue chip industry brands including Ideal Standard, Twyford, Vaillant Boilers, Methven, Quinn Radiators and Duravit.
He said: "This is an exciting opportunity to bring big brand thinking and my 30 years of industry sales experience to INTU Your Home. INTU are driven by innovation and a desire to bring the latest bathroom technology to the masses and I'm delighted to be part of their journey."
Kieran Taylor-Bradshaw, managing director of Chorley-based INTU Your Home, said: "We're very excited to welcome Lee into the team and to help our INTU brand establish its trade relationships. We pride ourselves for our innovation and development as a brand, and having Lee on board will help our mission of making a positive change to people's lives reach far and wide."