Hi-tech driving BAE Systems' Factory of the Future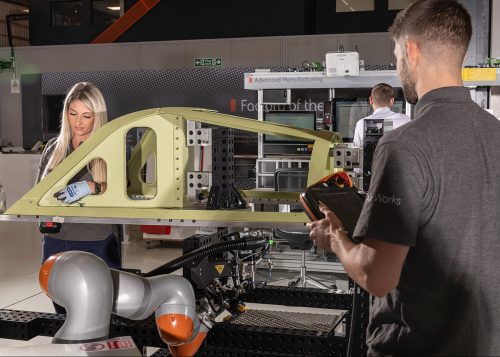 Engineering giant BAE Systems has adopted the latest digital technology solutions at its Warton site in Lancashire to build the aircraft of the future.
BAE is creating a Factory of the Future programme at Warton and has tapped into expertise from Industrial Internet of Things (IIoT) specialist PTC to help connect its first-of-a-kind facility.
PTC's Thingworx and Kepware software harvest real time data to help manage supplies, processes and maintenance activities in the 40,000 sq ft factory, with the platform connecting, accessing and controlling industrial data from different robots, autonomous robots, machines and intelligent workstations inside the facility.
This powerful control of data allows operators to create and view live data screens that support workflow planning and real time decision making.
Intelligent connectivity is helping BAE Systems drive Industry 4.0 into its manufacturing capability and demonstrates how UK industry is working to drive efficiency and reduce the costs associated with building future military aircraft.
Alex Griffiths, senior integration engineer at BAE Systems, said: "We have intelligent workstations that deliver tools to engineers by autonomous robot before operators even know they need them.
"Our challenge is to create the optimal production environment for aircraft manufacture, where we can switch from one short batch product to another – with minimal effort and cost in the process.
"This is crucial as we look to develop the next generation of manufacturing technology required for Tempest, the UK's future combat air system, and to meet our commitments to deliver in half the time and at significantly less cost."
He added: "It's about changing the way we make things and moving away from traditional techniques, looking at how we can create production lines that can be adapted quickly to take on different products, whether that is a low volume unmanned vehicle requirement or a future fighter aircraft.
"In order to achieve that vision, we had to ensure we had a connected, intelligent factory and this is where PTC brought real solutions to the shop floor through the systems it provides. Adaptable software solutions creates live data that we can use in ways that made decisions faster, smarter and more cost effective."
Dave Grammer, general manager for UKI at PTC, said: "We have been working with various businesses within BAE Systems for over two decades and data is definitely recognised as one of the most powerful tools when it comes to manufacturing performance and new process/product introductions.
"Controlling industrial data and using it intelligently has created the perfect environment to develop and test technologies that will potentially transform the way military aircraft and combat systems are implemented."
He added: "It is also giving young engineers early access to IIoT platforms and software, which can only be good news for their career development."