North West business briefs: Liverpool John Lennon Airport; Salford Rum; SME Brexit Support Fund; Laros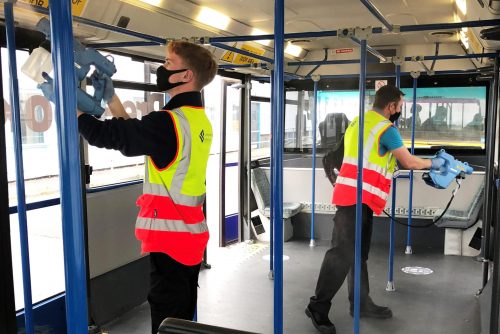 Liverpool John Lennon Airport (LJLA) has received international recognition for the measures it has put in place to provide a COVID-secure operation to protect its passengers and employees.
Having worked closely with the UK Civil Aviation Authority and Public Health England, LJLA is one of only a handful of UK airports to have implemented the International Civil Aviation Organisation (ICAO) guidance for air travel through the COVID-19 public health crisis.
To receive this ICAO recognition, the airport needed to pass a detailed and thorough review of all its procedures, providing evidence on 77 specific required measures covering all aspects of the airport journey from social distancing, toilets and touchpoints to security processes and exiting the building in a COVID-safe manner.
The team at the airport also undertook desktop reviews, evidencing measures in place through assessments, procedures and schedules as well as an onsite audit taking place by a team of auditors and specialist doctors.
Paul Staples, LJLA's operations director, said: "Colleagues across the airport have worked hard throughout the pandemic to provide our passengers and those working at the airport with as much protection as we can against the spread of COVID-19.
"We have continued to develop the measures we have in place and to receive the recognition that these are now implemented in line with the latest international ICAO guidance gives passengers a further reassurance that their journey through the airport is as COVID-secure as it can be."
::
The Salford Rum Company is asking rum drinkers of Greater Manchester to name their favourite rum joints and most adored rum cocktails in the city and beyond, to create the official rum map of Manchester and Salford.
A celebratory map will be created by local artist, Dave Draws, famed for his intricate and much-loved maps of northern cities and towns. It is being created in time for World Rum Day (July 10) with Salford Rum founders Tommy Gaughan and James Harrison taking to social media to ask their 13,000 followers to share their ultimate destinations for rum and rum cocktails in Greater Manchester. Visit Salford Rum's facebook page for details.
The rum map will be available to download for free and drinkers will also be able to raise much-needed funds for Salford Lads Club by making voluntary donations, if they wish, while the original will be raffled off at a special party to boost the fundraising total.
The brand's followers have already highlighted venues across the city that stand out for amazing quality rum cocktails, with longer-standing establishments such as Hula, Liar's Club, Revolución de Cuba, The Refuge and Speak in Code joining newer venues 20 Stories, Archane, Mojo and Hatch.
James Harrison, co-founder of Salford Rum, said: "It's been a massive 12 months for Salford Rum – one which could have been very different had it not been for the legions of loyal, local fans that have built us up by drinking our rum neat and in cocktails. A sense of community is at the core of what we stand for, so launching a map driven by our fans and bringing together the very best of Greater Manchester's rum cocktails is the least we can do
::
Small firms across a wide variety of industries have until June 30, to apply for government funding to gain access to free Brexit-related training and consultancy services worth thousands of pounds to assist them with all aspects of importing and exporting.
Firms with up to 500 employees and an annual turnover of no more than £100m can apply before the deadline for training and consultancy on how to complete customs declarations, use customs software and systems, and manage import and export-related processes such as VAT, excise and rules of origin. The SME Brexit Support Fund could give firms up to £2,000 to help with training or professional advice.
Tamara Habberley, senior consultant at Stockport-based The VAT People, a specialist consultancy that provides advice and training to businesses relating to their VAT and customs obligations, said: "This opportunity for help importing and exporting is a fantastic chance for businesses to improve their knowledge and skills in this complicated area.
"We regularly work with firms across a variety of industries that require assistance getting to grips with the complexities of customs and VAT, and this will provide a much needed lifeline at a time when many businesses are strapped for cash."
The VAT People, which will offer training and consultancy services to businesses as part of the government scheme, has been offering bespoke training opportunities to businesses for several decades. Businesses can apply online for the funding through the PwC website.
::
A new Greek restaurant has opened on Liverpool's Bold Street, described as a hybrid between a restaurant and a takeaway.
Laros is the brainchild of owner Nikolaos Fylladitakis, from Crete, who has worked in the hospitality industry for many years, owning his own restaurants in the city. He said Laros has been created to deliver the true authenticity of Greek street food, including its "better than halloumi" Talagani cheese fries.
Nikolaos added: "Laros means delicious and this is what we promise to you: High quality, healthy, authentic Greek street food. Our aim is to guide you through a journey of true Greek flavours as we would enjoy them back home, and to put an end to the misconception that street food cannot be made with the finest ingredients and the care of fine dining.
"In Crete, 'philoxenia' i.e the love for strangers, eagerness to show hospitality, is the core of our culture. When we welcome you into our home we are telling you something. We want you to feel part of the family, to enjoy our finest wine, our best cut of meat, to feel our culture and travel through our history.
"We take great pride in offering our guests our best food and warmest stories. Here in Laros, we promise you just that: a delicious warm welcome and an introduction to the real Greek cuisine, an amalgamation of street food, authenticity and comfort."