North West business briefs: Speedy; Tanzeela Aslam; Siemens; HOST; RLWC2021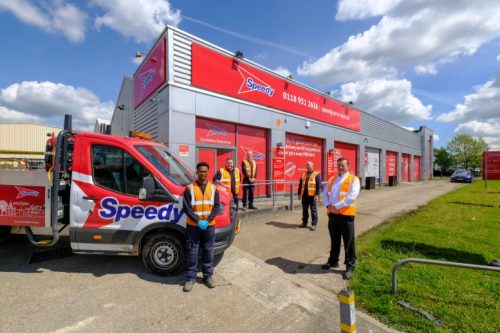 Speedy, the Newton-le-Willows-based tools and equipment hire provider, has launched a new regional service centre in Reading to expand the specialist construction hire services it provides to businesses across the Thames Valley.
The new 18,000 sq ft centre is more than double the size of the firm's previous site and the business expects to hire new staff this year as it expands its range of services at the store.
The move comes as the pipeline of major housebuilding schemes ramps up in Reading, which includes the 735-home Huntley Wharf development and the projects at Station Hill, the Thames Quarter and Vastern Road, where proposals have been made for almost 2,000 homes.
The new site forms part of a multimillion-pound investment drive to enhance Speedy's equipment ranges and service centre network, which runs 200 sites across the UK and Ireland. The expansion in Reading follows recent growth in Swindon, Doncaster and Bury St Edmunds.
Dave Cummings, area manager for the South Coast at Speedy, said: "This investment comes at an important time for the region. The pipeline of exciting new developments is building quickly across the city and there are a growing number of local contractors that need access to a comprehensive range of tools and equipment hire and advice to support them in delivering their projects safely, on time and on budget.
"The move to significantly expand our presence represents the strength of our commitment to Reading and we look forward to continuing to build on the services we can provide for our customers."
::
East Lancashire solicitor Tanzeela Aslam has joined an elite body of lawyers specialising in medical negligence after securing a golden stamp of approval from the Law Society.
Tanzeela, who is an associate solicitor at Woodcocks Haworth and Nuttall Solicitors, which has eight offices across Lancashire and Greater Manchester, has been accredited as a clinical negligence specialist by the esteemed industry body. The Law Society only awards the prestigious accolade to legal professionals who meet the highest standards of technical expertise and quality of client service.
She is one of only three people across East Lancashire to have successfully completed the rigorous process and be granted accredited status in this complex area of law.
The recognition means she is best-placed to help those who have suffered the life-changing and damaging effects of medical negligence with recovery and rehabilitation during what is a difficult and emotional time.
Tanzeela said: "It's only fair that victims of clinical negligence have access to specialist legal advice to help put matters right. The accreditation scheme acts as a benchmark for excellence in this complex area of law, guiding people in the right direction for accessing the very best legal advice. Obtaining accreditation represents the pinnacle of achievement in this specialist field of law, so I'm extremely proud to have been recognised for my expertise and commitment to helping rebuild lives that have been shattered by sub-standard healthcare."
::
Siemens is offering young people in the North West a head start to a STEM career through its virtual work experience programme.
Like many other organisations, Siemens had to cancel and postpone in-person events in response to the coronavirus outbreak. It used the challenge to redesign and rethink its work experience strategy and programme offering, increasing diversity and inclusion, and overcoming the limitations and barriers of conventional work experience placements such as geography, mobility, financial, and inflexibility due to school or employer timings.
Partnering with Springpod, a careers platform which connects young people with employers and education providers, Siemens launched a bespoke and interactive, two-week programme, which included modules filled with activities, pre-recorded videos, quizzes and live webinars. The first two-week virtual work experience programme, which ran from April 6-16, introduced 700 young people to the world of engineering and technology and showed how Siemens is paving the way towards a more sustainable future.
Now a second round of virtual work experience for 14- to 18-year-olds will be running from June 28 until July 11. The programme involves around 10 hours of activity which can be completed over two weeks, meaning students can fit it around their schedule, whether that be school or college. Once complete, students earn a certificate which can be used for a CV and Personal Statement.
To apply visit https://www.springpod.co.uk/experience/siemens-virtual-work-experience
::
Innovation hub HOST, the Home of Skills & Technology at MediaCityUK, has launched a new bursary scheme to support underrepresented and disadvantaged individuals and entrepreneurs to help them gain access to training opportunities and growth programmes.
This unique scheme comprises three areas of support for those from a disadvantaged and diverse background – local talent into highly skilled jobs, entrepreneurs to start up and businesses to scale. The bursary will support talent across HOST's Skills City, which includes training at the UK's first Unity Centre of Excellence and programmes such as the Cyber Innovation Lab and the Unity Innovation Stream.
HOST is committed to championing fair access to technology futures by transforming talent diversity, breaking the barriers faced by those from underrepresented and disadvantaged backgrounds, and fast-tracking 450 people into digital technology careers every year.
Mo Isap, CEO of IN4.0 Group, operators of HOST, said: "We are really passionate about creating opportunities, jobs and training for those individuals from disadvantaged or underrepresented backgrounds. Diversity and inclusion are in our DNA, and we are all about the people we can support which is why we have established the HOST Bursary Scheme.
"With the help of our bursary partners and patrons, we will be able to guarantee the long term sustainability of access to our programmes and services so we can continue to deliver tangible jobs and life changing opportunities to the people we support. This bursary will be the bridge to prosperity for those furthest away from technology futures."
::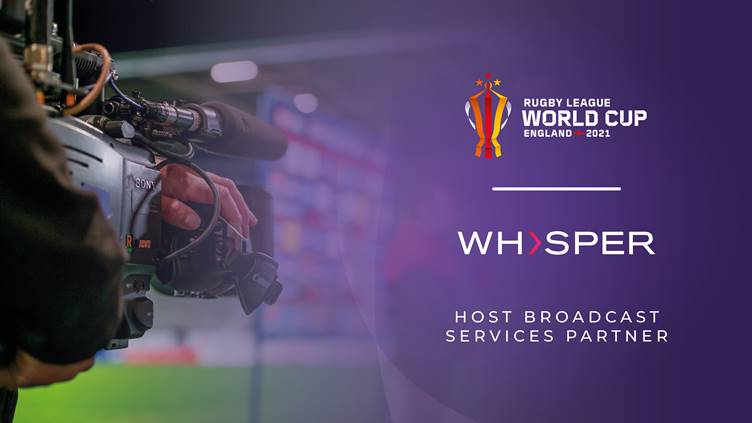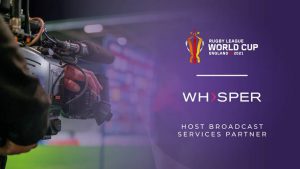 Rugby League World Cup 2021 (RLWC2021) has announced the appointment of sports broadcast company Whisper to provide Host Broadcast Services for the tournament following an invitation to tender process.
The agreement includes full delivery of broadcast production, distribution and rights holding broadcasters' facilities and service requirements for the men's, women's and wheelchair World Cups which will take place simultaneously for the first time in the tournament's 67-year history.
Over five weeks Whisper will be responsible for capturing more than 4,500 hours of live sporting action featuring the hundreds of athletes who are taking part in the event and delivering a world class broadcast and content experience to in excess of 150 million people in around 100 international territories. Whisper manages the host broadcast for New Zealand Cricket, Cricket West Indies, Women's FA Cup, Lioness internationals and Women's Super League, as well as producing The Paralympics, Women's Six Nations, Formula One, International Cricket and W Series, amongst others.
In unprecedented coverage in the UK, every RLWC2021 match will be shown live and free across BBC platforms, with significant global reach through international broadcast agreements, digital channels and social output which will make the tournament the most viewed Rugby League World Cup ever. The tournament kicks off on October 23, 2021, when hosts England take on Samoa in the opening men's game, and culminates in a showcase double header final at Old Trafford, Manchester, on November 27.
Jonathan Neill, RLWC2021 commercial director, said: "Whisper demonstrated a clear commitment and ability to interpret and apply the strategy of Rugby League World Cup 2021 to broadcast production. Both organisations share the vision to deliver the biggest and best Rugby League World Cup ever, and via utilising technology and Whisper's storytelling we will provide engaging content to both existing and new audiences."