People: Harrison Drury; Essar Oil (UK); North West Recycling; Pannone Corporate; One Manchester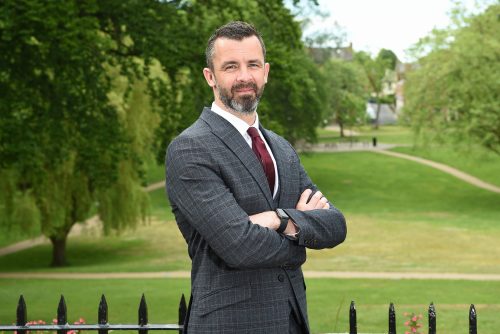 North West law firm Harrison Drury has strengthened its offering to leisure and hospitality businesses by recruiting one of the UK's leading licensing lawyers as a partner.
The firm has appointed Malcolm Ireland, an expert with more than 15 years' experience representing clients including hotels, bars, restaurants, pub companies, breweries, and holiday and caravan parks, among others.
As head of leisure and licensing, he will advise on legal matters around the sale of alcohol, regulated entertainment, and late-night refreshment, including new licence applications, transfers, variations, the defence of review applications, appeals and judicial reviews.
Malcolm, who joins from Napthens, will also lead a team of lawyers working across a range of legal disciplines to offer a tailored service to businesses in the leisure sector.
John Chesworth, executive chairman of Harrison Drury, said: "There are very few people with Malcolm's level of legal knowledge and experience in the leisure sector. For many years he has been the region's 'go to' person on licensing matters for a wide range of businesses, from individual bars and restaurants to some of the largest pub companies in the UK.
"These are crucial times for the leisure and hospitality sector as the industry gets back on its feet after the pandemic. Access to quality legal advice will be essential for businesses looking to make the most of the opportunities presented. We're thrilled to have Malcolm leading our licensing and leisure sector team at this pivotal time."
Malcolm said: "My approach has always been based on finding solutions for clients and focusing on their goals, values that are shared by Harrison Drury. I've joined an excellent team that already has so much experience, not just in licensing matters but a broad range of other specialisms that help to support businesses in the leisure sector."
Malcolm is a member of the British Institute of Innkeepers (BII) and the Institute of Licensing. In 2008, Malcolm dealt with a judicial review which resulted in the High Court delivering a judgment believed to be the first of its kind under the Licensing Act 2003, creating case law that still stands.
The former Bowland High School and Clitheroe Royal Grammar School student worked in the hospitality sector prior to entering the legal profession. He is a member of CAMRA, holder of a personal alcohol licence, and holder of the Award in Responsible Alcohol Retailing.
::
Essar Oil (UK) has announced the appointment of Tim Bullock as independent non-executive director.
EOUK owns and operates the Stanlow Refinery in Ellesmere Port. The site is a key strategic national asset, annually producing more than 16% of the UK's road transport fuels.
Tim Bullock brings to EOUK more than 30 years' experience working across the oil, gas and power industries, both within the UK and internationally. Currently chair of Bonroy Petchem, his former roles include having served as chief executive of Mabanaft (Germany) and Litasco (Switzerland), as well as spending 27 years with BP, including as group vice president of global oil supply & trading.
Bullock's appointment marks an important step in strengthening EOUK's board and corporate governance framework. The company recently completed a comprehensive corporate governance review led by independent law firm Ashurst, which resulted in the board committing to the appointment of two independent non-executive directors.
In his role, Bullock will work not only to enhance the company's governance and risk assessment capabilities, but also provide strategic insights around EOUK's innovation and commercial growth strategy.
He joins EOUK's board at a key juncture in the company's ongoing growth, as the company delivers on its promise of transitioning into a 'low carbon energy provider' of the future and helping build the UK's green economy.
EOUK chairman, Prashant Ruia, said: "Tim brings to EOUK a formidable wealth of experience at an important time for the company, as we deliver on our promise of transitioning to low carbon operations and, in doing so, creating jobs, upskilling communities and helping sustain the UK's green revolution for years to come."
Tim Bullock said: "I am delighted to join EOUK. The company plays a critical role within the UK's national infrastructure and I have been hugely impressed by the board's vision for a sustainable future, exemplified by its role in the HyNet consortium. Company leadership is deeply committed to ensuring the highest standards in corporate governance and I look forward to playing my role in delivering it."
::
North West Recycling (NWR), which claims to be Cumbria's largest independent environmental waste management company, has added three new recruits to its management team, as it continues to drive new waste process innovation and help combat the region's Co2 emissions.
The business has steadily grown its workforce since its inception and has recently announced its plans to expand again. It says its sustainable approach to managing waste through its unique, fully integrated, end to end waste processing site is largely down to its employment of leading industry practitioners, and a team able to quickly adopt new processes and recycling technologies as they emerge.
To that end it has made key hires in its transport, recycling, and engineering teams.
Matt Turner joined in January 2021, assuming the new role of production manager. Matt is a waste management specialist, responsible for overseeing the company's high levels of operational performance across the entire recycling facility, and, crucially, will lead the integration of new technologies as they are introduced to the recovery process.
Lisa Freeman joins as transport manager. Her vast experience in transport and logistics will be relied upon in her responsibilities to continually improve the vehicle tracking and monitoring systems, managing the entire fleet of vehicles and drivers, and ensuring 4000+ skips and waste containers are delivered on time and on budget.
Tony Briscoe joins as maintenance manager, bringing with him a first class blue-chip engineering pedigree, having previously spent 18 years within the engineering and maintenance team at Sellafield.
This critical role will see Tony build and direct a night shift team of mechanical fitters and cleaning operatives to carry out planned preventative maintenance on all the process lines. Tony has already introduced an electronic maintenance management system to ensure the process lines run more efficiently, key to improving both utilisation performance and the safety of staff.
Rick Allan, managing director and founder, said: "We have seen tremendous growth over the last few years, with expansion into exciting new services and processes. It has made us review the entire business to ensure that we continue to champion recycling technologies, look after our customers, support the team, and, ultimately, look after the local community and the environment.
''With the major redevelopment of the facility here, and the inward investment of over £40m, the need to recruit in key operational areas became apparent, and I'm delighted to welcome Matt, Lisa and Tony to the team.
"Their expertise and leadership skills will play a big role in guiding the company through our expansion plans and helping us overcome any growth challenges we may face."
In the coming months the business anticipates continuing its recruitment drive within the county. The development of the new plant on its 30-acre site aims to create a further 60 specialist waste management, transport, and recycling jobs in the local economy.
::
North West law firm Pannone Corporate has strengthened its insolvency and restructuring team with the appointment of Richard Wolff as partner.
Richard, who joins from JMW where he established the firm's insolvency practice more than a decade ago, brings nearly 25 years' experience to the role. He will assist in team growth and development, as well as the expansion of the practice's client base and professional network.
Specialising in both non-contentious and contentious insolvency and restructuring work, Richard has acted for a wide variety of clients, from insolvency practitioners and lenders, to corporates and private individuals.
Paul Jonson, senior partner at Pannone, said: "We're delighted to welcome someone of Richard's calibre to the firm, as we look to expand our expertise and reach within the insolvency and restructuring market.
"The insolvency landscape has changed markedly over the last 12 months and, as a firm, we are keen to capitalise on those developments by strengthening our team."
Richard's arrival follows the appointment of Georgina Bligh-Smith, as a paralegal in the insolvency and restructuring team. She will work alongside Richard, together with associate partner, Daniel Clarke, and senior associate, Heather Morris.
Richard said: "Pannone has an excellent reputation for its ethos and outlook and has exciting ambition and aspirations for insolvency and restructuring as a core practice area within the firm – something that really drew me to the role.
"Over the next 12 months there will, undoubtedly, be a period of sustained development and growth for this area of practice within the firm, as the pace within the insolvency and restructuring marketplace shifts up a gear off the back of the coronavirus pandemic and the withdrawal of the Government and legislative-backed support measures for the UK economy."
::
Housing and community services provider One Manchester has introduced a new role to its executive leadership team in response to the evolving landscape after COVID.
The position of chief transformation officer will oversee key business functions and will play a pivotal role in shaping and delivering services.
The housing provider said it is excited to welcome Charlotte Grover to the organisation to take up this exciting role.
Charlotte is the founder of a North West consultancy business, supporting predominately housing providers and national charities to undertake transformation change as a result of changing external environment. For the past 20 years Charlotte has provided support, advice and guidance on increasing efficiency and helping organisations to realise benefits for customers.
Before setting up her own business, Charlotte worked for Unilever, Toyota and Xerox to bring about cultural change in both brownfield and greenfield environments.
Charlotte has recently started in the business and is already working closely with her new teams. She said: "I was attracted to One Manchester because of its ambition very clearly to be more than a landlord.
"I see a stable home as a foundation to opening up wider opportunities in our communities and One Manchester has a clear vison when it comes to the change agenda. This is so important at a time when opportunities for customers have never been greater – zero carbon agenda, fire safety regulations, increasing responsibility for all sector to ensure understand and listen to voice of the customer."
Nic Kershaw, One Manchester chief executive, said: "Charlotte's appointment is fantastic for One Manchester. We're at a crucial point as a sector in the recovery from COVID, during which we can shape our services to respond to the challenges and opportunities.
"Charlotte's experience in responding to external developments and supporting businesses to realise their full potential will be an excellent addition to the organisation and we can't wait for her to get stuck in."