People: Bromleys; SAS Daniels; Axon IT; Cheshire & Warrington Growth Hub; Hope Capital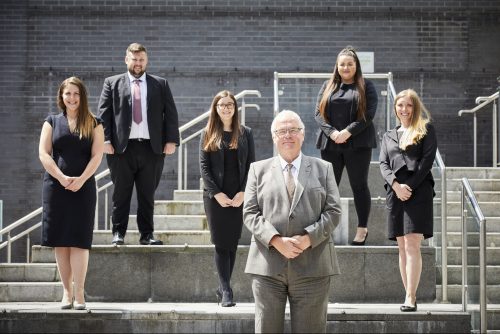 X

Register for free to receive latest news stories direct to your inbox
Register
Law firm Bromleys has embarked on a recruitment drive amid increasing demand for its services as confidence grows with the end of lockdown on the horizon.
The Tameside practice has added four staff in recent weeks across its care proceedings and children services, corporate and commercial and family teams.
The new arrivals are solicitors Charlotte Ellingham and Lisa Bartlett, chartered legal executive Carla Williams and paralegal Holly Sweeney.
In addition, Anthony Nurney has been promoted and secured a training contract supporting the litigation and family teams.
Senior and managing partner, Mark Hirst, said: "Further recruitment is in the pipeline due to the upturn in business across the board."
He said Bromleys' career pathway, strong team spirit and extensive benefits package were key factors in enabling the firm to attract new talent.
Charlotte specialises in child care law and is a member of the Law Society's Children Law Accreditation scheme, which recognises specialists in children and family law work. She is the seventh solicitor at Bromleys to be a member of the scheme, which was previously known as the Children Panel.
Her appointment means Bromleys has one of the largest representations under the scheme across Tameside and the whole of Greater Manchester.
Joining Charlotte in care proceedings and children services is paralegal Holly, who will assist the team.
Lisa has joined the corporate and commercial team after relocating from the south coast. She will focus primarily on commercial property transactions and complex residential property matters and will also support the commercial team on other matters. Her appointment follows a significant increase in instructions and commercial activity for the team.
Carla Williams has joined the firm working exclusively in the family team. She has extensive experience in advising on divorce and relationship breakdowns, domestic abuse injunctions and all aspects of the arrangements regarding children and finances, arising from the separation of couples.
Mark said: "All four new recruits are a great fit for the firm, and we look forward to seeing them develop their careers with us. Our benefits package, IT and positive approach to flexible working rivals any city centre law firm and enables us to attract real talent to complement and enhance our existing offering"
::
North West law firm SAS Daniels is announcing the appointment of eight recruits across its four offices.
Anna Sharp joins as an associate solicitor in the litigation team at the Stockport office, while Jessica Shore has been appointed as a solicitor in the private client team in Chester.
The residential property team in Stockport has been bolstered by five new appointments as the region continues to experience a record number of property transactions.
Senior conveyancer Florence Jordan and four conveyancing assistants, Ayesha Roshan, Bhajan Khalsa, Kardam Gupta and Hannah Bhatti, join the Stockport office.
Also, Catherine Peers has been appointed business development and marketing manager for the full service firm.
Chief executive, Jeremy Orrell, said: "We've kicked off the financial year with a significant number of appointments as we continue to invest in teams across the firm. It's fantastic to attract such highly skilled individuals, all of whom bring experience and sector knowledge that will benefit our clients across the region.
"Despite a challenging 15 months, we've continued to support our clients, providing a first class service and our growth is testament to the strength of the individuals in our team. We have seen a significant increase in work since last autumn and we have recruited 35 professionals since then to meet that demand.
"We are budgeting for record turnover this financial year and the latest recruits will help us achieve that."
SAS Daniels provides a full range of legal services and has offices located in Chester, Congleton, Macclesfield and Stockport.
::
Axon IT has announced the appointment and promotion of Rob Burrell to board member and sales director.
Having worked for Axon for three years, Rob started his new role during June and will be instrumental in developing the company's sales function and client base.
In his new role Rob will be responsible for the strategic leadership of the sales department and will deliver Axon's commercial strategy alongside the other directors. He will also continue to lead the sales team and be a key account manager.
Rob joined Macclesfield-based Axon as sales manager three years ago and during that time has had a big impact on both the sales team and the wider business. He was brought in to take on key accounts and to develop these.
Before Rob joined, Axon had grown its client base organically, and, therefore, his focus was on building relationships with key customers even further. He started growing the sales function 18 months ago and as the sales team expands, he is currently recruiting further team members.
Bringing a wealth of experience to his role, Rob has worked in IT for most of his career and has 20 years of IT sales experience. Prior to Axon, he worked for managed service providers and resellers, such as Channel MSP, Claranet and Advanced.
Rob said: "Axon are really agile and gave me autonomy from day one to build the sales department and to adapt our approach.
"I feel passionate about leading the sales team, I want everyone to embody the role of Microsoft and technology specialists – like technology evangelists. We continue to pull together in one direction as one team – that's what I love about Axon.
"If you have ideas on ways to improve our direction, the leadership team will give you the autonomy to make changes happen quickly."
Established for more than 20 years, Axon delivers end-to-end cloud computing and communications solutions. It is currently recruiting new team members and expanding outside of the North West to support businesses across the UK.
::
To help Cheshire and Warrington businesses navigate new rules with Europe and recover from the effects of coronavirus lockdowns, Cheshire & Warrington Growth Hub has expanded its growing team of business experts.
The hub, part of the Cheshire & Warrington Local Enterprise Partnership (LEP), has been supporting businesses during the coronavirus pandemic and helping them to adapt to the changes from the EU exit throughout 2020 and into 2021. To ensure that businesses are getting the full support and expertise they need and to help the sub-region's economic recovery, the hub has recruited again.
During the financial year 2020-2021 the team supported more than 4,400 Cheshire and Warrington businesses across a range of topics, including EU transition and new rules, start-up support, export support, skills support, innovation support and advice on coronavirus topics including financial support, furlough, grants, health and safety practices and reopening.
Recently, the hub added a further two team members, Cherie Semper and Dave Saddington, both experienced business support professionals from Cheshire and Warrington. This follows the recent additions to the team from Marketing Cheshire of Ashley Shacklady and Fiona Bebbington, both specialists in the leisure, hospitality and tourism sectors. Further expertise is also available to exporters, with the secondment of Tricia Francis from the Department of International Trade.
Andy Devaney, business and innovation director at Cheshire and Warrington LEP, leads on the Growth Hub and said: "In 2020, businesses faced the challenges of coronavirus and dealing with several lockdowns, as well as trying to deal with the changes from the EU exit. By further expanding our team, we can offer a specialised one-to-one service for businesses needing that extra support to continue their recovery and plan for the future.
"We are thrilled that the team and expertise within the team has grown at such a pivotal time."
Clare Hayward, chair of Cheshire & Warrington Local Enterprise Partnership, said: "We recognise that businesses are now reopening and are looking to the future, and the Growth Hub team are a key resource for these businesses.
"As our sub-region's needs change, Cheshire & Warrington Local Enterprise Partnership have worked with partners to alter our business support offer, including further investment into the Growth Hub team and developing a recovery plan for the sub-region. We have also provided £1.2m-worth of grants to support businesses and delivered virtual events to help individuals looking for jobs."
::
Hope Capital has announced the appointment of Roz Cawood as director of sales.
The recruitment of Roz is part of the company's expansion strategy following an extremely successful year, with significant growth in enquiries and completions over the past 12 months.
Roz joins Hope Capital, based in Bootle, North Liverpool, from Masthaven Bank and in her new role will be responsible for leading her sales team, devising sales strategies and implementing them to meet the diverse needs of brokers and their clients.
In addition, Roz will be working closely with the other directors in the business to introduce and manage new key accounts to ensure Hope Capital achieve its targets. Roz has delivered exceptional results in her previous roles and is looking forward to continuing this success in her new position.
Roz has an outstanding reputation in the specialist finance industry and was recently recognised as a 'Bridging Loan Diamond', a scheme which acknowledges certain individuals who have gone above and beyond to support their clients.
She said: "I am delighted to be joining Hope Capital, during a time when there is such a huge demand for their innovative bridging finance products and as they are experiencing a surge in enquiries and completions. This is a fantastic opportunity and I look forward to delivering results alongside my team and achieving the strategic goals of the business using my skills and experience."
Gary Bailey, Hope Capital managing director, said: "I am thrilled to welcome Roz into our team. Roz has a fantastic track record and will be a huge asset. We focus our recruitment strategy on securing talented individuals who share our passion for personal development and sustained success."