People: Knight Corporate Finance; HSPG; Pilkington; Mulbury; Place Capital Group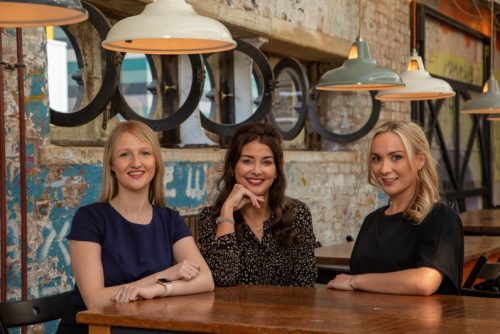 Telecoms and technology corporate finance firm, Knight Corporate Finance, has launched Knight Transaction Services, a sister business that will specialise in bespoke due diligence and related services.
Knight Transaction Services will support owner managers, corporate acquirers, banks and private equity firms throughout the transaction process, offering a range of services including buy side due diligence, vendor due diligence and vendor assistance.
Hayley Brightmore, formerly a senior member of Grant Thornton's North West transaction team, will lead the operation. She is joined by associate directors Erin Berry and Jennifer Serridge, who also join from branches in Manchester and Liverpool, respectively.
The company will work with corporates and PE houses, banks and debt funders, focused on the mid-market space, that are currently unable to find the right partner. This is often due to financial constraints or the inflexibility of larger firms that are focused on larger deals.
"The ethos of Knight Transaction Services is to offer a flexible, bespoke and agile service to companies across the UK," said Hayley Brightmore, director.
"For owner managers in particular, due diligence can be a daunting and complex process – and there is no 'one size fits all' approach. We will deliver tailored support and full transparency to guide and support businesses as they prepare for a transaction. This leaves management teams free to focus their time and effort on the activities that add value to their business."
Erin Berry said: "Joining forces with Knight Corporate Finance, which is such a respected player in the UK, is a perfect fit for us. We look forward to working closely with Paul Billingham, Adam Zoldan and the rest of the team to offer additional experience, insight and support to its clients."
Paul Billingham, director and founder of Knight Corporate Finance, said "We welcome Hayley, Jenny and Erin to the group. Over the last 12 years we have built strong relationships with many acquirers, lenders and investors who have often asked us for a commercially driven due diligence product. To be able to launch Knight Transaction Services with such a talented team is an incredibly exciting prospect."
::
HSPG, the social impact real estate firm, has expanded its senior team with two new appointments. Michael Reason joins the company as finance director and Josh Beeston as head of affordable housing acquisitions.
HSPG has expanded its team at a rate of 85% between April 2020 and June 2021, following a period of considerable growth, which saw the Manchester-based firm open a second office in London in 2020.
The ambitious expansion of the team follows a year in which house prices have risen by more than 8%, reaffirming HSPG's commitment to addressing the UK housing crisis and its plans to invest circa £250m across in excess of 1,000 affordable homes throughout the UK this year.
Josh Beeston after previously holding senior positions at Legal & General Affordable Homes and Sage Housing, which is backed by investment management company Blackstone.
Michael Reason joins from Inprova Group, a procurement partner specialising in property and construction, where he spent 11 years as finance director for the company.
HSPG, founded in 2015, began delivering housing for homeless individuals and asylum seekers in Manchester and has since continued to expand its activity across the UK to address the increasing shortage of affordable housing and rising levels of homelessness.
It now specialises in affordable housing, supported housing and asset management. In the past month it was revealed that 130,000 households in England were made homeless during the first year of the pandemic alone.
Guy Horne, HSPG CEO, said: "These are significant appointments and we are delighted to be welcoming them at a time of expansion for the businesses. Josh and Michael's expertise within the sector will be incredibly important as we drive forward our commitment to fighting the UK housing crisis."
Josh Beeston said: "At such an exciting time of growth for HSPG, I'm thrilled to be joining the team. With a gap between housing supply and demand in the UK estimated to exceed one million homes, there has never been a more important time for us to accelerate our affordable housing provision. The organisation's commitment to social impact across the UK is an incredible project to be a part of and I'm excited to help HSPG deliver on this task."
Michael Reason said: "I'm delighted to join HSPG as finance director alongside an inspiring and passionate team. With my background in social housing and the wider property sector, I'm looking forward to helping HSPG continue its ambitious growth and to perform well for investors while creating real change in people's lives."
::
Pilkington UK, part of Japanese parent NSG Group, has made two new senior appointments, promoting Kristian Chalmers to head of sales, and Leo Pyrah to marketing and VA manager.
The pair bring with them a combined 25 years' experience working across Pilkington UK's architectural glass business and the wider NSG Group, and will help the company to deliver further value for its customers.
They will be based at the NSG Group's European Technical Centre in Lathom, Lancashire.
Chalmers takes the post after serving as strategic marketing manager for Europe within the business. Her past experience includes launching some of the business's most successful products, including Pilkington K Glass, which the company is selling at full manufacturing capacity each month in the UK.
She takes over from Andy McDowell, who retires from his role as commercial director at the end of June, concluding a 30-year career at the company.
Meanwhile, Pyrah takes on a multifunctional strategic marketing role in the business, with a key focus on adding value for customers through NSG technology.
He began his career in the NSG Group as a graduate working in R&D in 2007. Since then, Pyrah has held a variety of technical and product management roles in the UK and overseas as part of the NSG Group's operations in Vietnam and China.
Matt Buckley, Pilkington UK managing director, said: "Kristian and Leo bring a wealth of experience from across the business's different functions and countries of operation. This experience will be vital in leading our teams that are supporting customers through this period of recovery – and as they help architects to meet new design challenges by using innovative glass products."
Kristian Chalmers said: "It's exciting to step into this position at this crucial time for the industry and our customers. My team's focus in the near term will be supporting customers as UK glass supply remains constrained, while looking ahead to new opportunities for the existing and new sectors, including the servitisation of glass."
Leo Pyrah said: "Glass applications and specifications are evolving in line with new regulations and building policies, in what's a key period of change in building design. It's creating strong market opportunities for value added glass products, which I'm looking forward to working alongside customers in targeting."
Pilkington UK has recently brought to market new products including Pilkington AviSafe, a glass that's visible to birds to help prevent collisions, and Pilkington SaniTise, an antimicrobial glass launched after the beginning of the pandemic.
::
Housing developer Mulbury has bolstered its in-house customer care capabilities with the promotion of Joanne Robertson.
Joanne, who is from Warrington, has been promoted to the position of customer care manager after four years at Mulbury.
Originally joining the Lymm-based firm as a receptionist in 2017, Joanne took on the role of customer care administrator in 2018.
A year later, Joanne was promoted to assistant customer care manager and, following a progressive career mentorship programme with Mulbury, has now stepped up to head the team.
Joanne will help lead a team of eight customer care staff, providing first class aftercare service for customers of Mulbury's ever increasing pipeline of housing developments.
She said: "I'm really proud to have come so far in my career and the big changes I've achieved for the team in just three years.
"I've embedded a new system which provides homeowners with real time updates on the progress of their new build, while I'm also trialling an online handover pack for all our new homeowners.
"I'm really proud of what the team has achieved following a very difficult year for everyone, and also of what I have achieved personally after also becoming a mum for the first time last year."
Greg Mulligan, co-founder and director at Mulbury, said: "Joanne's promotion comes at a time of significant growth for Mulbury. We're expecting to build thousands of new homes over the next few years, helping to build communities and shape lives. Joanne will play a key role in ensuring we deliver quality homes and excellent support to our clients and those who live in our homes.
"Joanne has shown a desire to develop her career and her personal and professional growth has really added to the strength and depth of our customer care offering. The promotion is thoroughly deserved."
::
The housing estate regeneration specialist launched by David Smith-Milne at the start of 2021, has strengthened its senior leadership team through the addition of Pete Adams, former chief quantity surveyor at Lovell and previously commercial director at Placefirst.
Pete joins the Place Capital Group team as commercial director with responsibility to build the commercial and cost management functions for the business in support of its rapidly growing pipeline of new development opportunities.
Smith-Milne said: "Having worked with Pete in the past, we knew immediately that he would be the right fit for our business. Pete shares our culture and mindset, which is to disrupt the mediocrity that characterises so much of the housing sector and to deliver projects that put the end user, not the investor, at the core of development plan. He is technically excellent and has a personality and character around which we can build a high functioning, but values-led commercial team".
Place Capital Group intends to announce its first major housing project later in the summer and is currently in discussions with several large local authorities, with a growing pipeline of exciting, visionary, housing-led regeneration schemes that will see the transformation of former council estates.
Pete Adams said: "David's energy and vision have led to rapid growth in the Place Capital Group project pipeline. The entire team is now focused on securing planning permission for several major development and place making projects, which I will be taking to market later this year.
"Our intention is to partner with a construction supply chain that shares our ethos and values, to create significant social value, whilst delivering imaginative, design-led solutions to much forgotten former council estates."
Pete joins Faye Whiteoak, former group development director at Redrow, who joined PCG as development director earlier this year, as well as Vicky Hoare, who also recently joined as head of operations and marketing.
PCG recently acquired specialist place making advisors Fourth Street and will announce its second acquisition in July.