People: Foresight Group; Everton Football Club; Ethical Social Group, Cowgills; Kuits; Atradius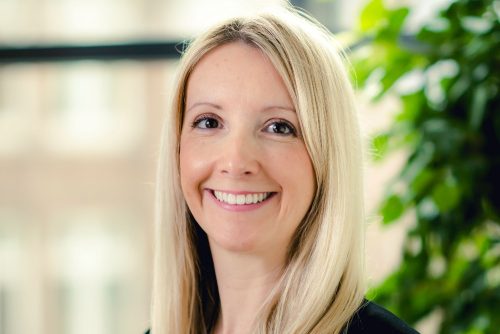 Claire Alvarez has been promoted to partner by Foresight Group, the leading listed infrastructure and private equity investment manager.
Claire, who joined Foresight from Deloitte as a senior investment manager in 2016, has played an important role in establishing Foresight in the North West as an active and supportive investor in SMEs.
She led the successful investment in Lancashire-based e-Commerce firm Hedges Direct, which generated a 5.6x return over the investment period as revenues soared 93%.
Claire has also worked closely with Nisha Katona, MBE, founder of Mowgli Street Food, supporting the business through its rapid growth from three to 15 restaurants and through the challenges caused by the pandemic.
She also led the investments into Salford companies UDP and Tudor Group, fast-growing languages services provider, DA Languages, and Merseyside-based fire alarm and electrical services company, Fieldway.
Claire, who is passionate about diversity – both by supporting female-led businesses and inspiring and encouraging more women to take a career in private equity – will formally join the partnership on 1 August.
She said: "I am delighted to be joining the Foresight Partner team. I am grateful to my colleagues and senior management for the support and teamwork that has helped me achieve this goal.
"I believe Foresight has made significant strides in the North since establishing an office in Manchester in 2016 as part of its commitment to regional expansion.
"We are deeply committed to supporting ambitious SMEs, creating jobs and opportunities along the way.
"It's an exciting time for the regional economy. With so much focus on levelling-up, confidence is clearly returning after the pandemic and the lengthy period of uncertainty over the EU exit. We have been privileged to work with some outstanding entrepreneurs and management teams. We look forward to supporting many more."
---
Everton Football Club has appointed Sarvar Ismailov and Grant Ingles to its board of directors.
Ismailov joined Everton in 2019 as global commercial consultant before becoming Everton Women's first Sporting and Commercial Director and a member of the Everton Women Strategic Leadership Team in 2020.
In his role as sporting and commercial director he has overseen significant progress for Everton Women both on and off the pitch, including strong commercial growth and improvements to on-field performance, with the side reaching the final of the 2020 FA Cup and finishing fifth in the WSL in 2021.
Ismailov will retain his role at Everton Women and will also remain on the Club's Stadium board – a post he took up in 2019.
He will join Sasha Ryazantsev as owner's representative on the board.
He said: "We are – and always will be – a family club but we are entirely focused on bringing success on the pitch – that is our absolute priority. This is an exciting new chapter for our club. We are beginning a new era and we are only looking forward, determined to deliver success for every Evertonian."
Ingles' association with Everton began in 2006 when he worked at the Club on secondment from the Deloitte Sports Business Group, where he was a consultant. He subsequently joined Everton permanently and became the Club's Finance Director in 2013.
He has also held positions away from the Club, including spells as Finance Director at Australian A-League club Sydney FC.
In total, Ingles has worked for Everton for more than 10 years and been part of the Everton Leadership Team since June 2018. He also joined the Club's Stadium board in 2019.
As finance director, Ingles has been responsible for all financial aspects of the Club, including the regular communication of financial performance to the board, driving the profitability of the Club, overseeing all banking and funding arrangements, managing the Club's cash flow position, supporting and maintaining governance structures that ensure the financial assets of the Club are protected, and ensuring that the Club complies with all statutory regulations.
He said: "I am really pleased to join the Everton Board of Directors at such an important time in the Club's history. We have some incredible opportunities in front of us and I look forward to working with the Board and Executive team to deliver these in the years ahead."
---
Cheshire-based tech company, Ethical Social Group, has appointed Rhonda Alexander as the new CEO and Louise McCarthy as chairperson for its innovative dating app, Fluttr, ahead of its official launch this autumn.
Macclesfield-based Ethical Social Group was created with a vision to transform the landscape of social media and give people a positive experience.
New CEO Rhonda Alexander is a native New Yorker who now lives in central London.
She earned an MPhil in Sociology, Politics and Economics of Development at the University of Cambridge, and has a wealth of experience operating in different global markets.
Rhonda served as international director and senior VP of World Congress in the '90s driving its expansion into Europe and Asia.
She is also the co-founder of The Chemistry Club, forging business connections for members "fundamentally powered by the chemistry between people."
More recent roles have included chief connections officer at The WealthiHer Network, partner at The Ballistra Group and advisor at Cherry London.
In 2016, Rhonda founded The Maven Group, offering consultancy and advisory services at board and shareholder level specifically to start-ups, SMEs and non-profits.
Rhonda  said: "Fluttr represents an opportunity to bring together all of my experience in curating meaningful connections to help shape building everything that a dating app should be.
"Fluttr will be a fun and safe space where people can be their authentic selves and find what they are looking for. I can't wait to help introduce Fluttr to the world!"
Chair Louise McCarthy is a widely recognised award-winning industry leader. She is currently serving as a  chief experience officer and non-executive director for companies including Recognise Bank and has guided numerous complex organisations through creating their global digital IT transformation strategies.
Louise is a renowned architect at board level for her strategic design of complex technology and digital transformational policies which enable multifaceted organisations to align their digital transformation plans with their commercial business objectives.
---
Business advisory and accountancy firm Cowgills has made a string of appointments, boosting the team with fourteen new hires across its offices in Bolton and Manchester.
New roles have been recruited across the business; key appointments include the promotion of Lisa Kershaw as head of people to spearhead the company's recruitment drive as the firm continues to recruit for senior positions throughout the business.
Lisa has worked for the firm for over 30 years and moves into this role to support the company's growing number of colleagues.
The firm has also welcomed its first digital marketing manager, Damian Leonard and Charlotte Harrington has re-joined in a new role as head of finance, having previously worked with Cowgills prior to taking a career break, taking the total employee number to 195.
Head of people Lisa Kershaw said: "We've bolstered our team at every level to make sure we have the best people with the widest range of skills. The investment will ensure that we continue to provide our growing client base with first class business advice across the full spectrum of services from corporate finance, tax and audit, wealth planning and business recovery."
---
Manchester commercial law firm Kuits has welcomed five new lawyers into its Commercial Litigation department after a positive year.
The news comes following the firm's promotion announcement, of which two were made within the commercial litigation team.
Daniel Adcock-Kirsh joined the firm as a solicitor back in October from JMW and has now gained promotion to associate.
Daniel's area of expertise includes complex, high value and multi-jurisdictional litigation cases. In addition, solicitor Richard Wilson, who is expanding the practice with a growing expertise in contentious probate, has gained promotion to associate.
More recently, the firm also welcomed associate Tom Christie from Slater Heelis. Tom has a raft of experience in complex and high value disputes and has been given the accolade of 'recommended lawyer' for the last two years by the Legal 500 Directory.
Kuits has also welcomed four additional lawyers into the team, namely: Carl Sebastian, who has experience in financial litigation cases including running claims for mis-sold financial products and pursuing claims against major banks; and Hasin Amin, who focuses mainly on property disputes, with experience in complicated possession disputes and also acting for major telecommunication companies on disputes with telecom sites.
Jake Slinger who started his career as a trainee has also taken a permanent contract in the commercial litigation department.
Kuits' head of litigation Bruce Jones said: "It has been a strong 12 months for the commercial litigation team, so we are delighted to have welcomed five new talented lawyers into the team to support this growth and to have recognised the increasing skills and acumen of our team with these promotions.
"Each of our new lawyers contributes a singular skill set which will help us to continue to grow and diversify."
---
Trade credit insurer Atradius has bolstered its regional presence with a new UK north manager.
Alastair Divers has been appointed to the role of account manager for Atradius' northern hub, bringing experience in working with corporate clients and passion for international affairs.
Alastair has more than a decade of corporate client experience dealing with customers across a range of sectors from technology and healthcare to education, charity and government.
Prior to joining Atradius, Alastair was corporate account manager for waste management company Biffa, responsible for high-level strategic planning and commercial development.
Alastair, who moved to Manchester four years ago, said: "With a great deal of interest in foreign policy, I was immediately drawn to Atradius as a professional, global outfit with extensive expertise.
"Across the north, there are considerable numbers of businesses trading internationally and seeking to export further afield which Atradius supports day in, day out.
"I'm very much looking forward to forging long-lasting relationships with businesses and brokers, working with customers to trade safely and seize new global trade opportunities."