People: Assetz Capital; Muse Developments; O'Connors Legal Services; Matt Hammer, Pixel Kicks; Bibby Financial Services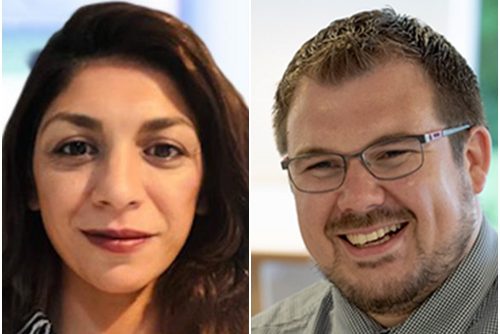 Marketplace lender Assetz Capital has added two relationship directors to its bridging team as its looks to accelerate growth of the bridging loan book in the coming months.
Laleta Buctkuar joins following 12 years at Together and more recently a period at Roma Finance.
A bridging specialist, Laleta brings a wealth of experience working within the intermediary market.
Colin Mottram has been promoted internally from senior relationship manager having been at Assetz Capital for two years, and prior to that held commercial roles with Lloyds Banking Group and the Royal Bank of Scotland.
The moves signal a strategic focus on the bridging market for the lender, as it approaches £1.5bn lent since its inception in 2013 and extends the proposition deeper into more segments of the property-secured lending marketplace.
Towards ensuring the effective management and control of increased loan volumes, Assetz Capital recently appointed Irene Thomas as director of lending operations.
Irene's previous role was key in scaling Together's bridging activity and is now bringing this depth of knowledge to bear in the evolution of Assetz Capital's service delivery as volumes continue to grow.
Mark Standley, national commercial director at Assetz Capital said: "We have offered bespoke bridging loans for many years, and whilst we can still deliver on complex cases we have also launched a sharper standardised proposition that has been well received by our intermediary partners.
"This simplifies the process and reduces the time investment required by all parties to deliver on the majority of bridging cases."
---
In its push to bring through the next generation of urban regenerators, Muse Developments has appointed Joe Stockton as development surveyor to its North West office.
Joe cut his teeth at Peel, Deloitte Real Estate and most recently at DP9, and joins Muse to assist in the delivery of Muse's expanding £4bn portfolio in the North West, which includes transformational schemes in Stockport, Salford and Blackpool to name a few.
On the appointment, board director, Phil Mayall, said: "I'm delighted to welcome Joe to the team, where he'll work on schemes that reflect our unique brand of innovative, repurposed regeneration that delivers real, tangible benefits to communities in our towns and cities.
"Joe joins us at an exciting time, as we continue to expand our tenacious teams across the UK and continue to be steadfast in our commitment to creating connected, vibrant and sustainable schemes that leave a positive legacy, driving inward investment and providing opportunities for all.
"As a sector, we also need to provide opportunities to inspire and bring through the next generation of urban regenerators too. Young professionals full of ideas, hungry to learn and the desire to transform places for the better… and we've found this in Joe."
---
Liverpool and London-based lawyers and business advisers, O'Connors Legal Services, has appointed corporate lawyer Craig Geraghty as an associate.
Craig joins from the Jersey office of global law firm Bedell Cristin where he handled a wide range of high value off-shore M&A and private equity transactions, as well as business reorganisations, restructures, joint ventures, corporate governance and regulatory work.
Prior to that, Craig spent five years at Pannone Corporate in Manchester.
O'Connors provides a blend of corporate, commercial, insurance and regulatory expertise to help clients manage the legal and financial risks inherent in strategic projects and transactions, wherever in the world they are doing business.
A significant proportion of the firm's work is for legal businesses, insurance businesses and investment funds with the firm representing some of the UK's most well-known, innovative and successful organisations.
Craig's appointment expands O'Connors' capacity to handle a growing volume of corporate projects for the firm's national and international clients as well as bringing valuable offshore expertise to its investment fund and insurance work.
Director John Spofforth said: "Craig is another important and strategic appointment for us as we continue to develop our team and build for the future.
"We are delighted to welcome him to the firm. Craig has proved he has all the credentials we've been looking for and will add rare skills and expertise as we deliver corporate, commercial, insurance and regulatory solutions and advice to our business clients."
---
Pixel Kicks, the Manchester based full-service digital agency, has made three new appointments in its digital marketing and web development teams.
These latest new starters quickly follow Faye Valentine who joined the social media team from Archies in May.
Kendall Jones is Pixel Kicks' newest digital marketer. Kendall joins the agency from Grono, which is one of the UK's biggest artificial grass, composite decking, cladding and fencing suppliers. Her focus will be on producing high-quality written content for client websites and running multi-channel digital marketing campaigns for the agency's diverse roster of clients.
Matt Hamer has been appointed as a web developer. His role will see him handling and working with the wider web team on front-end web development projects. He has particular experience in creating mobile-friendly websites. He joins Pixel Kicks from Visions Designs in Lymm and he has previously worked at Juice Media.
The agency's final new starter is Graziela Di Folco-Clement who has joined the business as a digital marketing apprentice from the Juice Academy; the UK's first industry-led social media apprenticeship programme. Over the coming months, she will be working closely with the digital marketing team helping them to develop engaging online content including videos, graphics and blogs.
Chris Buckley, MD of Pixel Kicks, said: "We are delighted to welcome Kendall, Matt and Graziela to the agency at what is an exciting time in our evolution. Their passion, determination and commitment to deliver for our clients is what really made them standout."
---
SME funder Bibby Financial Services (BFS) has appointed Riana Azam as regional head of corporate to boost its support for businesses in the North of England and Scotland.
Riana joins Liverpool-based BFS with a wealth of expertise having amassed more than 15 years' experience in the invoice finance and asset based lending sectors in the North West.
In her previous role, Riana worked as a regional sales director across the region for Nucleus Commercial Finance. She has also held senior business development roles at Metro Bank and Santander UK, in addition to spending eight years at RBS Invoice Finance where she managed a portfolio of commercial banking clients in Yorkshire.
Riana will head up BFS's corporate team in the North, based from the business's Manchester office. Her team is focused on developing deals for larger businesses with turnover of up to £100m supporting a range of requirements including cashflow funding, growth and expansion, management buy ins and buyouts, refinancing, corporate restructuring and mergers and acquisitions.
Head of UK sales, Gary Davis, said: "We have had an incredibly strong first half of the year with our sales teams across the country delivering fantastic results and continuing to support UK SMEs.
"I'm delighted to welcome Riana to BFS at a time of positive change. With her experience and connections I'm confident we'll be able to bolster our support for businesses throughout the region even further."
Riana said: "At a time when SMEs need proven, reliable funders, I wanted to join a well established market player to support the industry during this post-pandemic recovery phase."