100 events in the pipeline as Manchester Central reopens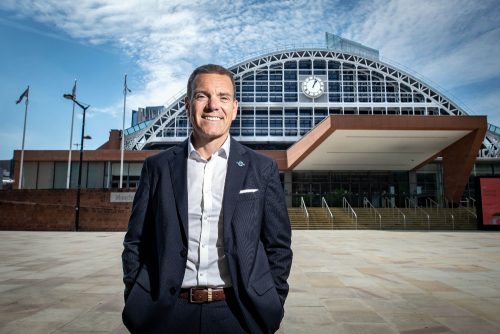 X

Register for free to receive latest news stories direct to your inbox
Register
The boss of Manchester Central has today hailed the relaxing of restrictions as the 10,000 capacity venue prepares for more than 100 events this year.
The centre, which last year was transformed into a huge field hospital dedicated to the care of coronavirus patients, has reopened its doors fully after 16 months in lockdown.
CEO Shaun Hinds said: "The events and exhibitions sector brings £30bn into the UK economy each year, and we're thrilled today to be able to properly restart our events programme and begin to help rebuild the region.
"At a localised level, Manchester Central brings £150m into the city in a typical year. For every £1 spent at the venue, on average a further £6 is spent in the wider city – in hotels, restaurants, bars, shops and taxis.
"The business of bringing people together has a significant halo effect and as such the sector will undoubtedly play an integral role to the country's economic recovery, job creation and international competitiveness."
Having already hosted several performances of this year's successful Manchester International Festival, the venue has a further 100 events already in its pipeline for the remainder of the year, and has announced it will work with each organiser to determine what safety controls, such as covid certification, will be most beneficial in ensuring both a safe and successful show.
Hinds said: "We recognise that a significant proportion of the public will naturally be cautious as we emerge from this pandemic.
"As such, ensuring all event goers feel safe will be integral to rebuilding confidence in the sector and for our own growth going forward. Safe, secure and well-managed environments have always been what business events are about and that remains a constant for us as a venue.
"As we look forward, while the Government has hinted on the use of COVID-status certification as one of several measures that could be adopted, we're very much driven by the organisations who are hosting events at our venue."
Since the decommission as the NHS Nightingale Hospital North West in June, the venue, which attracts over half a million visitors to its events each year, has also added a number of features to embrace changing trends in the live-events sector as a result of the pandemic.
Building on its hybrid and virtual event expertise, the centre has installed a TV-quality broadcast studio for podcasts, panels and recitals, in addition to its 'plug and play' hybrid solution in its purpose-built 800 seat auditorium, enabling content to be live-streamed to in real-time to maximise audience reach.
He added: "The last 16 months have taught us all just how much we miss and take for granted the ability to interact face to face, on a personal level and on a business level."