New Majestic store opens in UK's champagne capital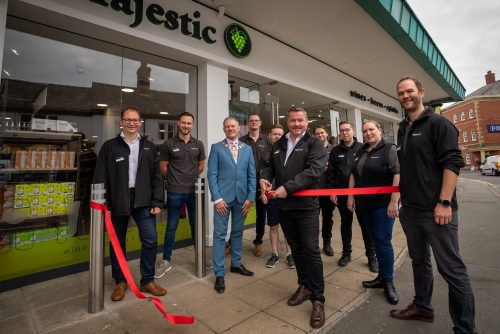 Majestic, the UK's largest specialist wine retailer, has opened its first new store in the North of England for almost a decade, in the historic market town of Knutsford.
The new outlet became the retailer's 201st store in the UK as ambitious plans to expand its bricks-and-mortar retail estate continue.
As part of the Golden Triangle of Cheshire, Knutsford and the nearby towns and villages are famed for drinking more champagne per head than anywhere else in the country – something Majestic's new store team is promising to add to with an opening month of free fizz tasting.
This is the latest new store opening for the retailer since the 2019 acquisition by Fortress Investment, which has seen four new branches opened in the past 12 months with a further 16 in the Majestic pipeline.
The specialist is also offering customers a year's supply of free wine should they help to find a new location in one of their target towns.
Majestic CEO John Colley said: "Whilst some retailers have seen the past 12 months as an opportunity to pull back from face to face retail, we're pleased to be doing quite the opposite, as our new site in Knutsford shows.
"I couldn't be prouder of the work that our store colleagues have done throughout the coronavirus pandemic, helping all our customers – new and loyal – to discover the wines, beers and spirits they'll love, while balancing the extraordinary operational challenges brought on by the pandemic.
"Knutsford is a location that has been on our wish list for a number of years, and we're delighted to offer our services to the town and its surrounding communities for many years to come."
The new store is located in Canute Place on the site of a former Tesla showroom at the heart of the town. It has been acquired through property consultancy Fisher German and joint agent Jackson Criss, acting on behalf of Monckton Properties, part of the Tatton Estate.
The company has created five jobs in the town.
It is the third major retailer to be welcomed to Canute Place in the past 12 months, with deals also completed with Overfinch and Sofas & Stuff.
Henry Brooks, a director of Monckton Properties, said: "We are very pleased to welcome Majestic Wines to Knutsford. It is fantastic to have such a high profile brand launching in our exceptional market town. We look forward to seeing the store take shape ahead of its July opening and wish the team every success for the future."
Rupert Collis, of Fisher German, said: "It is extremely positive to see a national operator investing in new high street stores in what is an extremely challenging retail market.
"We are very pleased to secure a 15-year lease with Majestic Wines. It demonstrates the resilience of Knutsford, and the brand will be an excellent addition to the town."