North West business briefs: Sedulo; Claritas Tax; LullaBellz; Manchester Utd; Everton FC; WeSwimRun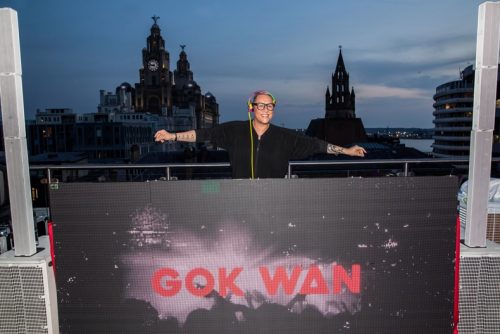 X

Register for free to receive latest news stories direct to your inbox
Register
A host of stars and celebrities were in Liverpool last Thursday night (July 22) to celebrate the launch of national finance company Sedulo's new £1.4m offices in the city.
Internationally-renowned DJ Gok Wan, who has an Isolation Nation tour incoming, treated guests at the exclusive event to a music set while they mingled with Coronation Street star Sally Lindsay and her husband Steve White, who is the Paul Weller Band drummer.
Real Housewives of Cheshire star Seema Malhotra was also in attendance for the star-studded evening and arrived at the new offices in Exchange Flags looking glamorous alongside her husband Sandeep Malhotra, CEO of Forever Unique, and a host of the city's top business leaders.
Sedulo, established in 2009, counts itself among the top 100 accountancy firms in the UK and is the only business in the sector to have strong office bases in Liverpool, Manchester, Leeds and London.
The new Liverpool lease is costing more than £1m, while the company spent a further £400,000 transforming its 7,000 sq ft space into a unique area including a 3,000 sq ft backlight bar dressed in black and green to provide an intimate and calm working space with secluded tables and a speaker system, and a 'Klopp/Kendall Suite' in honour of the city's football teams complete with signed shirts from Liverpool's Sir Kenny Dalglish and Everton's Kevin Ratcliffe.
Sedulo founder, Paul Cheetham-Karcz, said: "We're incredibly proud of our new offices in Liverpool and delighted that so many of our clients, business leaders and celebrities were able to join us for this spectacular launch event. We've got big ambitions for Liverpool and look forward to welcoming more people into our offices in the coming weeks and months."
::
Claritas Tax, which has a Manchester office, has advised on deals with value in excess of £300m in the first half of 2021. This tops the £270m of deals completed by Claritas in the first six months of 2020.
Ses Memhi, associate partner and head of transactions tax, said: "It is fair to say that some of the earlier activity was driven by the potential changes to the capital gains tax regime, but we have also seen many clients across a number of sectors who have jumped at the opportunity to create further value by making strategic acquisitions that will not only help them through the tough economic conditions, but ensure they're able to capitalise on opportunities once we fully bounce back."
Iain Wright, partner at Claritas Tax, said: "It has been interesting to see how the impact of coronavirus has shone a light on many sectors over the last 18 months, in particular those technology-based companies that have had a positive impact on sustainability and the environment. We are encouraged by this trend, and we expect strong M&A activity to continue over the next six months."
Ses added: "I must also not forget to mention our wonderful team at Claritas. I am very proud of how agile and resilient they have been. They have managed to support our clients with very little interruption, despite getting to grips with new and changing processes and systems, as well as keeping on top of the plethora of tax initiatives introduced by the Government to support businesses and the uncertainty introduced by the potential changes to the capital gains tax system.
"With a number of exciting new joiners across all our offices over the coming months, we are certainly well placed to continue to support our clients and look forward to doing so."
::
Manchester-based online hair extension retailer, LullaBellz, plans to launch into the US market. With its core customer base situated in the UK, France and Germany, this will be the company's first international expansion outside Europe.
The multimillion-pound turnover business specialises in synthetic and human clip-in hair extensions, providing its customers with quick and easy transformations. As one of the market leaders for six years, LullaBellz continues to see growth, recording a 48% increase in turnover in 2020.
Founded by 31-year-old entrepreneur, Laura Smith, LullaBellz has gone from strength to strength. Starting in a small university bedroom, LullaBellz now has marketing, product and operations teams across two sites. Stocked on major retailers Prettylittlething.com, Missguided, ASOS and BooHoo.com, LullaBellz shows no signs of slowing down.
Laura said: "The US has always been a source of inspiration for LullaBellz. Our recent business trips to LA shooting our summer campaigns confirmed the thirst from the US consumer. Seeking affordable, yet premium quality, we provide quick and easy solutions for women wanting to change their look to follow the latest celebrity and influencer hair trends.
"LullaBellz has a strong positioning to stand out amongst the current US hair extension market. We currently have a wealth of social media influencers with audiences in California and Florida, and have seen strong sales organically coming from the US, so we know there's a desire for LullaBellz products that can be taken to the next level."
::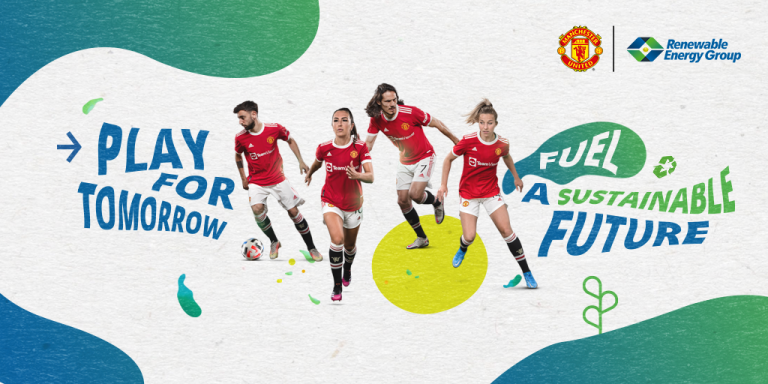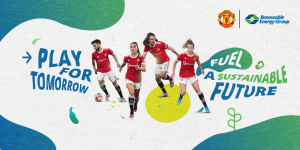 Manchester United has reinforced its commitment to environmental sustainability through a global partnership with Renewable Energy Group, Inc, a producer of renewable fuels, with a shared mission to tackle climate change and create a cleaner world.
Dedicated to providing high quality and easy-to-use renewable fuels, Renewable Energy Group recycles waste and by-product fats and oils into sustainable fuels. This enables organisations and individuals to become more environmentally friendly, without sacrificing quality or performance. The club and Renewable Energy Group will work together to raise awareness of the company's biofuel products and encourage positive environmental change among Manchester United's global fanbase and beyond.
Manchester United was among the first football clubs in the world to launch a carbon reduction programme in 2008 and since then has reduced annual emissions from its operations by 2,700 tonnes. The club will be seeking to build on this record through its new partnership with Renewable Energy Group.
Collette Roche, Manchester United chief operating officer, said: "As one of the most popular sports teams in the world, the club has a powerful platform to help raise awareness of how people can contribute towards a cleaner, more sustainable future for our planet. We are already an environmental leader among football clubs after 12 consecutive years of reduction in our greenhouse gas emissions. We will now work with Renewable Energy Group to explore ways of shrinking our carbon footprint further. Together, we can make a difference in the fight against climate change, and the goal of developing a greener, cleaner planet."
Renewable Energy Group president and CEO, Cynthia 'CJ' Warner, said: "As a leading producer of cleaner, bio-based diesel, it's a natural fit for Renewable Energy Group to partner with another sustainability-minded leader like Manchester United. The world is at a critical juncture in which we are all recognising that we must do more to reduce harmful emissions, and there is a growing desire to secure more immediate and practical low carbon solutions. Together, alongside Manchester United, we will amplify our simple-to-adopt opportunities for individuals and organizations to reduce carbon now."
::
Season ticket members with Everton FC will be able to re-sell tickets for games they cannot attend during the 2021/22 season when the club launches its own ticket resale platform next month.
The facility has been created to assist season ticket members if they are unable to attend matches, helping to ensure they are not out of pocket and to guarantee no seat is unnecessarily left empty at Goodison Park. The club-created system will replace the third-party resale platform, StubHub, which was utilised by fans and provided by the former official partner between 2012 and 2020.
From early August, season ticket members will have the option to list their seats for any fixture they are unable to attend in the upcoming Premier League campaign, with fans able to manage the process themselves from their online ticketing account. They will receive a pro-rata credit on their ticketing account for each ticket sold via the platform, with tickets then listed for sale on the website at the face value for the given fixture. Official members for the 2021/22 season will have priority windows ahead of each fixture to purchase tickets on the platform.
Credit earned by season ticket members who utilise the system can be used for future ticket and season ticket purchases. The new platform will give season ticket members the flexibility to remove the ticket from sale if their plans or circumstances change.
Revenue generated by the platform will be donated to Everton in the Community to enable the club's official charity to extend and enhance its life-changing and life-saving work across Merseyside and beyond. The new service has been developed with input from the club's Fans' Forum.
::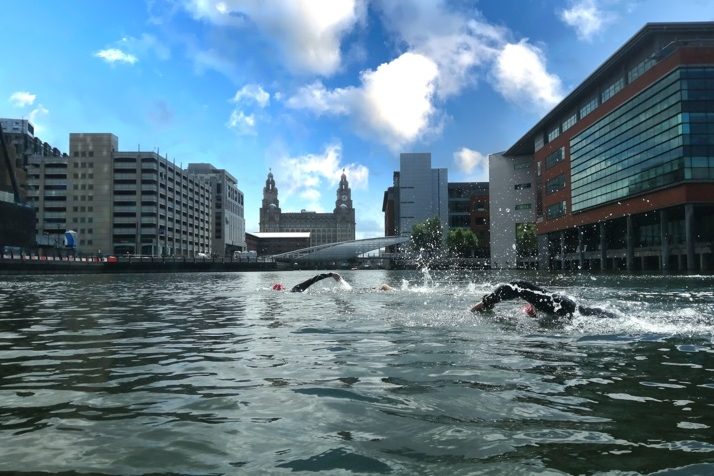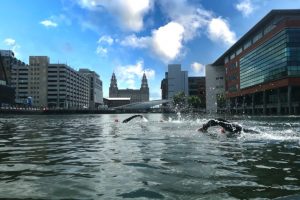 An urban open water swimming facility will open at Princes Dock, Liverpool Waters, this summer providing a unique destination for one of the most popular pastimes to come out of the COVID pandemic.
WeSwimRun, which organises open water swimming and running events across North Wales and provides coaching in open water swimming, will be utilising the dock to provide an urban swimming facility which can be used by local residents and visitors to Peel L&P's Liverpool Waters. Public swimming sessions will take place in Princes Dock from Monday, August 2. Swimmers can buy a monthly pass for £20 giving them unlimited access to all the sessions in August which will run on Monday and Wednesday evenings and Tuesday mornings. An introduction to open water swimming course will also take place every Tuesday in August at 5.30pm.
The 500m course in Princes Dock will be clearly marked out so that swimmers can swim safely in laps around the dock, surrounded by the impressive backdrop of the world famous Liverpool skyline and nearby cruise ships. WeSwimRun will also use Princes Dock to host a range of organised events and races. The water quality in Princes Dock, which is approximately 40% salt water and 60% fresh water, will be tested regularly and aerated pumps will help to keep the water moving.
As well as public swimming sessions, WeSwimRun will host a charity open water swimming event at Princes Dock on Saturday, August 14, as part of a UK-wide fundraising initiative called Lakes For Level Water. The national event will take place at various open water swimming venues across the UK in aid of Level Water, a charity that teaches disabled children to swim.
Mike Alexander, founder and coach at WeSwimRun, said: "Open water swimming has increased in popularity over recent months as more people have sought a release from the tensions of the day. It is a wonderful pastime and is a fantastic way to keep a healthy mind and body. Our new facility at Princes Dock provides a really special location within an urban environment and is surrounded by spectacular views along the waterfront at Liverpool Waters."