People: Davis Blank Furniss; Vital Life; Ball & Berry; Edge Testing Solutions; UA92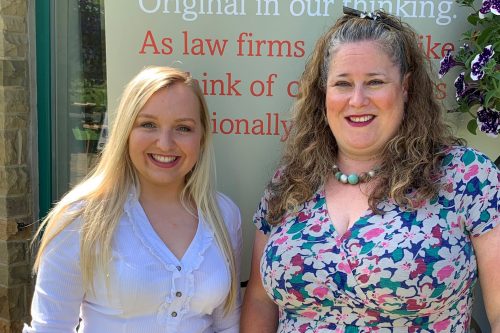 X

Register for free to receive latest news stories direct to your inbox
Register
Law firm Davis Blank Furniss has appointed Danielle Cobb as a solicitor in its family team.
Her new role will see her acting on behalf of clients seeking advice on all aspects of family law including divorce, matrimonial financial matters, child arrangement orders – including specific issue orders – and prohibited steps orders, as well as special guardianship orders and non-molestation orders.
She will primarily be based in Glossop and will be working closely with Kirsty Morbey – partner and head of the family team.
Danielle joins the firm from Bromleys Solicitors. She graduated from Manchester Metropolitan University in 2014 and completed her LPC LLM at the University of Law while working full time as a paralegal at M I Banks Solicitors where she also completed her training contract.
Kirsty Morbey said: "We are delighted that Danielle has joined us as she brings with her some first class experience that I know will benefit our clients."
Danielle said: "I'm really excited to be joining Davis Blank Furniss. It has a reputation for putting its clients first which fits perfectly with my approach to my work. I'm now looking forward to collaborating with Kirsty and playing my part in driving the team's growth."
::
Vital Life, the Blackburn-based hand sanitiser producer, will further strengthen its senior leadership team with the appointment of a new sales director.
Consumable sales expert, Andrew Knight, will take the reins, with a focus on development of sales strategies, seeking new market opportunities and continuing to generate growth for the company.
Vital Life rapidly responded to the global pandemic to provide PPE by producing a range of hand sanitiser gels which have since proven hugely successful. The company is currently following a strong growth trajectory, with a focus on NPD, manufacturing, distribution, and its private label service.
Knight has substantial FMCG experience across the UK and European grocery and wholesale channels, having delivered impressive sales strategies for large blue chip companies such as Phillip Morris, RJ Reynolds, Golden Wonder, Baxters Food Group, GSK and Typhoo Tea.
Bringing more than 25 years of sales strategy expertise to Vital Life, Knight has used his skills to execute tactical and strategic initiatives to deliver growth across multiple brands. He has also managed third party sales, covering convenience and wholesale.
He said: "I'm thrilled to be joining Vital Life at such an exciting time in the brand's development. The key focus for me will be delivering new sales strategies to accelerate growth across all channels, driving Vital Life even further."
Saimina Adam, managing director, said: "Andrew is an excellent addition to our growing team, his extensive experience across the FMCG sector and his ambition for driving new initiatives will help to accelerate our expansion across the UK.
"We're thrilled to welcome such a passionate, accomplished individual to the team and can't wait to see how his contributions benefit the business."
::
Approved inspector, Ball & Berry, has made a trio of senior appointments, welcoming three chartered professionals into top roles.
Anthony Parker Roberts has been appointed as associate director and will be based in the Manchester office. With 20 years' experience at Manchester City Council, overseeing some of the largest and most complex developments in the city, Anthony brings a wealth of expertise.
His building control experience includes stadia, high rise residential towers, healthcare facilities and leisure, entertainment, and hospitality venues. At Ball & Berry he will take on large scale and complex projects, bringing his vast local authority knowledge.
He said: "I'm looking forward to transferring my skills and expertise from local authority into the private sector. I spent 20 years at Manchester City Council, where I was able to work on a wealth of high profile, complex, and interesting projects – I've had good training. I've been aware of Ball & Berry's work for a long time, and I'm excited to be part of the team. Their high standards and levels of professionalism were a big draw."
Saqib Khaliq will take on the role of senior building control surveyor. Focusing on commercial developments, he will bolster the team with his keen eye for detail and astute commercial awareness.
Saqib has a background in both commercial and domestic properties, beginning his career providing building inspection services for new-build housing, before moving on to both commercial and domestic projects with an approved inspector.
He said: "Ball & Berry has a great reputation. Their bespoke AIP software system for building control really sets them apart from their competitors and is something I'm looking forward to working with. While I have a wealth of experience behind me, I'm always looking to learn and continually progress. Ball & Berry is the place to do that. I'll learn from the best and be supported in my own development, while working on interesting, exciting projects."
Also taking on the role of senior building control surveyor is Tom Quady. After 20 years of construction experience, Tom spent seven years at Brighton and Hove City Council where he trained and qualified, followed by two posts in the private sector. Tom brings varied and proven expertise.
He said: "As a council building control surveyor I worked predominantly on domestic projects. In later years, however, I've incorporated a great deal of non-domestic projects, including mixed use and high rise developments – both domestic and non-domestic – as well as hospitals, schools and care facilities.
"I'm looking forward to bringing my skills to Ball & Berry. With a construction background, a wide range of experience, and an ongoing commitment to the careful application of changing legislation and technical requirements, I'm ready to take on some exciting projects in this new role."
Paul McNeill, director, said: "These are three big new hires for us who will all have a significant part to play in the future of Ball & Berry. We're in the fortunate position of having grown significantly over the last 12 months, despite the obvious economic challenges, and it was time for us to make key appointments in order to service our clients to the high levels they expect. With Anthony, Saqib and Thomas on board, we'll go from strength to strength."
::
Manchester-based Freddie Swift is celebrating as one of the first graduates of a brand new software testing qualification, which has been delivered by Edge Testing Solutions.
The qualification is accredited by the Scottish Qualifications Authority (SQA), a body that develops and certifies internationally-recognised awards, while Edge Testing, part of Eurofins Digital Testing, is one UK's fastest growing and largest independent software testing companies. The graduates will now enter employment with Edge Testing as qualified SQA-certified software testing professionals with Freddie based in Edge Testing's offices in Oxford Street, Manchester.
Edge Testing opened its Manchester office in 2019 to service Edge Testing's Northern clients and continue its UK-wide growth.
Four graduates, Freddie and his Scotland-based colleagues, Ian Campbell, Klaudia Dziubek, and Melanie Schwab, undertook the SQA qualification as part of an intensive in-house two-year training programme called the Edge Academy. This training programme was set up by Edge Testing to combine hands-on experience with classroom-based software testing training at Edge's offices. Subjects covered include theory and practice in software testing, test automation tools, Agile, DevOps and Continuous Integration.
Duncan Small, principal consultant at Edge Testing, said: "We're delighted to welcome the first cohort of SQA-accredited Edge Academy graduates to our team. As committed advocates of the industry, we have been dedicated to closing the software testing skills gap through our industry leading award for software testing for almost a decade now.
"Independent third party quality assurance of our rigorous programme through SQA accreditation was an important milestone for us in championing this integral part of software development."
::
Aaron Saxton, leader of modern education and national ambassador for teaching, has joined University Academy 92 (UA92) from web hosting firm UKFast where he was director of training and education.
Believed to be one of the first roles of its kind in higher education in the UK, Aaron will take on the role which aims to further enhance Old Trafford-based UA92's already innovative approach to education by ensuring it has the right academic offer that empowers careers and opportunities as well as enabling and inspiring students from all backgrounds.
Aaron will be launching UA92's apprenticeship programme and leading UA92's distinctive approach to character and personal development.
During his time with UKFast Aaron transformed the standard expectation of training, education and apprenticeships in the private sector. Notably he was responsible for the creation of an award winning and industry leading apprenticeship and education programme that led to the business developing top UK academy partnerships with some of the world's leading technology vendors.
As a result of Aaron's disruptive and innovative approach to apprenticeships and education, the work he's done has been highlighted by Ofsted and HRH Princess Anne for the exemplary work and dedication to bridging the digital skills gap and encouraging ongoing professional development, particularly through the apprenticeship programme.
UA92's CEO, Sara Prowse, said: "I am very excited that Aaron is joining UA92. His high energy, passion, innovative approach and strategic thinking will be a huge benefit to evolving education and creating a unique and deliberately different proposition here at UA92.
"With his experience and digital background, he will contribute significantly to delivering UA92's ambition of developing a pipeline of talent and meeting the skills needs of Greater Manchester and the North West."
As a long-standing Trustee of the Diane Modahl Sports Foundation (DMSF), a registered charity that specialises in elevating sport as a catalyst for change, working with young people from the top 20% areas of deprivation across the North West, Aaron represents the very best of providing strategic leadership to the board and support to the chief executive in delivering their strategy.
Their mission is simple. DMSF engage, educate and empower young people, helping them to develop ways of focused thinking, self-belief, self-assurance, social integration and promote aspiration. Aaron said: I'm delighted to be joining such a forward-thinking and purposely different education provider. I am proud of what UA92 has to offer to the young people of Greater Manchester and beyond.
"Greater Manchester is becoming a rich source of digital talent in Europe and UA92 is right as the heart of educating and developing our future work force. I am committed to enriching and enhancing the academic offer of UA92 to ensure that we are truly a world beating higher education provider."
As a local lad from Hulme and Moss Side, Aaron wants to empower potential for all using his experience of sport, education, business and digital to give some of the most disadvantaged people across Greater Manchester the perfect platform in life to succeed.