Biotech company sets up new UK production base in Cheshire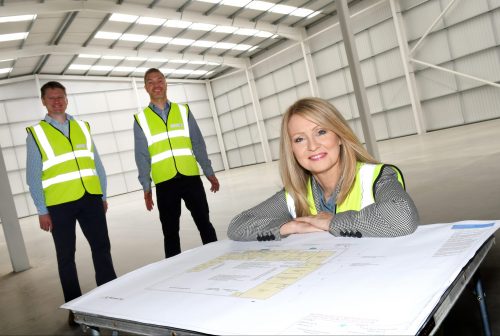 X

Register for free to receive latest news stories direct to your inbox
Register
Salford-based biotech company SpectrumX has signed a 10-year lease for a new production facility in Knutsford to manufacture its pioneering non-alcohol hand sanitiser, Spectricept, and a range of other innovative pharmaceutical and cosmetic products.
The unit, at Novus, is expected to create up to 50 jobs.
SpectrumX is one of the few UK companies supplying non-alcohol-based sanitisers to the NHS, and says it is at the forefront in lobbying government to endorse non-alcohol products, especially in schools.
MP for Tatton, Esther McVey, joined operations director Ben Hibbert and GM Richard Jones to walk through the proposed facility.
The company said it is delighted that Esther McVey has pledged support for its campaign following a number of safety concerns and scares relating to the use of alcohol sanitisers in schools. In April this year a six-year-old child in Australia was rushed to hospital and treated for alcohol poisoning after consuming just 30ml of an alcohol-based sanitiser provided by his school.
A much more common side effect of having alcohol sanitisers around children is eye irritation following inevitable hand to eye contact.
Using data from French poison control and a children's hospital in Paris, researchers reported that accidental eye injuries to children under 18 shot up sevenfold during a five-month period last year, compared with 2019
Spectrum X's 'Safer schools through science. Say No to Alcohol' campaign is focused on preventing children suffering any harm through exposure to a substance which very clearly should not be accessible to them.
McVey said: "I very much welcome SectrumX's investment in Knutsford and the jobs they will be creating. They are developing products that promise to be highly effective in the ongoing fight against COVID-19. I am keen to promote alcohol-free sanitisers in circumstances where there is a risk to health and safety and I will be supporting SpectrumX and other producers in putting the case to the Government."
The product produced by SpectrumX is more potent than alcohol yet, does not have the associated side effects. It's active ingredient, HOCl, is naturally produced by our white blood cells to fight infection in the body.
Ben Hibbert said: "The support we have had from everyone involved in delivering the facility has been fantastic, once people understand what we are looking to produce and the benefits that will be delivered across a range of key sectors, they want to be involved."
The site is planned to be MHRA compliant by the end of the year to allow for local production of the powerful antiviral SPC-069.
CEO, Damien Hancox, said: "We're delighted to have secured a long term sustainable site to allow us to aggressively grow our business.
"Additionally, the talent pool available here in the North West is exceptional and we look forward to growing the SpectrumX family significantly in the very near future."
SpectrumX has agreed a 10-year lease for the 16,000 sq ft Unit 8 at Novus.
Novus, next to the established Parkgate Estate, was completed in April 2021 and has already attracted a wide range of occupiers including Sytner, Oliver Valves and Wellness Trading. Only two units remain available with another under offer.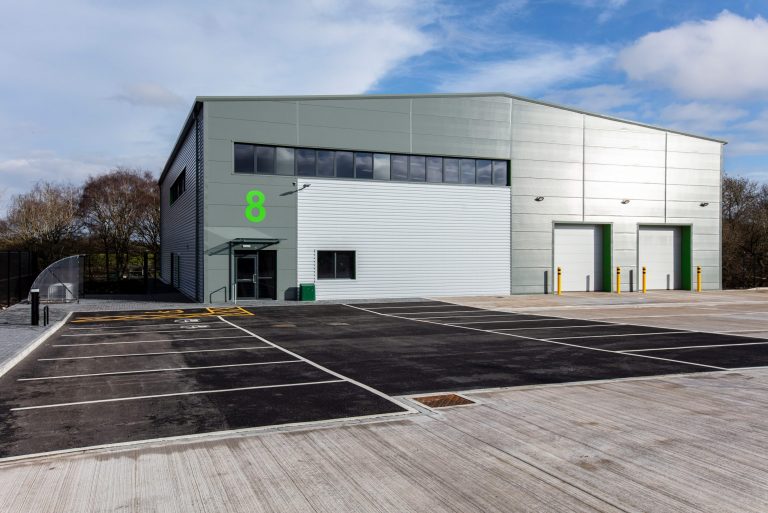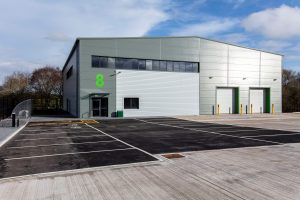 Parkgate Industrial Estate is located 1.5 miles from Knutsford and is close to the M6 and M56 motorways and Manchester Airport.
JLL advised Northwood Urban Logistics with the letting to SpectrumX and Richard Johnson, director UK industrial and logistics at JLL, said "We are very pleased to have agreed our first letting on behalf of Northwood Urban Logistics to SpectrumX."
Damien Hancox added: "Novus was the perfect fit for our business. We share, and are passionate about, the long term sustainability goals that have encompassed this development and look forward to being here for many years to come."
JLL advised Northwood Urban Logistics with Williams Sillitoe acting as the joint letting agent. B8RE advised for SpectrumX.