Restoration work gets under way on unique Grade I-listed 1830 Station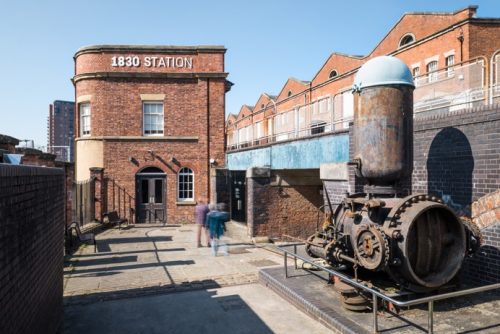 X

Register for free to receive latest news stories direct to your inbox
Register
Restoration work has started on the Science and Industry Museum's historic Grade I-listed 1830 Station. The globally significant building is the oldest surviving passenger railway station in the world.
The Liverpool and Manchester Railway was the world's first steam powered, inter-city railway designed to transport both passengers and goods. Its Manchester terminus was Liverpool Road Station, now home to the Science and Industry Museum.
The railway opened in 1830 sparking a revolution in trade and travel. The station buildings were substantially re-built in the 1970s -1980s when the museum first opened. Sadly, since then water ingress has started to cause serious deterioration.
Working with Manchester-based Buttress Architects, which specialises in restoring listed buildings and historic places, the first £1.9m phase of work, funded by the DCMS, will give the building a new roof, gutters and rainwater pipes, which will help protect the building, manage the water and dry the building out. This phase is due to be completed in spring 2022 and the museum will plan for further internal repairs alongside the creation of new learning spaces.
Science and Industry Museum director, Sally MacDonald, said: "The museum takes its duty of care very seriously. We are conserving our globally significant buildings so that we can continue to tell the incredible stories of this heritage site and ideas that change the world.
"We are incredibly lucky to be on the site of the world's oldest surviving passenger railway station and world's first railway warehouse in the heart of the world's first industrial city. Manchester continues to be alive with science and technology today and this informs our vision to create a more sustainable museum to provide inspiring experiences for everyone for years to come."
Future plans for the 1830 Station include the development of a revolutionary railroad and locomotive experience to tell the railway story. There will also be a dedicated STEM learning space, together with an improved outdoor area linking new connections and entrances between the Science and Industry Museum, The Factory and the developing St John's and Castlefield neighbourhoods, as this vibrant area of the city comes alive together.
Working with partners including Buttress Architects and contractors Heritage Conservation Restoration and 3D Scaffold, the project is a civil engineering feat. In total 300 tonnes of scaffold materials will be used which is about the equivalent in weight to two Beyer Garratt locomotives.
The scaffold will also use 47,000m of scaffold tube, which is around 30 miles if laid end to end.
The restoration work is part of a much wider multimillion-pound development project of the historic site and buildings that Science and Industry Museum inhabits, and it is all part of a plan to create a more sustainable museum.
The new £5m Special Exhibitions Gallery is the first part of the project to be complete and has already welcomed 25,000 visitors to the exhibition Top Secret: from ciphers to cyber security.