City centre 56-storey residential towers given planning approval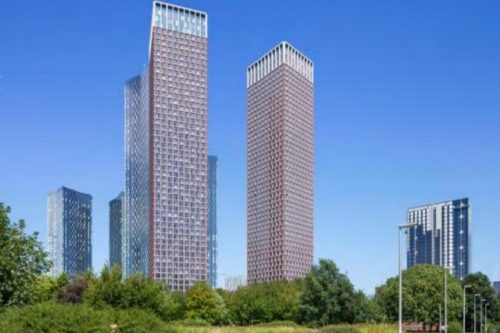 Manchester City Council planning committee today (July 29) approved plans for two 56-storey residential towers near the Mancunian Way inner ring road.
The £350m Great Jackson Street scheme has been created by Hodder + Partners for the applicant, Great Jackson Street Estates.
It was originally planned to build three towers, but the presence of a main sewer running through the site meant the proposal was revised to just two towers, which were increased in height to retain the project's profitability.
The towers will provide 1,037 residential units, with ground level town houses. There would be public and private amenity space, 236 parking spaces, 1,040 internal cycle spaces and 40 visitor cycle spaces.
The site is currently occupied by a couple of warehouses, last used for temporary public car parking, which will be demolished.
Planning officers said: "The site is appropriate for tall buildings and the development would be well designed and of a high quality at this important gateway site. It would fulfil an important role in providing residential accommodation within the city centre.
"Residential development would be consistent with a number of the Greater Manchester Strategy's key growth priorities delivering housing to meet the demands of a growing economy and population, in a well-connected location within a major employment centre."
They add: "It would, therefore, assist in the promotion of sustained economic growth within the city. The development would not have a significant detrimental impact on the settings of nearby listed buildings or on the character and appearance of the nearby Castlefield Conservation Area."
Speaking in support of the proposal, Deansgate Labour councillor Joan Davies, said: "Visually, I think the towers are attractive. This site, in my mind, is ideal for towers."
The proposal, which is estimated will create 3,700 jobs during construction, was passed by 10 votes with no objections.
A plan to create 39 one- and two-bed apartments in the iconic Ancoats Dispensary for affordable rent were also passed, by nine votes.
The scheme by Great Places Housing Group proposes that, by incorporating elements of what remains of the original building, the building's heritage and legacy will be protected, while proposing much needed affordable homes in the area.
The iconic Grade II-listed building, close to Manchester city centre, was built in 1874 to provide healthcare for the city's growing population alongside the Royal Infirmary.
The local landmark remained in use until 1989, but has remained vacant since then which has led to the building progressively deteriorating and currently requiring scaffolding to hold up what remains of the existing structure.
Great Places, in partnership with Manchester City Council and part funded by Homes England, plans to redevelop what remains of the Dispensary for a mixture of 39 one- and two-bed apartments which will be available for affordable rent.
Great Places, which already has a contractor on board, has worked on the proposals with a variety of stakeholders, including Manchester Life, which is developing a number of sites in the area, as well as the Ancoats Dispensary Trust, to ensure plans look to preserve as much of the original Grade II-listed facade as possible. The design focuses on preserving the Old Mill Street and Lampwick Lane facades.
An initiative to create a new community for the city's homeless and vulnerable men was another successful proposal.
Manchester-based charity, Embassy, has joined forces with regeneration business Peel L&P and social impact developer Capital&Centric, as well as a pro bono team across the Manchester business community, to develop up to 40 new permanent homes at the Embassy Village.
The project is also supported by the Greater Manchester Mayor's Charity which is helping with fundraising for the project.
The plans will see a derelict site below the railway arches between the Bridgewater Canal and River Irwell, currently owned by Peel L&P, transformed into a housing-led community with lots of communal and green space, mini allotments to grow vegetables and a multi-use sports area.
Residents will have one-to-one training and mentoring to provide the support they need to break the cycle of homelessness and reintegrate back into society. They will be equipped with a range of life skills, including shopping, budgeting and cooking, and courses designed to help unpack past traumas will also be made available.
Sid Williams of Embassy said: "We're absolutely ecstatic that the plans have been approved and it really couldn't be more timely. Homelessness is at risk of creeping up again with targeted COVID emergency support schemes like Everyone In closing. Add to that the Government ban on evictions and furlough schemes ending and we could be facing an even bigger problem."
James Whittaker, executive director of development at Peel L&P said: "It's fantastic news to receive planning approval for a project that will support some of the most vulnerable people and we've been overwhelmed by the generosity of the Manchester business community to help make it happen."
Tim Heatley, co-founder of social impact developer Capital&Centric, said: "The collaborative effort to get to this point has been brilliant and we're chuffed that we can move forward with Sid and the Embassy team and focus on getting spades in the ground to bring this inspiring vision to life."
It is expected that construction will start later this year with the first homes opening in 2022.