People: Pankhurst Trust; Oddfellows Hotels; Lovell Homes; Formby Hall Golf Resort & Spa; Promedica24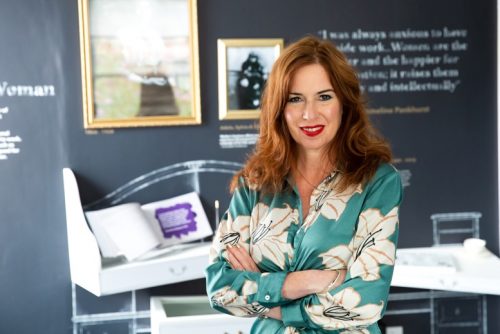 X

Register for free to receive latest news stories direct to your inbox
Register
Manchester's Pankhurst Trust has appointed Caroline Roberts-Cherry as the new chair of its board of trustees to take forward the ambitious vision for the organisation, which both provides vital women's services and, through the work of its museum, celebrates the legacy of the suffragette movement and its relevance today.
Outgoing chair, Louise Sutherland, has completed two successful terms and will continue to play an active voluntary role within the organisation.
Business woman and TV producer, Caroline Roberts-Cherry brings with her a vast wealth of expertise that, as a working mum from Manchester, she wants to use to enrich the Pankhurst Trust to continue to develop the work that it does through Manchester Women's Aid to support women and families across the city region and to inspire the world through the Pankhurst Centre with the powerful legacy of the suffragette movement.
Caroline is managing director of Saffron Cherry Productions, a multi award winning tv and film production company, which she established following a career at the BBC where she held roles in commissioning, management, diversity and production.
She is an Ambassador for Smart Works Manchester and a trustee of the Liverpool Everyman & Playhouse Theatres and is a former trustee of the Royal Exchange Theatre, Manchester. She has previously chaired Cultural Diversity Network North and Greater Manchester Employer Coalition.
As the birthplace of the suffragette movement and a city that has always been a hotbed of ideas led by its progressive spirit, Caroline is driven by a hope that her home region of Greater Manchester can be the place where women have the best opportunity to achieve their potential.
She said: "We want to play our part in making Greater Manchester a safer, kinder and more equal city for women and girls, recognising that we first have to address the fact that the pandemic we have been living through has disproportionately affected women. We want to get back to normal, but to aim for this normal to be better."
Based in what was once the home of Emmeline Pankhurst, the Trust is inspired by the strength and courage of those that campaigned for Votes for Women. It's a legacy that Caroline has already had first hand experience of exploring, having produced the documentary Emmeline Pankhurst: The Making of a Militant presented by actress and writer, Sally Lindsay for the BBC as part of the activities to mark the centenary of the first women achieving the vote in 2018. This has since been used as a learning resource as part of Key Stage 3 History with a longer version of the film being sold internationally. A DVD of the film was distributed to all GM secondary schools via Mayor Andy Burnham's office.
Caroline takes her position just ahead of the reopening to visitors of the Pankhurst Centre to the public from Sunday, August 29. The former home of Emmeline Pankhurst, where the first meeting of the suffragettes took place and where the immortal words "deeds not words" were first declared.
Now a small museum, the Pankhurst Centre's reopening will also see the launch of its new permanent exhibition, At Home with the Pankhurst Family a History Makers project
Caroline said: "I'm inspired to come from a city that is proud of its radical history and has a legacy of strong women. The Pankhurst Centre is at the heart of this and gives us a very real opportunity to use this to encourage the changemakers of the future and to aim to achieve the equality for women and girls that I believe makes society a better place for everyone.
"To reflect the pride we have for this heritage, and its place in the global story of the fight for equality, we also want to see this building conserved and restored in the future, a campaign that I am honoured to lead."
Gail Heath, CEO of the Pankhurst Trust, said: "What we have achieved over the last six years with Louise Sutherland at the helm has been incredible, the Trust was a fledgling organisation and she helped us to fly.
"We now warmly welcome Caroline to the Pankhurst Trust, and are very excited about the next part of the journey. It's one that begins with great challenges as we emerge from the COVID-19 crisis, but is also a pivotal moment for the Pankhurst Centre with our new permanent exhibition set to completely reimagine the visitor experience and the role that we have to play as an organisation."
::
Oddfellows Hotels has announced Helio Correia as general manager of the 22bedroomed Greater Manchester design-led boutique hotel, Oddfellows On The Park.
In his new role Helio will oversee all hotel operations, from the 22-bedrooms to The Galloping Major restaurant, Stud Room Bar as well as the hotel's popular weddings and events division.
Correia joins Oddfellows Hotels from Manchester's Townhouse hotel where he directed the Manchester hotel to great success over his three-year term as deputy GM.
He holds more than 15 years' experience in the hotel industry.
Trained in both hotel management, and marketing and communications, Correia gained valuable international experience both in his native Portugal and in Angola at the Ritz Waku-Kungo hotel.
In the UK he has more than eight years' experience within Macdonalds Hotels and with Bespoke Hotels.
Helio said: "I see Oddfellows On The Park as a place where we can go back to basics with old school hospitality – a place where the guest's experience is paramount.
"There is no automated check in here, and you will know your receptionist by name by the end of your stay. Although it is only minutes from the airport and a short commute into Manchester city centre, it is surrounded by acres and acres of amazing parkland and offers the perfect country style escape, close to the city."
Paul Brown, director, Bespoke Hotels, said: "We are delighted to welcome Helio to the Oddfellows family. Helio is one of hospitality's naturals, with a flair for innovation and a drive for perfection. We look forward to seeing him stamp his creativity upon a hotel that is already so full of charm and character."
::
National housebuilder Lovell Homes has welcomed a trio of new recruits to its management trainee programme – a five-year structured apprenticeship programme that includes work placements, higher education, and management skills.
Jacob Riddell, Tom Brearley and Ben Walker will spend the next 12 months rotating through the key business functions of land, technical, commercial, operations, and sales and marketing to thoroughly understand the business.
At the end of their first year, the trio will then specialise as trainees in their favoured department and will be matched with an appropriate apprenticeship qualification, continuing to gain experience while completing their studies.
Jacob, who previously studied at The Manchester College on the Architectural and Construction Engineering Scholarship and completed extended industry placements on Lovell's Manchester sites, said: "I am so pleased to be joining the Lovell team as the trainee programme is not only an incredible opportunity, but is with a company I am genuinely proud to be part of.
"I really enjoyed working on the Lovell sites as part of my BTEC course so when I got the call I was delighted. I'm starting my year in the operations department and I'm really looking forward to getting stuck in. I'm a big fan of new experiences so joining Lovell and learning on the job is a challenge I'm really up for."
Lee Sale, regional managing director at Lovell, said: "We're delighted to welcome Ben, Jacob, and Tom to the team and begin training them across all areas of the business.
"The scheme is designed to fuel the growth of our business by providing a pipeline of talent into junior management positions and we firmly believe that by giving a solid grounding across departments, this programme sets us up with the Lovell leaders of the future. I look forward to seeing the trio's careers develop over the next five years."
Chris Wright, assistant principal at The Manchester College, said: "It's amazing to see Jacob progress from his ACE Scholarship into Lovell's management trainee programme. Lovell and the college have worked together with a consortium of other constructers, to co-create and co-deliver the Architectural and Construction Scholarship, ensuring that the curriculum we jointly deliver is truly aligned to the industry's needs. We're all very proud of Jacob here at The Manchester College and are sure that hell be a valuable addition to the Lovell team and wish him all the very best for the future."
::
Formby Hall Golf Resort & Spa in North Merseyside has appointed a new spa manager.
Tanya Andrews, a highly trained therapist and experienced spa manager, joins the resort's management team with more than 10 years' experience in the beauty therapy and spa industry.
Tanya will be responsible for the management and day-to-day running of the resort's spa, driving service excellence, product innovation and staff development.
Originally from Chester, Tanya has worked in the industry since completing an apprenticeship and spending time in Singapore and Malaysia working as a massage therapist. She then went on to study an Associate's Degree in Beauty and Spa Management at the University of the Arts in London.
Tanya began her career as a therapist at Peckforton Castle in Cheshire before progressing into a variety of spa management positions at hotels such as Macdonald Craxton Wood Hotel & Spa and Signature Living Group's 30 St James Street in Liverpool.
She joins Formby Hall Golf Resort & Spa – named Hotel of the Year at the Liverpool City Region Tourism Awards in 2020 and celebrating its 25th anniversary this year – from the five star Lowry Hotel in Salford, where she was spa and fitness manager.
Tanya said: "I'm so excited by this opportunity. Formby Hall is a renowned resort in the North West and the spa is popular with both hotel guests and day visitors.
"Our rural location tucked away near Formby beach, marries really well with the peace and tranquility of the spa, yet that uplifting feeling you get after spending time with us is a nice reminder that we're just a short distance from Liverpool.
"I can't wait to get to work with the team here and build on what we have to provide even more fantastic experiences for our guests."
The resort's spa facilities include 10 therapy and treatment rooms, including three couples' treatment rooms, thermal heaven area with steam room, Rasul room, heated relaxation beds and Himalayan salt sauna, a 20m heated indoor swimming pool, essence infused Laconium cabin, spa bath, ice fountain, experience showers and relaxation areas.
::
Promedica24, which claims to be Europe's largest provider of live-in care services, has appointed a new care manager to support the day-to-day operations of its care team in the UK.
Dawn Bunting will be responsible for the day-to-day management of care, supporting a number of clients. She will manage clients in the North, including Liverpool, Wirral and surrounding areas.
She joins Promedica24 with more than 15 years' experience supporting young adults and older people in residential facilities and their own homes. Working up the ladder from care assistant to senior positions, including running a specialist dementia care unit, Dawn joined Promedica24 from a management role at a domiciliary care agency.
Dawn said: "There aren't many roles where you can say you are making a positive difference in people's lives every day – that is exactly what I'm able to do here at Promedica24. It is also great to work for a company that appreciates, inspires and supports its staff the way Promedica24 does.
"In my role, I work closely with the clients and their families, understanding their preferences, requirements and interests so we can assemble a care plan that puts them and their needs first. Live-in care is an incredibly rewarding sector and one I'd recommend to anyone considering a career in social care."
Paula Beaney, quality assurance director at Promedica24, said: "Our care managers play a vital role in ensuring the care we provide is delivered safely, effectively, and to the highest standards. We are at a pivotal moment in time coming out of the pandemic, and the events of the last 18 months have caused more and more people to look for the safest care options for either themselves or their loved ones."