North West business briefs: R3; Decimal; Stockport Council; Weaver Vale Housing Trust; Peel Ports
Spending in North West towns and cities has bounced back and now exceeds pre-pandemic levels in almost half of the key regional centres, according to new figures. However footfall remains low, which could indicate signs of a more challenging long term trend, according to analysis by the insolvency and restructuring trade body R3.
The figures from the Centre for Cities, which cover the last week in June, show that Blackpool had the best recovery of anywhere in the country, with spending at 144% of pre-pandemic levels even though footfall was only 77% of previous levels. A similar pattern was evident in other locations.
Spending was at or above pre-pandemic levels in Blackburn (106% of previous levels) Liverpool (105%), Burnley (102%) and Warrington (100%) and approaching previous levels in Birkenhead (97%), Wigan (94%) and Preston (87%). However, Manchester continued to lag behind, with spending at 83% of previous levels and footfall at just 41%.
Allan Cadman, North West chair of R3 and a partner at Poppleton & Appleby, said: "Spending in town and city centres has recovered strongly since non-essential shops re-opened in April, despite footfall remaining low and some well known names having closed. The figures could reflect a number of underlying factors.
"The absence of office workers may have had less impact than expected as they tend to spend less than other visitors. Town centres may have benefited from more domestic trade as people have stayed in the UK. And even though some of the bigger stores have closed, it suggests that more is being spent in independents or in restaurants and bars. Certainly it bodes well for the future of high streets."
He added: "However, the question is whether footfall will ever return to previous levels. With many companies moving to a hybrid model with staff working at home part-time, it is likely there will be fewer office workers around and businesses which rely on their trade may struggle. Meanwhile, the wider changes taking place – in terms of different spending patterns and visitor types – could force many others to rethink their model."
::
Macclesfield-based tech agency Decimal has launched Sparkline, a tool that opens valuable Spotify listening data to a much wider audience.
Available for free or with a monthly paid subscription, Sparkline lets users follow specific artists and track their play counts, monthly listeners and followers, and more. All data is presented in an easy-to-understand dashboard that democratises data that is only usually available to a very limited audience.
Sparkline is already being used by producers, session musicians, marketers, promoters and others in the music industry to track the success of the projects they work on. Spotify's own tools only allow artists and those who release their music to view how a song's play count changes over time — a key factor in understanding its success and impact around the world. The tool is also valuable to businesses assessing opportunities in the music industry, helping them assess the value of specific artists and song catalogues. And artists can use Sparkline as market research to help them understand what works for rivals and stars whose success they aspire to emulate.
Sparkline is the latest project from Decimal, which has established a market for itself developing tech products for the music industry. Its technology is used by the likes of Universal Music Group, Warner Music Group, Sony Music Entertainment, Apple, Spotify, and Google among others. Decimal builds on the experience of founder Chris Garrett at his previous business, Beatroot Music, which helped music industry clients handle their digital catalogues and data.
Garrett said: "While other streaming music analytics tools are available, they don't offer the granular song data Sparkline does. We're hyper-focused on letting our users follow specific artists and understand the popularity of their songs. Sparkline doesn't just offer up data, it provides valuable insights on top of that data."
::
Stockport Council is seeking engagement and feedback around its plans for Interchange Park, a new green space hub that will sit on top of the town's new transport interchange, currently the Stockport Bus Station. The iconic park is set to be a part of Stockport's wider regeneration strategy, and it is hoped it will be enjoyed by everyone living in, working or visiting the borough.
This week sees the launch of a new dedicated website to collect opinions and feedback on the plans from residents. While some parts of the Interchange Park plan are fixed for structural reasons, the individual features of the park will be informed directly as a result of the engagement process. The website is open for feedback until October 13, 2021.
Stockport residents and visitors are being asked how they would use the park, for example for children's play, events and pop-ups, festivals or community gardening projects. This will help to inform the final design of the space. The engagement survey is also a chance to name specific features for the park, such as art, seating, lighting and shelter, to allow residents to go into detail about how they would like Interchange Park to look.
Cllr David Meller, cabinet member for economy and regeneration at Stockport Council, said: "This is a great opportunity for residents to make sure their voice is heard and play a role in shaping Interchange Park. The project is such an exciting one, and I'm sure the park will be a fantastic asset to the town centre of Stockport. We want to make sure that the park is tailored to the needs of its visitors, and we've had some great engagement so far, but we want to make sure everyone has their say."
As well as the website, Stockport Council's engagement teams will be touring Stockport in a VW Campervan, visiting high streets and parks across the borough to spark conversations about the plans for Interchange Park. To find out more about Interchange Park and log your views, visit Stockport Interchange Park
::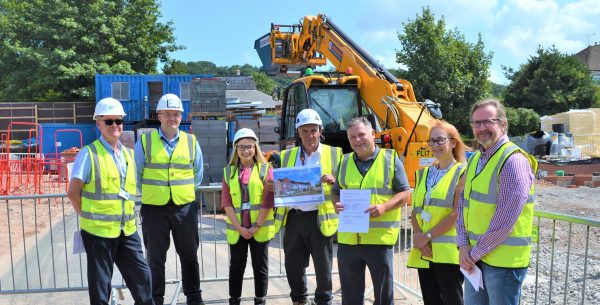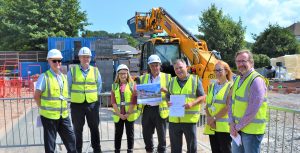 Weaver Vale Labour MP, Mike Amesbury, toured Weaver Vale Housing Trust's development of 11 affordable homes on Springfield Avenue, Helsby, last week to meet with partners and look at the progress being made on the site by developers, M&Y Maintenance and Construction.
The £1.6m development, which got under way in January this year, is transforming the former sheltered housing site into two- and three-bedroom homes for affordable rent. Weaver Vale Housing Trust is working with contractor partner M&Y Maintenance and Construction Limited to deliver these new homes.
Both Weaver Vale and M&Y are committed to ensuring that their work benefits the local community around its developments. WVHT and M&Y are involved in various local initiatives including supporting local employment through delivering a work placement through the Government's Kickstart scheme, as well as supporting local schools by offering school leavers support with mentoring opportunities.
Mike Amesbury, who is Shadow Housing Minister, said: "It's great to see Weaver Vale Housing Trust building family homes for affordable rent, something that is much needed in the local area. It's also good to see the employment opportunities that have been generated by a scheme that is playing its part in encouraging the next generation to consider a career in construction by, for example, delivering a work placement for a young person at the Springfield site funded through the Government Kickstart scheme."
Wayne Gales, chief executive of Weaver Vale Housing Trust, said: "This was a welcome opportunity to demonstrate the difference that these new homes will make to the local area, addressing a vital need for more affordable family homes. All the new homes are for people who live locally or have a local connection, ensuring that they create real benefit for local people."
::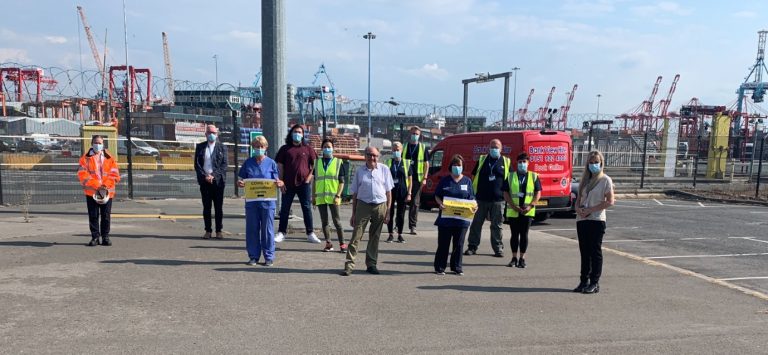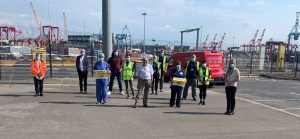 Peel Ports has partnered with the NHS South Sefton CCG and Sefton Public Health Team, to provide NHS vaccination clinics to vaccinate anyone working within the Port of Liverpool. The facility was made available to anyone working in the Port of Liverpool boundary, irrespective of employer, and also expands to pilots and seafarers who haven't yet been vaccinated or are due their second dose.
Phil Hall, port director at Liverpool-based Peel Ports, said: "Maritime workers are an essential link in the supply chain and we are proud to be able to offer this service to our key workers, seafarers and pilots alike. Whilst we have had one of the most successful vaccination roll-outs nationwide, not everyone has had the same level of access to vaccinations compared to those living in the UK. Pilots and seafarers working on foreign-flagged vessels are one such group that have faced obstacles receiving the vaccination and it's important that we protect their health to minimise disruptions to trade and global supply chains."
The current national picture shows high levels of new COVID-19 infections reported with an increase in the levels of hospital admissions and, unfortunately, an increase in deaths.
Gary Doyle, group harbour master at Peel Ports said: "The collective response and cooperation of visiting seafarers, our pilots, boat crews and linesman supported by the exceptional advice of Port Health Liverpool and our own Occupational Health has been exceptional in helping to keep the ships moving during the pandemic. This service provided to key workers is a tremendous recognition and appreciation of their efforts and reflective of the collective responsibility Peel Ports has towards fighting this pandemic."
The clinic has been a huge success with 102 vaccines administered over three days. More vaccination clinics are planned for the week commencing August 16.