People: Acumen Financial Partnership; Slater and Gordon; Simpson Millar; Velstar; The Townhouse Hotel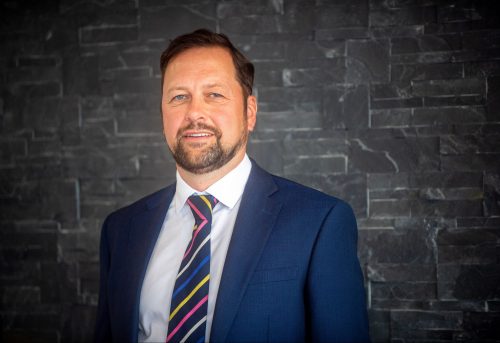 An Independent Financial Adviser (IFA) in West Lancashire has appointed the 20th member of its team.
Mike Moore joins Acumen Financial Partnership, whose head office is in Burscough, after almost 25 years in the financial services industry, most recently working for a Heswall IFA where he specialised in growing the retirement advice department.
Angela Maher, managing director, said: "Mike's an experienced Chartered Financial Planner, who's worked across the Liverpool City Region, managing client relationships with a focus on their needs, goals and aspirations – which is at the heart of what we've been doing at Acumen since 2006.
"His knowledge of the industry means he can explain our services in a way that our clients and prospective clients can understand and relate to.
"Mike's credentials show the value he places on the importance of client service and relationships which make him the perfect fit for our business."
Mike Moore said: "Acumen is a true independent advice firm focusing on service, not targets, to help people plan for a long and happy retirement.
"The company has a very good reputation in the industry and with a close knit team of advisers and support staff there's a real family feel to it."
::
A new look team of family law specialists with more than 60 years' experience in the field has been unveiled at Slater and Gordon.
The talented 10-strong line-up includes a collaboratively trained lawyer and a qualified mediator, strengthening the firm's offering to families looking to resolve their issues amicably and avoid litigation.
Significant investment in technology, coupled with the firm's agile working culture, means lawyers will be able to serve clients all over the country, the firm said.
Consultant Helen Morgan, who has been practising for more than 30 years, joins from Mooney Everett in Liverpool where she dealt with all aspects of family law including divorce, financial settlements, pre- and post-nuptial agreements and disputes involving children. Helen is also a collaborative lawyer and an accredited specialist on the Law Society's family panel.
Principal lawyer, John Owens, who is ranked in the prestigious Legal 500, moves from MSB in Liverpool. John studied law at the University of Ulster and specialised in family law shortly after qualifying as a solicitor. He has particular experience in dealing with cases with an international element.
New hires also include senior associate Emma McMorrow, from Royds Withy King, and associates Gabrielle Dugan, formerly Myerson Solicitors, Clare Pinnington of Pinnington Law, and JMW's John Newberry. Prior to becoming a lawyer, John was making waves in a different field as deck leader in the Clipper Round the World Yacht Race.
Angela Brown, also from Mooney Everett, was talent spotted by a law firm while still at college and went on to qualify as a solicitor in 2006. Angela specialises in cases involving finance and domestic abuse, having achieved Family Law Advanced Panel Accreditation in both. Angela is also a qualified resolution and inter-personal mediator and was granted Family Mediation Council Accreditation in 2016.
She joins solicitor Sarah Wilcox, who moves across from Streeter Marshall, and newly qualified solicitor Helen Royle, general secretary of the Manchester Trainee Solicitors Group. Pooja Patel, who joined Slater and Gordon as a legal advisor in 2016, will complete the team when she qualifies as a solicitor in October.
Georgina Chase, who was promoted to head of family in December, said: "I'm absolutely thrilled to be welcoming so many new faces to Slater and Gordon, who bring with them a real breadth of talent, experience and technical expertise."
Managing director of consumer legal services, Alicia Alinia, said: "The last 18 months have been challenging for all of us but I'm so proud of the way we've adapted to new ways or working, and built a team that can drive forward our ambitious plans for growth.
"They join us at an exciting time with demand for our family law services now greater than ever, and I look forward to seeing what we can achieve together in making high quality, digital legal services available to all."
::
Consumer law firm Simpson Millar has announced the expansion of its national private client division with the appointment of employment law expert Anita North in the Manchester office.
Bringing more than nine years' experience to the role, and a member of the Employment Lawyers Association, Anita boasts a wealth of expertise in cases relating to unfair dismissal, discrimination at work and breach of employment contract.
She is highly skilled in advising individuals in relation to the issues they have at work and during Employment Tribunal hearings, as well as in relation to Settlement Agreements, including negotiating with employers to obtain the best outcome for clients.
Joining Simpson Millar with immediate effect, her appointment follows a period of 'unprecedented demand' for the firm's employment law team services, which is currently representing thousands of people in cases relating to protective award claims further to the collapse of businesses because of the pandemic.
A keen runner in her spare time, and co-event director of her local Junior Parkrun in Lutterworth, Anita said she is looking forward to working alongside the wider Simpson Millar employment law team which has a 'formidable reputation' for defending the rights of individuals in employment related matters.
She is welcomed to the firm by head of private practice, Chris Johnson, who said her arrival further complements the firm's ability to deliver an unrivalled service to clients in need of private client services such as conveyancing, as well as wills, trusts and probate.
Anita said: "Anyone involved in a legal matter is likely to be experiencing some additional stress, but employment-related matters are always particularly emotive for so many reasons as peoples' jobs and their income play such a pivotal role in their lives.
"Sadly, the past year or so has been especially difficult for many workers because of the pandemic and, as a result, the demand for expert employment advice and support has been unprecedented. We anticipate that to continue for the foreseeable future and as the furlough scheme officially comes to an end.
"However, I am truly privileged to be joining a team that has such a strong and formidable reputation when it comes to protecting the rights of their clients during this time. Simpson Millar's commitment to opening up the law, and to making sure that they are on hand to help anyone in need of legal support is what really attracted me to the firm and to this role."
Chris Johnson said: "It is a real honour to welcome Anita to the team. Her breadth and depth of expertise will further complement our existing network of highly experienced and dedicated employment law experts.
"We consider her to be a real asset to both the business and our clients, which currently includes thousands of employees affected by the collapse of a number of well known companies including Thomas Cook, Mothercare and Flybe."
Simpson Millar employs more than 500 people who perform across several departments in support of clients, including those going through a separation or divorce, people looking to purchase a new home, and those who have become ill or injured because of their work or while serving in the Armed Forces.
::
Liverpool-based Shopify Plus specialist, Velstar, has made three new appointments as the agency continues to grow and expand its client base.
Steven Henderson and Neil McNaught join as front-end developers, while Martin Mann fills the newly-created role of commercial director.
Steven, who will work remotely, brings with him more than 20 years of experience helping brands design and build online digital experiences, having previously worked for agencies in London.
And Neil joins having previously worked as a freelance developer across various sectors.
Both Steven and Neil will develop Velstar's clients' online stores using the Shopify and Shopify Plus platforms.
Meanwhile, Martin has more than 25 years of experience in B2B sales and business development, and joins from Chester-based Simply Online Media, where he was director. Prior to that, he worked at Leadbay and Moneysupermarket.com.
He will be responsible for driving Velstar's growth further, working across pitches and securing new commercial partnerships.
CEO, Dan Sheard, said: "We're absolutely thrilled to welcome Steven, Neil and Martin to Velstar.
"The breadth and depth of experience that each of them brings to the team is invaluable and will help us meet the demands of our ever-growing client base.
"As we approach the last four months of 2021, I'm proud to say we're on track to achieve our ambitious business goals, and make it our best year yet."
::
The Townhouse Chester is spearheading a drive to recruit people in to the hospitality industry, aiming to showcase the huge number of opportunities there are to people who are willing to work hard and who have a passion for delivering amazing customer service.
The drive has already begun with the appointment of a new general manager of The Townhouse Hotel in Chester. Clive Donovan has taken up the position and he joins CEO Steven Hesketh on his mission to show that careers in hospitality can be hugely rewarding and exciting.
Clive has had a long and varied career in hospitality working in both the public and private sectors and he will now bring his experience to The Townhouse and The Secret Garden. Clive will work alongside all the existing staff to continue to offer amazing customer service and will lead the team with passion and drive to deliver a memorable experience to guests.
The hospitality industry took a hard hit during the pandemic and since re-opening it has been tough to be able to fully staff venues. The Townhouse and Secret Garden are now bringing in initiatives that they hope will attract people to come and work in the industry while also helping to retain the staff they already have. Super Saturday pay rates, mid-month cash tip payments and attendance bonus are just some of the new incentives they have in place to reward dedicated staff for all their hard work.
The Townhouse is also part of the Burnt Chef Project, which is a non-profit social enterprise created to raise awareness for mental health issues within hospitality. The Townhouse believes that, in the long term, working long shifts with little rest in between is not good for anyone and is aiming to offer a stabilised working week to give employees the right work/life balance.
CEO Steven Hesketh said: "I think there has never been a better time to join the industry, the UK hospitality scene has never been more exciting for hard working people. I believe in offering excellent training and enabling someone to do a job, one of the most rewarding things for me is giving a person responsibility and watching them flourish.
"We have always treated our teams with care and respect, but we recognise that improvements can always be made. I hope that by offering staff incentives and through initiatives like the Burnt Chef Project we can support our staff mentally as well as financially and continue to help people forge careers in hospitality."