North West business briefs: Metrolink; Get Vocal; LSH Auto; UA92; Redmoor Health
More frequent trams are set to be reintroduced on Metrolink's busiest lines from this week. From today (August 31), trams will run every six minutes on the Bury and Altrincham lines at peak times (7am-8pm, Mon-Sat), as part of a phased return to more frequent services on the network.
This will be followed by the reintroduction of a six-minute service between East Didsbury and Shaw and Crompton on September 6. Peak time services between MediaCityUK and Etihad Campus will be reintroduced in the coming weeks, subject to staff availability.
A temporary 12-minute network-wide service was introduced on August 6, to ensure the Metrolink operator could provide a more reliable and consistent service for customers following a significant increase in coronavirus-related staff absences. The return to more frequent services follows the launch of the 'It's Time' campaign, introduced to support the safe reopening of the region, ahead of the return to education and workplaces and as people get back to doing the things they love.
TfGM's head of Metrolink, Danny Vaughan, said: "The temporary service change was needed because of very high levels of COVID-related staff absences – and I'd like to thank everyone for their understanding and for bearing with us during this extremely challenging period. While staff absences remain high, it is an improving picture, and we are now gearing up to reintroduce more frequent services across the network.
"This will be done in a phased approach ahead of the new school year, as more workplaces welcome staff back and we all start to get back to doing the things we love with family and friends.
"We will continue to use all available trams to target the areas where demand is highest, and I'd encourage people to still check before they travel and plan their journeys in advance."
::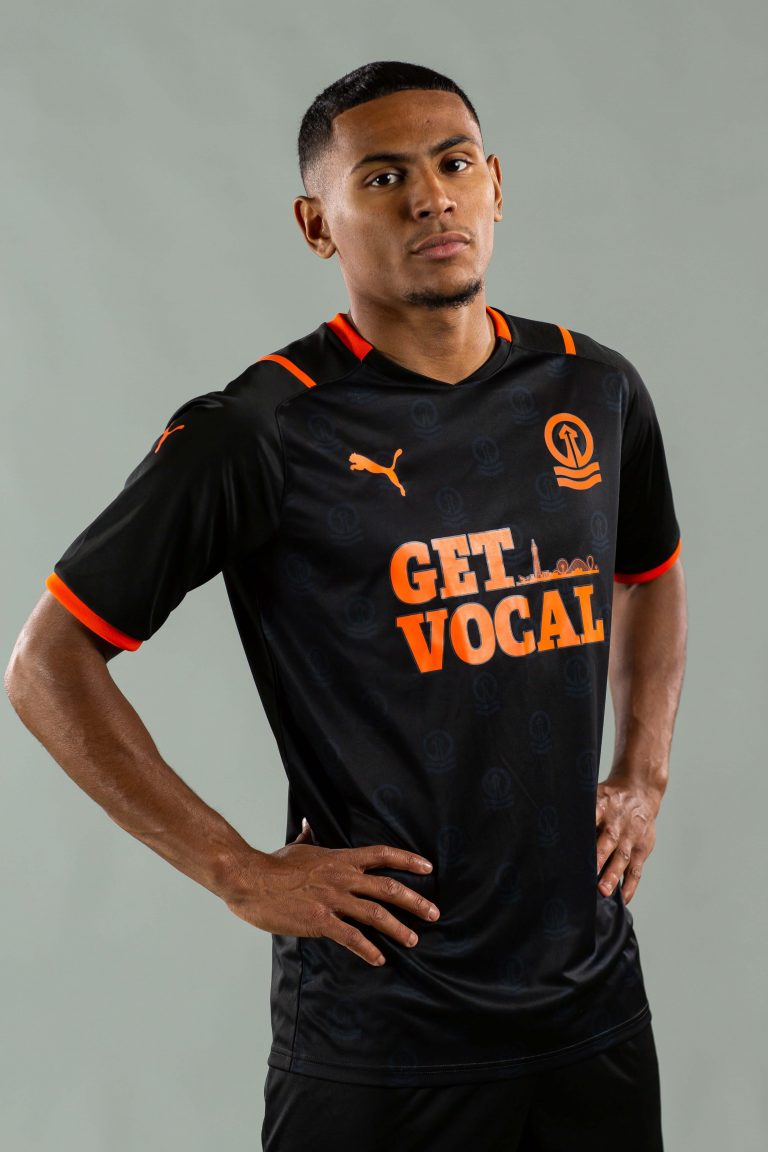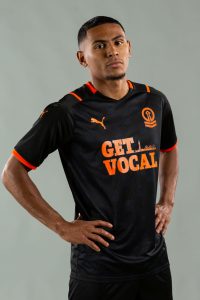 Blackpool Council's mental health campaign, Get Vocal, has announced its third consecutive year of partnership with Blackpool FC, which has launched a striking black and tangerine kit displaying the Get Vocal branding.
The campaign appears on the front of the team's third kit away shirts for the 2021/22 football season. Get Vocal advertising will be on display at the Bloomfield Road ground and players will promote the campaign's key messages over the season. It is part of a wider Blackpool Council sponsorship deal, which also sees VisitBlackpool branding on the players' home kit.
Get Vocal's message is particularly aimed at men in Blackpool who may be struggling but might not feel able to reach out. The sponsorship aims to raise awareness and reduce stigma around mental health and encourages all residents to look after their mental wellbeing and seek support if they need it. Get Vocal promotes these five tips for better mental health: Voice – Talk to people; Observe – Live in the moment; Connect – Help others; Active – Move to clear your mind; Learn – Try something new.
Dr Arif Rajpura, director of public health at Blackpool Council, said: "Mental health is something we all have and need to look after. The stigma around reaching out and asking for support or letting loved ones know we are struggling is still very much there for many people and we want to change that.
"We are all aware that our physical health can be improved, but sometimes we forget our mental health also needs attention. The Get Vocal tips are a way to start giving your mental health the care it needs. The partnership between Get Vocal and Blackpool Football Club means we can reach more residents with our message and start a conversation about the importance of mental wellbeing."
::
LSH Auto is celebrating a remarkable second year of trading at its flagship site, Mercedes-Benz of Stockport, despite the challenges of the past 18 months. The state-of-the-art, purpose built, three-storey facility launched in August 2019 and has become the most popular Mercedes-Benz destination in the North West, attracting an unprecedented number of new customers and sales leads.
Over the past 12 months the business has grown new car sales by more than 47% and used car sales by 72%, despite the UK lockdowns.
Martyn Webb, managing director of LSH Auto, said: "Mercedes-Benz of Stockport has had a fantastic first two years of trading. I'm proud of our team who have worked incredibly hard to overcome the challenges of the global pandemic over the past 18 months. Our ongoing commitment to delivering the best possible service to our customers has put us in good shape and we're looking forward to continuing to grow the business into 2022."
Stefan Bowett became the new dealer principal of Mercedes-Benz of Stockport in November 2020, having previously led LSH Auto's Whitefield operation. The new dealer principal already has an affinity with the area, having worked at the old Mercedes-Benz of Stockport site from 2013 to 2018 as a used car sales manager, new car sales manager and general sales manager.
He said: "I jumped at the chance to lead the team in Stockport and return to where I initially built my career. Mercedes-Benz of Stockport is now our flagship site attracting more customers than could have been imagined."
::
University Academy 92 (UA92) has announced a new academic partnership with CompTIA, the world's largest provider of vendor-neutral professional certifications for the information technology (IT) workforce. The new partnership unites CompTIA's wealth of knowledge, skills and certifications with UA92's modern academic proposition.
Sara Prowse, UA92 CEO, said: "Partnering with CompTIA is a very important and exciting step forward for UA92. I am very excited to see how the innovation and forward thinking blossoms from this relationship helping us to educate together the next generation of technology workers and being able to make a tangible difference in addressing the digital skills gap in the Greater Manchester area."
Graham Hunter, CompTIA vice president for workforce development in EMEA, APAC and Canada, said: "We are thrilled to collaborate with UA92 who are without doubt set to be amongst CompTIA's leading academic partners for preparing and certifying the workforce. We seek academic partners who can really make a difference to help young people bridge the skills gap and keep a stream of talented individuals coming into the sector globally. UA92, with the addition of Aaron Saxton, is the perfect partners for us. We are super excited for this partnership and will be looking to support wherever we can to make a difference to students in Manchester."
CompTIA specialises in bridging the technical skills gap and offerings entry, advanced and expert level certification exams to enhance young people's career opportunities. The association has awarded nearly three million certifications to IT professionals globally.
The partnership between UA92 and CompTIA is the first of many new vendor relationships UA92 is developing and reinforces the unique and deliberately different approach to an industry-led education that empowers young adults at UA92 to make it for real.
::
North West-based Redmoor Health has been appointed to a national health and social care framework worth £3.6bn.
Founder and CEO, Marc Schmid, said their inclusion onto the Crown Commercial Service's Management Consultancy Framework Three (MCF3) was a "watershed moment" for the company, which was only launched in 2017. The appointment allows Redmoor Health to bid for consultancy work in areas related to health, social care and community.
MCF3 runs for four years and includes the following services: Alternative delivery models; Business case development; Digital, technology and cyber; Health care services; and Healthcare transformation, change and delivery.
Redmoor Health, which is about to move from Preston into new top floor offices at Strawberry Fields Digital Hub in Chorley, specialises in supporting health and social care staff to deploy technology. The Crown Commercial Service (CCS) tendered for the framework contract for management consultancy services for the public sector in 2020.
MCF3 is a multi-lot framework agreement available for use by the UK public sector bodies and future successor organisations, which includes central government departments and their arm's length bodies and agencies, the wider public sector and third sector. This includes local government, health, education, police, fire and rescue, housing associations and charities.