Partnership will deliver 128 affordable city centre homes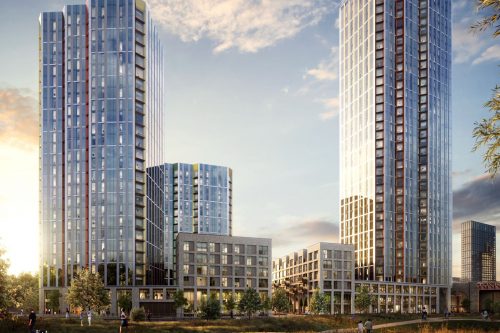 Far East Consortium (FEC), the developer behind Manchester's Victoria North project, has reached an agreement with Trafford Housing Trust, part of L&Q, to deliver 128 new high quality homes as part of its Victoria Riverside development.
The deal marks one of the largest developments of affordable homes in the city centre for many years.
Trafford Housing Trust will market 20% of the 634 new homes being built as part of Manchester's newest waterfront development – situated in the Red Bank neighbourhood of Victoria North. All 128 homes will be affordable and included in City View, one of three residential towers currently being developed at Victoria Riverside .
The homes, which will be marketed under Trafford Housing Trust's Laurus Homes brand, comprise a mix of shared ownership and rent-to-buy properties, and will be included in the first phase of the development which is expected to complete in 2024. Victoria Riverside represents Trafford Housing Trust and L&Q's first major project in Manchester.
Trafford Housing Trust is one of three providers on FEC's affordable housing delivery panel for Red Bank. The panel intends to deliver more than 800 of the 4,000 homes to be built by FEC in Red Bank over the next 10 years.
Red Bank is one of seven neighbourhoods being developed as part of Victoria North Joint Venture with Manchester City Council, and is the focus of £51.6m investment from the Government's Housing Infrastructure Fund (HIF), including the first phase of an ambitious new City River Park.
At approximately 46 hectares, the park will become one of Manchester's largest city centre green spaces. FEC recently appointed a multi disciplinary team to develop the masterplan for Red Bank, which will transform the largely brownfield area into a mixed used development with community, family living, diversity and nature at its core.
Hilary Brett-Parr, project director at FEC, said: "Victoria Riverside is just the start of FEC's aspirations in Red Bank and we are hugely excited to be partnering with Trafford Housing Trust and L&Q on this first development. As part of Victoria North, it's important that Victoria Riverside and the wider Red Bank neighbourhood are reflective of our commitment to supporting the city's needs through a mix of housing.
"Trafford Housing Trust and our register provider partners will play a pivotal role in helping us to achieve our ambition of making Red Bank an inclusive and diverse residential neighbourhood that champions green living in the city centre."
Vicky Savage, group director for development and sales at L&Q, said: "When Trafford Housing Trust joined L&Q in 2019 it was for a clear reason – together, we can do so much more. From delivering much needed new homes, to investing in jobs and opportunities across the North West.
"Backed by L&Q, Trafford Housing Trust is scaling up its growth ambitions to larger, strategic sites. Victoria North is one of Manchester's most significant regeneration schemes, and this major acquisition of affordable housing at Red Bank is a marker of our plans for the region – with much more to come."
Larry Gold, chief executive of Trafford Housing Trust, said: "This new scheme of 128 homes will be one of the largest developments of affordable homes in Manchester city centre for many years, and we are delighted to be working alongside FEC to deliver them.
"There is a significant lack of affordable housing throughout the North West, but one of the biggest shortages is in Manchester's thriving city centre. These new homes will help to address that issue as part of our overarching commitment to tackling the housing crisis."
Victoria Riverside is set next to the River Irk and will be built around impressive public space, including communal gardens with powered, outdoor work areas. The development will offer a mix of tenures and, as well as the new homes, will include commercial space for shops, cafes and bars along Dantzic Street.
Avison Young acted as agents on behalf of FEC for the deal.