Friends, family and colleagues mourn passing of former High Sheriff of Cheshire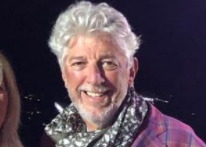 Nick Hopkinson, the former High Sheriff of Cheshire, has passed away following a battle with cancer.
Mr Hopkinson, 61, who signed off his emails 'Sheriff Hoppy' and named his Facebook page 'Hoppy Sheriff', was renowned for his myriad fund raising efforts.
He described himself as a "philanthropist and fundraiser" as well as a "survivor" of cancer after he was diagnosed with liver cancer in 2018.
However, he underwent surgery at Manchester Royal Infirmary and a month later was told he was clear of cancer. He said at the time: "I feel I've been given a second chance – I want to use it well."
Schooled at Bury Grammar School, he went on to attend Harvard Business School.
The former owner of a bathroom distribution business had been introduced to charity work by his father as a youngster and he continued throughout his life, particularly after his medical problems.
Residing in Great Budworth, Cheshire, he was a keen supporter of Warrington Youth Club, having been introduced by Lord Lieutenant of Cheshire, David Briggs.
The pair developed the facility to the point where it helped thousands of young people and were behind the plans for its £7.5m Youth Zone, currently under construction
It followed his valuable work, much earlier, with Bolton Lads and Girls Club which asked him to get involved in fund raising, culminating in the creation of a £5m new-build for the club, achieved by countless charity events.
Mr Hopkinson's death was announced on his social media page, which said: "Thousands of children helped. Most recently lots from Warrington Youth Club. He once raised £1m for underprivileged kids in one night.
"Lots of businesses started. Some sold. Some failed. Some still going …"
It added: "The best way to honour his legacy is to mix things up. Biz and charity. Dream big. Stay calm. And have fun xxx. RIP Hoppyman."
Scores of friends and colleagues reacted with shock and sadness. Chris Hodgen posted: "Gutted. I knew he had been ill but this is a shock. Rest in Peace Hoppy. You left this world after dedicating so much to others. An inspiration."
Damian Walters said: "I am shocked and saddened, brought to tears in fact, to learn that someone I looked up to, respected and admired has passed away."
Sarah Crowther wrote: "Such sad news! Will be fondly remembered by many x"
And Andy Thomas, senior finance manager at OnSide Youth Zones, posted: "So sad that you did not see the opening of Warrington Youth Zone, something you have worked passionately for but your legacy will live on through the thousands of young lives that have been, and will be, transformed by all that you have done. RIP Hoppy."
Mr Hopkinson is survived by his wife, Lesley, three sons and three grandchildren.