Property round-up: Hurstwood Holdings; Urban Splash; Peel L&P; Regional Property Solutions; Haute Dolci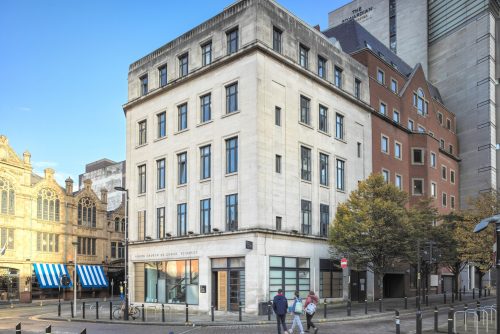 X

Register for free to receive latest news stories direct to your inbox
Register
Hurstwood Holdings has relocated its Manchester headquarters to 40 Peter Street.
Hurstwood acquired the landmark Manchester city centre building last year as part of its long term investment portfolio.
Stephen Ashworth, chairman and CEO, said: "Initially, our plans were to continue to asset manage the building and re-let the vacant space. However, when the opportunity came to regain occupation of the building in its entirety, we quickly realised that we had a unique opportunity on our hands for our new headquarters."
He added: "Over the last few years, we have grown our commercial investment activities nationally at an exponential rate and had been considering options for a new office move for a while.
"We have an exceptional team working for us and their opinions were an influencing factor when committing to a new space that will be our head office for the foreseeable future."
He said: "This move signifies our commitment to the future generation of Hurstwood Holdings and represents a significant investment in the business as well as a reflection of the high standards we set in our commercial investment and development activities. I am very proud of what the team has created here and look forward to creating this next chapter in the company's history."
Led by project director, Sam Ashworth, Hurstwood's in-house team carried out a dramatic transformation of the 5,000 sq ft space to provide a contemporary and inspiring place to work, and entertain.
Hurstwood Holdings is a commercial investment group with more than £200m of commercial and residential assets on more than 120 sites nationwide, housing more than 1,000 occupier clients.
::
Manchester-based regeneration company, Urban Splash, has announced deals on the entire ground floor of workspace at Mansion House, its waterfront building at New Islington Marina in Manchester, hot on the heels of 40,000 sq ft of deals over the summer.
Totalling 3,700 sq ft of space, all four ground floor units at Mansion House have been let to independent occupiers, who will each bring a new offering to the waterfront community. Among them is renowned food writer and author Pippy Eats, whose founder Pippa will launch a new cookery school and community event space on the Marina.
Flawd Wine will launch a wine bar and bottle shop in the building, while Mezze – a Cypriot kitchen and bar offering – will launch in the adjacent space. The fourth unit has been let to beauty salon Blush who, along with Mezzewill, open early in 2022.
This is the latest commercial offering at New Islington, a brand new neighbourhood for Manchester which has been transformed into hundreds of new homes, a park, Marina, OFSTED-Outstanding school and independent bars and cafes.
Nicky Harries is Urban Splash commercial manager and has overseen the deals. She said: "As we come to the closing chapters of our New Islington story, we are proud to bring more great businesses to the area.
"This is a neighbourhood that's grown so much in recent years, becoming one of the city's most vibrant places to live, work and play. These businesses will add to the mix on offer along New Islington's Marina, opening the area up to more people."
The deals come as Urban Splash confirms other hospitality lettings in its portfolio. Last year it announced that national cinema company, Everyman, and the Hubbox restaurant, would take space at Royal William Yard in Plymouth. The company also recently announced a deal with a new coffee house at its Boat Shed building in Salford Quays.
Nicky added: "Even against the backdrop of the pandemic, we have continued to attract new businesses into our portfolio, completing on 80,000 sq ft of deals since January alone.
"It's testament to the calibre of our spaces and our flexible terms – something that's quite appealing to businesses re-emerging after the uncertainty that the past year has brought to the hospitality sector. We like to think that we are their partners and look forward to supporting their growth through 2021 and beyond."
::
On behalf of Legal & General Affordable Homes (LGAH), Manchester-based Peel L&P has submitted a planning application to Medway Council for 237 shared ownership and affordable rented homes in the Chatham Waters area as part of the next stage of the consented masterplan for the development.
Peel L&P is acting as the developer for the LGAH scheme, split across two blocks, including one- and two-bed apartments and three-bed town houses.
A second public realm planning application covers the Central Park area at Chatham Waters, providing more than an acre of green space for local communities to enjoy, which will include trees, planting, seating and communal play areas.
Just 36 minutes from London St Pancras by train, Chatham Waters offers residential, commercial, retail, leisure and education space. The 26-acre destination is already home to a University Technical College, Marston's family restaurant, Asda Superstore and extensive public realm.
Almost 400 of the 950 homes which have planning approval at Chatham Waters are now finished with 199 homes for private sale at X1's The Manica Building which opened in December last year and 193 homes for private rent at The Kell which completed in July.
More than £100m has already been invested at Chatham Waters and around 700 full time jobs created, worth £19m to the local economy each year.
A further planning application will be submitted shortly by Peel L&P and Montpelier Estates for a development which will bring high quality homes for the elderly with the need of nursing care.
James Whittaker, Peel L&P's executive director of development, said: "This is the next step in the exciting development of Chatham Waters with our vision clearly in view making it the region's premier new mixed use waterfront destination. This application focuses on high quality affordable housing.
"Our continued work with LGAH, Montpelier and Medway Council is transforming the former naval dockyard site into a vibrant destination where people can live and enjoy the waterfront area."
Ben Denton, L&G Affordable Homes chief executive, said: "We are delighted to be working with Peel L&P and Medway Council to bring forward these 237 affordable homes for Medway residents. Since formation our business has secured over 6,500 homes and is investing patient institutional capital to build more affordable homes to bridge the gap between need and demand."
Subject to planning approval, work is expected to start on the residential and public realm projects around spring 2022, with an estimated two-year completion.
::
One of the fastest growing UK law firms with its head office in Altrincham is expanding.
Forever Legal specialises in providing legal services for the over 55's. It is a dedicated equity release conveyancing specialist, along with wills and probate.
It has taken 3,000 sq ft of ground floor office accommodation on a six-year lease at Lindley Court, Scott Drive, Altrincham.
Steve Dicks, Forever Legal managing director, said: "We have been growing exponentially over the last few years and have now outgrown our existing offices but wanted to stay in Altrincham, which has proved to be an excellent business hub.
"Lindley Court is ideally located for all the essential and leisure amenities which suits everyone in the team."
He added: "We are moving from Fairbank House, Ashley Road, and I can't wait to recruit more amazing energetic solicitors to enjoy our journey."
Lindley Court, a two-storey detached office building, is managed by Regional Property Solutions, which negotiated the simultaneous surrender of the outgoing tenant, Market Group's, lease with the granting of the a new lease to Forever Legal.
Daniel Lee, managing director, Regional Property Solutions, said: "This was a great result as we have mitigated the potential void whilst securing a longer term, ensuring a seamless income stream for our pension fund client."
CBRE acted for the outgoing tenant, Market Group.
::
Preston restaurant, Heavenly Desserts, will be reopening its doors under the Haute Dolci banner this autumn, following a £400,000 investment.
Located in the Miller Arcade, the 2,000 sq ft restaurant, which can comfortably seat 80 diners, will provide a full dolci dessert and brunch menu and will retain the same 20-strong team that served under the Heavenly Desserts name.
Yasin Bhayat, restaurant manager, said: "Miller Arcade is an iconic location in Preston, with a rich history and amazing architectural features that remain from when the shopping centre was originally constructed in 1899. We're excited to be breathing new life into the arcade with Preston's first Haute Dolci restaurant, which we know people are going to love.
"From what we've seen of the artistic renderings, the restaurant is going to look absolutely amazing. It'll be a super chic dining destination, which caters for everyone."
Haute Dolci is investing £400,000 in the site, which will combine ultra-modern clean lines with high spec finishes throughout. Contrasting white and black marble will add to the richness of the design, which will be accented with pops of colour and stylish, yet comfortable seating.
Nizam Mohamed, founder of Heavenly Desserts and Haute Dolci, recently sold the brand rights for Heavenly Desserts. As part of the settlement, Nizam retained two Heavenly Desserts sites – Preston and Birmingham – which will both be refurbished and rebranded as Haute Dolci restaurants.
Nizam Mohamed said: "We are excited to be fully rebranding our Preston venue to officially welcome it into the Haute Dolci family, and we can't wait to welcome restaurant-goers this autumn.
"Our restaurants are renowned for their distinctive and innovative interiors, and we think the brand new look will be really popular with local diners. Ultimately, we aim to create spaces where people feel comfortable and relaxed, while also providing a luxury dining experience – it's what Haute Dolci is all about."