North West business briefs: LJLA; Roxtec; DV8 Designs; TalkTalk; Together
X

Register for free to receive latest news stories direct to your inbox
Register
Liverpool John Lennon Airport (LJLA) has unveiled a new COVID testing lab in partnership with healthcare and testing company Salutaris People and Source Partnership.
The new laboratory has been designed to perform 500 tests per day but can easily be increased in scale to facilitate 1,000 tests and beyond if required. The service provided by Test Assurance Group, Salutaris People,and Source BioScience, enables passengers at LJLA and those flying from other UK airports with a Rapid Fit to Fly testing service with a turnaround time of three hours, alongside a Standard 24-hour Fit to Fly testing service.
Samples are also collected on site at Liverpool and processed at Source Bioscience's main laboratory in Nottingham enabling Day 2, Day 8, Test to Release and a diagnostic PCR COVID testing service for customers.
Airport commercial director, Lucy O'Shaughnessy, said: "We are delighted to be the first airport in the UK to have such a unique facility and service. Liverpool John Lennon Airport can now provide our valued airline passengers with a state-of-the-art COVID testing facility on site here at the airport as we start to resume our flight schedules and have more passengers flying again.
"The airport continually strives to offer the best possible service for our customers at all times. Working in partnership with Test Assurance Group, Salutaris People and Source BioScience enables us to offer a convenient and efficient PCR testing service operated by trusted healthcare providers."
The new facility – the only one of its kind at a UK airport – is operated by four laboratory tech staff including a shift supervisor and has eight PCR analysers on site, a Bio Molecular Systems liquid handler and a thermal cycler to offer a rapid real-time qualitative PCR method for the detection of SARS-CoV-2.
::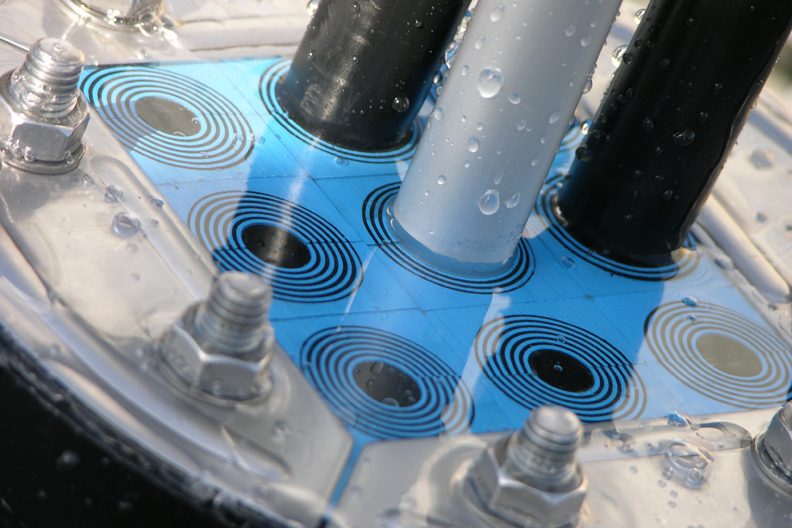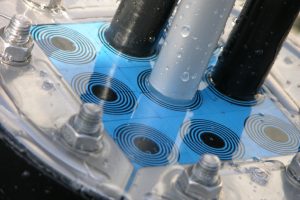 Safety seal manufacturer Roxtec UK, which is based in Bury, is undertaking an extensive six-figure deal to help upgrade the London Underground.
The £5bn Four Lines Modernisation project (4LM), which launched in 2016, aims to update the Tube network's Circle, District, Hammersmith & City and Metropolitan lines with hi-tech signalling equipment capable of boosting the frequency of trains and cutting down on delays.
The project has seen 51 new signalling rooms created, as well as equipment to house signalling cabinets along the 161 km of track, with Roxtec UK's products sealing cables going into and out of these buildings and cabinets.
The seals serve as a fire barrier, with 60 minutes of insulation and integrity guaranteed, as well as water ingress protection in the event of a flood and rodent protection. The Roxtec seals further protect against other complex hazards including the effects of lightning strikes, gas, dust, humidity, electro-magnetic disturbances and the risk of explosion.
David Chalmers, divisional manager, infrastructure and industry, Roxtec UK & Ireland, said: "Roxtec cable and pipe sealing systems were chosen due to their exceptional life expectancy and ease of use. Each station's signal equipment room or removable electrical building is individually designed and 12 variants of Roxtec's rectangular and round frames were chosen to cover all station requirements."
::
Warrington-based architectural and interior design specialists, DV8 Designs, has, once again, been appointed to work with Aspire, the prestigious airport lounge brand owned by Swissport, this time at Manchester Airport, where the lounge will open next month.
Following the successful rebrand opening of the award-winning Aspire Edinburgh Lounge in 2019, DV8 was also appointed to refurbish the Aspire London Luton Airport Lounge.
Sharon Jevans, director for Aspire Lounges UK&I, said: "We are delighted to be working with DV8 once again in transforming our brand new space in the recently opened Manchester Terminal 2. This will be our third project we have worked on together, after a new lounge build in Edinburgh and full refurbishment in our Luton space.
"DV8 recognise our vision for Aspire lounges and execute it flawlessly and authentically, we look forward to seeing our concept materialise in Manchester and continuing our relationship further, creating airport lounges that are both practical and visually stunning for staff and guests alike."
Lee Birchall, of DV8 Designs, said: "We look forward to integrating the Aspire vision and brand into the geographical idiosyncrasies that are unique to the locality of Manchester and the Greater Manchester region. Our design team thoroughly enjoy the relationship they have with Aspire, and having a degree of creative freedom to bring this to life."
::
TalkTalk, the Salford-based communications group, is to offer thousands of pounds in donations to support sports clubs throughout the Greater Manchester region.
The donations to local sports clubs follow TalkTalk's long-standing sponsorship of Salford City Football Club. Woodhouses Cricket Club and Failsworth Dynamos, both in Failsworth, are just two of the six sports clubs across Greater Manchester benefiting from TalkTalk's donation.
The Failsworth Dynamos are planning to use the money donated to purchase new training kit for the open aged ladies' team, while Woodhouses Cricket Club is using the money to buy new equipment to maintain the grounds.
Becki Smith, general manager, Ultrafast at TalkTalk, said: "With lockdown restrictions easing, there has never been a more important time to make sure sports clubs can continue the amazing work they do to bring the local community together.
"This isn't the first time we've worked with sports clubs – here in Greater Manchester, we have a long standing relationship with Salford City Football Club having sponsored them for three years. Not only is the work we're doing with local sports clubs across the city a welcomed extension of this partnership but it's also a celebration of TalkTalk's new Future Fibre plans coming to the city."
::
Finance chiefs at Cheadle lender Together rolled out the red carpet for BAFTA-winning producers of hit TV show, The Great House Giveaway.
Sioned Wynn, of production company Chwarel, visited the Cheadle Royal Business Park HQ with the famous BAFTA trophy. Together provided the finance for the Channel 4 daytime show, which sees two strangers pairing up to buy a house, renovate and 'flip' – or sell – the property within a matter of months. The contributors get to keep the profits they make from their hard work.
Marc Goldberg, commercial CEO at Together, said: "We were delighted to see The Great House Giveaway win the BAFTA in the Daytime category at the awards back in June and even more pleased to welcome Sioned – and the trophy – to our Lake View offices.
"The programme has been a smash hit with TV audiences and we're looking forward to providing commercial finance to support more episodes of this fantastic production in the future."
Sioned Wynn, director of Chwarel, said: "We're really grateful for Together's continued support for our groundbreaking TV property format. We filmed the second mini-series during lockdown, which came with its own challenges, but we've been absolutely thrilled by the audience response to the show's contributors tackling the perils and pitfalls of property renovation."