Manchester venues set to boost economy by millions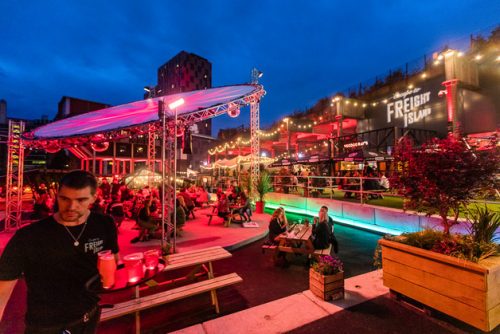 Some of Manchester's biggest venues are set to boost the economy by millions of pounds.
Depot Mayfield, Manchester's 10,000 capacity venue for culture located at the former railway, has been host to The Warehouse Project and Escape to Freight Island bringing in thousands of visitors each month.
The Warehouse Project, which moved to Depot Mayfield in summer 2019, continues to shine a spotlight on the city as one of Europe's hottest destinations for electronic based music.
For the eagerly anticipated 2021 season, almost 300,000 people are expected to attend The Warehouse Project's events at Depot Mayfield and the economic and social impact for this will be key in the recovery for the night-time industry.
In addition to each ticket holders spend on every event ticket and within the venue itself, it is calculated -using the metric from Deltic – that each person will bring in £35 revenue during their time in the city, injecting an estimated total of £10.5m into the local economy for Q4 of 2021.
Alongside The Warehouse Project will be Escape to Freight Island.
The venue opened during the pandemic has been a huge Manchester success story and is set to become one of the most visited destination tourism locations in the UK.
It is expected that with an estimated footfall figure of around 10,000 visitors per week there will be over £2.4m spent within the local economy.
Simeon Aldred, of Broadwick Live who operates Depot Mayfield said: "We are exceptionally proud of the success that has been made at Depot Mayfield, and especially as a partnership collective with The Warehouse Project and Escape to Freight Island, working under the most challenging of  times, we have been able to establish Depot Mayfield as one of the UKs venue success stories of recent years.
"The combination of the operations within the venue, the total of which is expected to bring in over £13m additional spend to the local economy in Q4, I believe is one of our proudest  achievements of Broadwick Live since we began to work within the great city of Manchester."
In the city centre, event venue Manchester Central now has more than 100 events scheduled for the remainder of 2021.
The venue has recently opened up its state-of-the-art broadcast studio to a range of businesses and organisations, signalling the beginning of the new era of hybrid conferencing in the UK.
Manchester Central attracts over half a million visitors to the city each year and brings approximately £150m into the Greater Manchester economy in an average year.
Shaun Hinds, CEO at Manchester Central, said the venue was fully prepared for a rise in demand for hybrid facilities as a complementary element of the overall event experience.
He added: "We fully expect digital and real life activities to co-exist and complement each other to make events accessible for everyone, as well as restore in-person confidence.
"We're absolutely delighted to have been able to welcome a variety of our partners to our Studio at  Manchester Central in recent weeks.
"Hybrid conferencing is increasingly popular and our job is to help businesses and event organisers understand how to tap into its true value and potential.
"Not only does this way of delivering event content help to reach more delegates from across the UK and beyond, it also enables organisers to provide a more curated and personalised event experience.
"This in turn presents new commercial opportunities for sponsors and event partners to achieve brand exposure."
Just last week the venue hosted Housing 21, the North West's largest in-person conference for 18 months, which brought around 8,000 delegates to the area.
Hinds said: "The future of large scale events is about providing a range of options – from virtual and hybrid platforms through to the very best facilities where people can meet – that can be tailored to the specific requirements of every event.
"We've worked incredibly hard to ensure we have the capabilities to deliver this here at Manchester  Central and we're delighted to be able to successfully host events of all shapes, sizes and formats."