Key contract awarded on £350m Co-op Live Arena scheme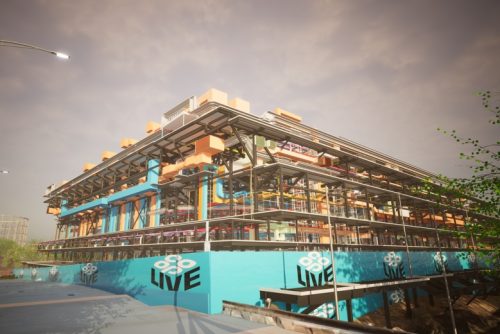 X

Register for free to receive latest news stories direct to your inbox
Register
National engineering specialist, SES Engineering Services (SES), has been awarded one of the largest of the 'Big Nine' sub-contractor packages on the £350m Co-op Live Arena project in Manchester by BAM Construction.
This is another large contract managed by the engineering specialist, on a scheme that looks set to chalk up several construction and leisure industry firsts as developer Oak View Group (OVG) creates one of the largest and most sustainable live entertainment venues in Europe, capable of seating 23,500 fans.
Wythenshawe-based SES was first involved in the project in October 2019, supporting early cost advice for BAM. SES went on to win the first stage of the tender in April 2020, following a decision based on quality, sustainability, team competence, experience, programme and costs.
Being preferred bidder at stage two of the tender process saw extensive collaboration between SES and BAM Construction – with OVG's professional team, including Populous Architects, ME Engineers, Turner & Townsend, and Buro Happold, with an integrated engineering strategy employed by all parties to develop the 'best value' scheme, one that still encapsulated the aesthetic and performance criteria required by OVG for their 'Best in Europe' Entertainment Venue.
Ian Fleming, regional director of BAM Construction in the North West, said: "The team behind Co-op Live is committed to local procurement. We are using a range of businesses across Greater Manchester and the North West region to create this striking venue.
"Collectively, we are minimising our carbon footprint and supporting the local economy. The team has made a fast start and work is on track and looking good already."
Mark Donnelly, COO of OVG, said: "We are determined to maximise the benefits that Co-op Live will deliver to the local community. With c. 3,350 people expected to work on the construction of Co-op Live and a further 1,000 jobs forecast when it is operational, we are choosing local suppliers like SES, based in Wythenshawe, who can galvanize local employment opportunities so the full impact of our £350m investment will be felt locally.
"SES also share our values around sustainability, and we are pleased to see the lowest carbon solutions and electric vehicles being used at the site."
SES will have taken the fully BIM co-ordinated design to RIBA Stage 5 in just nine months, which its managing director, Steve Joyce, believes is a remarkable achievement, given the ongoing challenges of COVID and the sheer scale of the project. He said: "We are absolutely delighted to have won the building services contract for this amazing European landmark. We will be able to draw upon our considerable expertise while working within a highly digital environment to achieve the sustainability outputs demanded of the project.
"The successful delivery of such a complex project will call for in-depth collaboration and superb teamwork throughout – and we are more than up to the task."
Rob Doherty, SES's operations director, said: "In our aim to deliver the lowest carbon footprint of any SES project on completion, we will be utilising our local logistics centre so that consolidated deliveries can be made to site by electric vehicles to minimise diesel and carbon emissions as well as manufacturing 600 2D and 3D multi-service modules off site using our innovative in-house Prism facility. We feel privileged to be part of such a comprehensively groundbreaking construction project."
The design includes the installation of 16 innovative air handling units – each is the size of a double decker bus, mounted on its roof, as well as installing more than 1000km of cabling linking all systems together and in excess of 2,500 emergency public address, voice alarm and sound system speakers.
Support will also be given by SES to local businesses and social enterprises with direct local community engagement and training, plus opportunities for involvement in construction provided by the site delivery team alongside the wider BAM team.
Located on the Etihad Campus, next to Etihad Stadium, Co-op Live is expected to host around 120 events and bring 1.3 million visitors annually to the city. SES will commence on site works in October 2022. It is currently manufacturing the off site prefabrication modules which will arrive on site in early 2022.