People: PMD Business Finance; Together; H&H Group; Azets; TMC Strategic Communications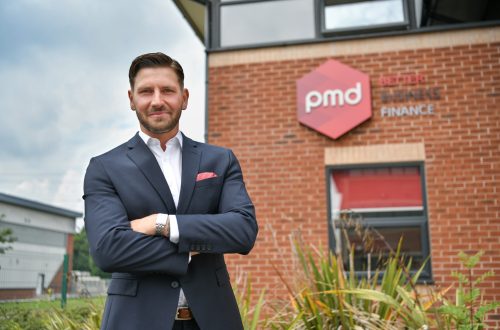 X

Register for free to receive latest news stories direct to your inbox
Register
An Oldham-based independent business finance firm which operates across the UK has bolstered its structured finance team with a new senior appointment to support the company's ongoing expansion.
John Platt has joined PMD Business Finance from NatWest's corporate banking team, where he worked for 14 years, most recently as relationship director.
In his new role as structured finance director, John will assist clients across the UK on all aspects of structured finance requirements including acquisitions, management buyouts, employee enterprise trusts (EOTs), restructuring and growth capital. The firm's structured finance division was formed by PMD's Callum Bull in 2020 and has since grown rapidly, supporting more than £60m of transactions.
John will also lead a new property funding division which will see PMD offer specialised brokerage services such as commercial mortgages and development finance.
Tom Brown, director, PMD Business Finance, said: "Over the past year, PMD has grown from brokering £150m of lending each year to around £180m across a variety of sectors and clients.
"John's appointment is an important part of our ambition to reach £250m lending in the next 12 months and to further cementing our position as the UK's largest independent business finance intermediary.
"Over recent months, we have seen a significant rise in demand for property finance, both from introducers and clients. We are excited to be launching a new property funding division to support the requirements of new and existing clients in this area."
John's recruitment is the latest in a string of senior appointments at PMD in recent months, taking the company total staff numbers to 50.
PMD was acquired earlier this year by its management team – Tom Brown, Lee Schofield and Rob Dermody – from founders Peter Dobson and Mike Rodgers.
With more than 150 funding lines, PMD provides solutions for businesses looking to expand, improve cash flow, purchase property or acquire plant, machinery and vehicles. In addition, it also assists businesses through its structured finance team in restructuring debt along with providing finance for acquisitions, management buyouts, EOTs and trade sales.
John Platt said: "I'm excited to be taking this step in my career, one which will allow me to be part of the story of one of the UK's most exciting independent finance providers. I've known the team at PMD for many years and am looking forward to using all of my experience to help PMD clients and introducers with both structured finance and property finance requirements."
::
Cheshire specialist lender, Together, has announced the appointment of experienced property professional Chris Taylor to drive its development finance business.
The respected real estate investor and consultant, who spent more than a decade in senior positions at MCR Property Group, joins Together this month as its development finance originations director.
Chris, 40, said: "I'm excited about my new role, which will involve working in partnership with developers across the UK to make sure that we can provide them with the products and service they need to deliver their projects on time and on budget – to help them realise their ambitions.
"I have had a great relationship with Together, even before joining the business. The group is known and respected for building relationships with developers and having hands-on underwriters who really understand their customers. The business has increased its development finance offering considerably over the past few years and I'm really looking forward to helping grow the loan book in the future."
A former pupil at prestigious Bolton School, Chris studied finance and IT at university before leaving to pursue a career in IT during the dot-com boom of the mid-2000s. He moved into property 15 years ago, joining national estate agency Countrywide on its management scheme, later taking up a senior position turning around underperforming branches.
His experience saw him join a private investment company based in Bury, Greater Manchester, where he was responsible for negotiating deals and developing, refurbishing and selling property for a large scale portfolio landlord.
In 2009, Chris was appointed an investment project manager at Manchester-based MCR Property Group, where he was a fund manager and managing director of Regency Residential, the group's housing development division. During this time, he led the opening of its office in Mayfair, London, increasing the firm's headcount to 500 employees.
At Together Chris will report to Andrew Charnley, the group's director of credit and portfolio. Andrew said: "Chris's vast experience in real estate, and his energy and commitment to the UK property market will be a massive benefit to our business. He will help to fulfil not only our growth plans and ambitions, but the ambitions of developers up and down the country who are helping drive the UK's economy post-pandemic and we're delighted to welcome Chris to the team."
::
H&H Group announce the appointment of Margaret Irving, group personnel manager and company secretary, to Trustee of the group's Employees' Trust.
The H&H Employees' Trust (HHET), was established in December 1973 and holds 20% of the issued share capital of H&H Group Plc. The Trustees are empowered to make payments to employees or former employees who are in need of assistance, either due to hardship or to further their development, as well as making an annual distribution from the fund to employees with five-plus years' service.
Margaret said: "I have been working with H&H for over 25 years and as part of this role, I have acted as secretary to the Trust. The HHET, really is there to support our staff and the wider H&H community and I really have been very privileged in my knowledge of the work that they do. That is why it was such an honour to be asked to serve as a trustee of an organisation which is there to support and make a real difference.
"I am sure many people may not know some of the ways in which the Trust has financially helped our community over the years. In addition to the numerous requests to help employees in individual circumstances, the Trust provided hardship payments to those in need during the Foot & Mouth outbreak and to those affected by the two major flood incidents in Carlisle. More recently, our laptop scheme helped parents who had to home-school during the pandemic."
Dawn Harrison, non-executive director on the board of Carlisle-based H&H Group and chair of the Employee Trust, said: "With Margaret having been a member of the H&H community for such a long time now, and with her formidable knowledge of the group and of the Trust itself she is the perfect Trustee, and we are certainly looking forward to her input."
Margaret added: "Going forward, as a newly appointed Trustee, I would like the Trust to be much more visible to everyone within the group. I want everyone to understand what the Trust does and what it can do. Hopefully my appointment will help with that – by being a more accessible Trustee and someone that people feel they can approach with ideas or requests."
::
Azets, which claims to be the UK's largest regional accountancy and business advisors to SMEs, has appointed Jack Clitheroe to develop its forensic accounting offering in the North West.
Jack has joined the firm as a director from a 'big four' firm. He will be based in Azets' Manchester office, covering the firm's six offices in the North West. He has ambitious plans to grow the team locally over the next couple of years.
Jack is experienced in a variety of forensic engagements and will focus on supporting the regional law firm market with high quality forensic accounting services. Jack's appointment is the next phase of the firm's national forensic accounting roll-out after the launch of a Birmingham practice in 2019 and London practice in 2020.
He said: "I'm excited to join Azets at a time when the business is undergoing a rapid expansion. I'm looking to grow the regional team as we're seeing a rise in demand for competitively priced disputes and investigation services."
James Hamilton, head of forensic accounting at Azets, said: "I'm delighted to welcome Jack to our expanding team, hot on the heels of a number of senior promotions in our Midlands practice. We are continuing with our strategy of recruiting very talented and experienced forensic accountants, in order to service our target legal markets. Jack will join a highly experienced national team dealing with a variety of family, commercial and criminal cases.
"Our expanded forensic practice will also be a real benefit to our clients looking to prevent and mitigate the impact of fraud. We are seeing a rise in reported fraud as difficult trading conditions create both an enhanced motivation for fraud and reduced profits with which to conceal the impact."
::
TMC Strategic Communications has appointed Ian Traynor as a non-executive director to accelerate its current business growth.
Throughout the COVID-19 pandemic, TMC, which has offices in Congleton and Manchester, has continued to invest in its business growth strategy, this includes welcoming Ian as a non-executive director alongside expanding its specialist solutions such as Virtual 3D Environments. These solutions have been delivered for a range of prestigious organisations such as Siemens, the Institution of Civil Engineers and the Manufacturing and Technology Centre.
Ian, an experienced executive from corporate and SME businesses will bring the focus required to take the business to the next level. As a Chartered Director and Fellow of the IoD he has recently been nominated for the accolade of Non-Executive Director of the Year. Ian is also a visiting Fellow of the Henley Business School, where he provides a wealth of experience and insight. This appointment will complement his current portfolio of non-executive director and advisor roles.
He said: "TMC Creative is an agency built on very solid foundations and lives its values. This approach has led to consistent growth and many awards.
"Driving the over arching strategy to rapidly scale up the organisation, I will bring a wealth of experience, knowledge and insight through what will be a period of transformation for the Cheshire based creative marketing agency.
"As TMC continue to focus and build on their core markets within healthcare, technology and manufacturing, it's worth noting that in the most recent period, they have achieved over 60% year on year growth, with further plans to grow by 50%. Strong governance around this is crucial as we continue our journey. The chosen strategy of accelerated build via a mix of 'organic and buy' will further accelerate TMC's ambitions.
"I am excited to be on-boarding and aiding the business at this time."
Tim McCloud, managing director of TMC, said: "Having Ian join us as a non-executive director is a great opportunity for TMC. It comes at an extremely exciting stage of our business growth.
"The addition of Ian to our operations will strengthen our senior management team in order for us to maintain focus and further develop on our core markets. Our strong performance over recent years in healthcare and technology is testament to our ability and skills to deliver for our clients' innovative and creative solutions. Our relentless focus on customer service and quality is a cornerstone of our success and one we will maintain going forward."
Alongside TMC's growth to date, it has also successfully recruited an additional nine staff across the organisation, with further plans to on-board five more in roles across the agency by the end of the 2021. In addition to this, TMC is embracing the Government's Kickstart scheme initiative, recruiting a further six young people across the team, which will give the Kickstarters' the opportunity to gain experience and mentoring, supporting them in their career aspirations.
Tim McCloud added: "As we continue on this growth journey our commitment to our clients and team will further focus on ESG (Environmental Social Governance). As an agency we will implement initiatives that will support our clients and will be key to our ongoing success, building on the educational and social impact programmes that we currently specialise in."