Former town bank transformed by 44-cover restaurant conversion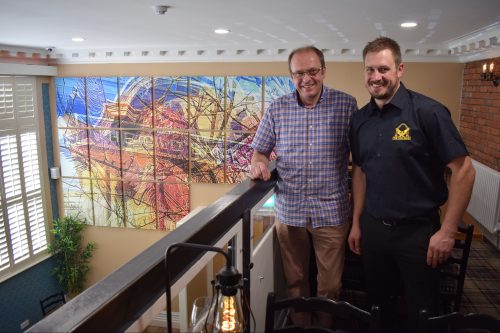 Restaurateur Andrew Booker and son James have opened a new venture, The Old Bank, in Kirkham, Lancashire.
Situated on Poulton Street, the scheme has transformed the former Midland/HSBC bank premises into a 44-cover restaurant.
The Old Bank has been the talk of the town since a stunning Griffin sculpture first appeared above the door to the premises during lockdown.
Modelled in part on the old Midland bank logo, 'Archie' – as he has affectionately been nicknamed after he was created at Kirkham's Archforge blacksmiths – has become a famous local landmark already.
Andrew and James are no strangers to Kirkham having set up their popular Tap and Vent brewhouse, also on Poulton Street, three years ago.
Their creation of the Old Bank, which boasts a stunning décor and hi-spec finish, together with two kitchens, one housed inside the former bank's safe, took place during last year's many lockdowns.
They say the result is testament to their belief there is a bright future for Kirkham, which is at the start of a £10m regeneration masterplan thanks to funding from both Historic England and the Government's Future High Streets Fund.
Andrew said: "Our plans for the restaurant were in place before the pandemic. We identified that Kirkham was crying out for dining out establishments.
"We always felt a high quality eatery should be well received and it has been great to finally welcome customers, whether they're visitors to the area or locals. The feedback since we opened has been really pleasing."
Kirkham, a former Roman garrison, enjoyed its boom time in the days of cotton and the manufacture of sailcloth for the Royal Navy.
However, like many towns of its size its historic high street has faced some challenging times. But with more new shops and businesses being attracted to the town there is a real buzz developing.
Andrew, who previously ran Hastings restaurant in Lytham, and set up Lytham Brewery with James, said: "I think it's very exciting times for Kirkham – there is a real sense that the town is on the up.
"We do have a few empty shops, but not as many as other similar towns, and I think Kirkham is up and rising.
"What's important is we create a culture where people are choosing not to go out of town to eat and actually stop in their hometown. I really think that is changing for the better."
James added: "When we first opened Tap and Vent, the initial comments we had was that this would never work in Kirkham – it has enough pubs.
"Our mantra was we only stocked premium products and it worked – we created something new for the town.
"We got a lot of people visiting us who had never been out for a drink in Kirkham. And with all the new homes being built there is a real untapped market. Kirkham now has many different options of where to go and that is great for everyone."
Andrew and James project managed The Old Bank's build themselves and were assisted by a £10,000 grant from Fylde Council's ARG Vacant Premises Grant scheme.