What does the future look like for large conference venues?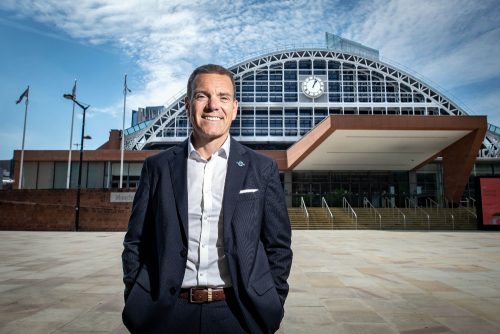 By Shaun Hinds, CEO of Manchester Central
With so-called 'freedom day' now a few months behind us, we are starting to see a welcome 'buzz' back in North West towns and cities. But what could the future look like for venues such as ours?
For a long time, our business and the events industry as a whole were preparing for freedom day; a date that this time last year felt all too far away. When we were given the 'green light' in July it felt such a relief to once again host events which will, ultimately, help this region's economy to bounce back.
Over the last few weeks, it has been brilliant to see the streets of Manchester busy once more.
Events have been taking place within our venue, people have been enjoying the plethora of bars and restaurants we have on our doorstep, shops have been busier and visitors have been travelling to our region again.
It has felt in many ways like we've been back to normal and there has been a really nice 'buzz'.
I'm pleased to say that after some trepidation about what would happen around the reopening, it has been an incredibly strong few months for Manchester Central. We've been pleasantly surprised with the sheer level of enquiries coming through. In my eyes, the volume of enquiries over recent weeks is proof that businesses are eager to get events back on the agenda.
In real terms, we handled nearly 90 new event enquiries in 30 days since reopening, up 28% when compared to June, and 91% on May, all in addition to the further 100 events already booked onto our pipeline for the remainder of 2021.
Businesses have been keen to host conferences, taking the opportunity to see their teams, suppliers, customers and stakeholders all in one place for the first time in nearly two years.
But we are also receiving enquiries for a mix of shows – whether that be intimate gatherings, music events or comedy performances such as Peter Kay's Dance For Life.
In September, we were proud to host more than 8,000 delegates for the Housing2021 event, the largest event since reopening. It was fantastic to see it come to life after all of this time.
But beyond our doors we also saw delegates with their lanyards spill out into the city's hospitality hotspots, a real-life view on how events absolutely support our regional economy.
I felt so proud to see how this played out and it's a real testament to how hard event organisers and the whole Manchester Central team have worked to make the return such a success.
Beyond this, we're set to welcome a range of conferences, dinners and public shows in the next few weeks – a sure sign that we're well on the way to recovery.
But we cannot rest on our laurels and we recognise that in-person events are right for some delegates but that others may still want to attend remote events.
That's why we firmly believe the future of events lies in having a mix of 'in-person' and digital options.
Our hybrid model is coming into its own, with organisers recognising the power of embracing the digital element of shows to reach wider audiences who can't be in the  immediate vicinity of the event itself, and to cater for those who may not feel quite ready to return to face to face occasions.
We think this will be an integral part of events for many years to come. As such, we have invested heavily to ensure we have the highest quality capabilities and several of our team members have also completed virtual event qualifications.
Before Covid hit, we were attracting over half a million visitors each year, and given the level of interest we've seen in these past two months alone, we can be encouraged that we're on the right track to getting back to those numbers.
The faces of our staff, back in the venue doing what they do best, have been wonderful to see again, not to mention the suppliers, freelancers, tech specialists and security behind the scenes, all of whom rely on our industry for their own business survival.
But what I'd urge in order to move forward is certainty rather than speculation. We have, as an industry, adapted time and time again to changes to regulations – always at very little notice.
It almost goes without saying that safety will always be our priority but we have often struggled to get clear direction on what needs to be implemented just when we've needed it most.
While there are pros and cons of measures such as the much speculated 'vaccine passports', my current concern lies with the ever-changing landscape. Businesses, especially those in the events industry, cannot run efficiently with ongoing speculation or rapidly changing rules, and the constantly shifting goalposts are difficult to work with and unhelpful when we are planning events months in advance.
During this crisis, we have been taking a stand to try and showcase just how large the events sector is.
Bringing over £30bn into the UK economy per year, we're a formidable force in making UK business tick, especially in our city region, where Manchester Central alone adds £150m annually.
We now need a clear line of sight for the months to come to allow our clients to adopt and implement control measures into their event programmes effectively.
We hope the scale – and needs – of our industry are heard, and that, whatever lies in our future, we are given clear directions, sooner rather than later, so that we are not left open to late rule changes that fundamentally impact how we deliver an event.
The next few months will see our venue utilise hybrid even more than before and while we always planned to use digital hosting capabilities in the future – the pandemic has accelerated this shift and that's a positive to take from the last 18 months. I am optimistic
about what the future holds for this great region; I am also pleased and humbled to be leading a business which will help in the recovery of the wider economy as we all look to bounce back.