People: Redrow; PWA Planning; Harrison Drury; Nexus Planning; Big Partnership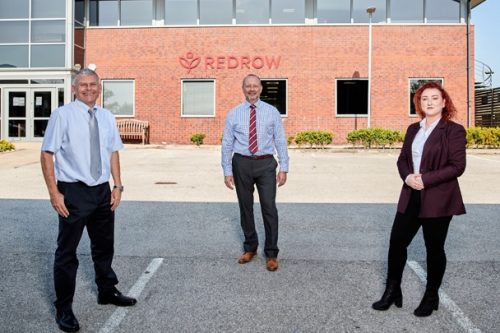 Redrow has welcomed two new technical recruits to its Lancashire division.
Chloe Harrison has joined the team, based at Redrow's headquarters in Buckshaw Village, Chorley, as site engineer, and Chris Leighton has been recruited as engineering manager.
Chloe, 26, from Runcorn, gained experience as assistant engineer for another major housing company, after previously being employed as a civil engineer for Halton Borough Council.
Her role involves working as liaison between the construction and design teams, overseeing site works and progression from start to finish, and ensuring road and sewer works are completed to the required standard.
She said: "My team is involved in pre-development services and we are also the last ones on site, making sure everything is up to standard and the roads are ready for adoption by the local councils. I look after in excess of 10 different Redrow sites."
Chris Leighton, 50, from Northwich, began his career working on the M60 motorway after graduating in civil engineering, and had other roles before joining specialist foundations company, Roger Bullivant, where he worked for 12 years.
The father-of-three says it was there he became involved, and gained experience, in the housebuilding industry before making the move to homes construction in 2017.
He said: "I went to another housebuilder as senior engineer and was promoted to engineering manager two-and-a-half years later. I learned a lot but felt that opportunities for further progression would be limited and that the time was right to move on. The opportunity with Redrow appealed to me."
His role involves running engineering projects across the division, from initial site identification to the planning approval stage and beyond, ensuring works are completed on time, safely, and to the highest standard.
Mark Dawson, technical director for Redrow Lancashire, says he is delighted to have both Chloe and Chris on board: "We are constantly seeking to recruit the best people to our technical team, to ensure that Redrow is always able to provide the very best in housebuilding. Of course, that means creating the high quality homes for which we are renowned, but that is only a part of it.
"It also means making sure our sites and services meet the optimum standards that are set by local councils and ourselves, and that our customers receive the very best services for their homes.
"Chloe and Chris are both enthusiastic team players and committed to giving everything to their roles, and that is backed up with experience and knowledge which we will support and enhance."
::
Preston planning consultancy PWA Planning has expanded its team with the appointment of Alex Hinchly.
Alex has joined the firm as an assistant planner from housebuilder Castleoak where she was a development surveyor.
In her new role at PWA, Alex will assist the team on town planning matters including pre-planning application statements, planning applications and appeals.
She has more than nine years' experience working in the property sector including roles with housebuilders Rowland Homes and Taylor Wimpey, supported living developer Mersten, and rural estate agency Armitstead Barnett.
Stella Walton, director of PWA Planning, said: "Developing people is something that it is very important to us, and we're thrilled Alex has joined the team and will be undertaking further study and qualifications with us.
"Alex has a broad mix of experience in the property sector and her knowledge of residential development will be particularly valuable asset to us and our clients."
Alex, who lives near Preston, said: "I'm pleased to be joining a great team. The role will give me plenty of opportunity to advise housebuilders and developers, but I'm also looking forward to broadening my experience and working with PWA's clients in the energy, commercial and sports sectors."
Alex is studying towards a Masters Degree in urban planning at Sheffield Hallam University after obtaining a first class honours degree in property and real estate from the University of Salford.
A student member of the Royal Town Planning Institute, she also scooped highly commended in the 'apprentice surveyor of the year' accolade at the prestigious RICS Matrics Young Surveyor of the Year Awards.
::
North West law firm Harrison Drury has welcomed four trainee solicitors and three legal apprentices as part of its latest investment in people.
Natasha Coveney, Chloe Wishart, Hannah Pinder and Rachael McDonagh have been offered training contracts with the firm, with Jessica Darley, Thomas Connell and Grace McGarvey joining Harrison Drury as legal apprentices.
Amanda Webster, partner and head of professional development, said: "I am delighted to welcome our new trainee solicitors and legal apprentices. These are exciting recruitments, strengthening our team and giving people access to fulfilling careers in law."
"As trainees Natasha, Chloe, Hannah and Rachael will gain valuable experience across a wide area of legal practice during the next two years. Jessica, Thomas and Grace will also have an excellent opportunity to develop their skills and learning through their apprentice roles at the firm."
Natasha will commence her training contract at Harrison Drury's Kendal office, with trainee solicitors Chloe and Hannah working from its office in the Preston city centre. Rachael has completed her first four years of the firm's legal apprentice programme and now joins the trainee solicitor programme, leading to her qualification as a solicitor in two years.
Legal apprentice Jessica will be based in the Preston office, Thomas is to start his legal apprenticeship at the Clitheroe office and Grace will be based in Lancaster.
The firm also welcomes Lisa Brown who joins its residential conveyancing team based in Preston as an executive administrator.
::
Independent consultancy, Nexus Planning, has appointed Matt Dugdale as associate director to its Manchester office.
Matt will work alongside executive director Peter Tooher and the rest of the team, tasked with developing the consultancy's strengths in the residential sector and using his expertise to support clients. Nexus Manchester now has nine staff based at the Castlefield office, with plans for further growth in the future.
Matt joins from WSP (Indigo Planning) where he was an associate. He has 14 years' experience in the planning and development industry in the North West – both in the public and private sectors. Bringing a wealth of residential and strategic land experience to the team, Matt's clients have included housebuilders Seddon, Barratt, Bellway, Miller and Russell and developers Brookhouse, HIMOR, Investar and Peel.
He was instrumental in gaining consent for The Trafford College Group's redevelopment of Stockport College and Investar's associated mixed-use Royal George Village. Additionally, Matt has appeared at planning inquiries and local plan hearings, giving evidence on authorities' five-year housing land supplies.
Matt started his career in local government working for West Lancashire and St Helens Councils, before joining Cheshire-based The Emerson Group in 2014. He is a chartered town planner and a member of the RTPI North West's Regional Activities Committee. He is also a fellow of the Royal Geographical Society.
Peter Tooher said: "We are delighted that a planner of Matt's calibre has joined the Nexus team. He will certainly add further depth to the service we provide to existing and new clients, not least in the residential sector, one of our key growth areas."
Matt said: "I'm excited to have joined the RTPI Planning Consultancy of the Year 2020 and to be given the opportunity to further develop the consultancy's residential and strategic land work."
Nexus Planning has key offices in London, Reading and Manchester. It was established in 2013 and won RTPI Planning Consultancy of the Year 2020.
::
Big Partnership, the UK marketing and communications agency, has appointed Rob McCann as head of its Manchester office as it plans to ramp up investment in the North of England.
Rob joins the 95-strong agency as a board director and will work closely with Big's existing board to drive forward the agency's ambitious growth plans across the UK.
Coming to Big from his previous role as head of client services at Manchester agency BBI, and prior to that Yorkshire agency Jaywing, Rob brings more than a decade of agency experience across integrated marketing, digital and communications. His previous clients include Sky, BT Sports, Hoover, Halfords, DW Sports, ADT and Jewson.
Big's CEO, Allan Barr, said: "Rob's appointment represents a major signing for our agency. He is a well known and highly respected figure within the North West agency scene and brings a huge amount of experience in successfully leading integrated accounts for a multitude of household brands.
"I'm excited by Rob's vision for Big in Manchester. He has a proven track record of creating major campaigns that have delivered impressive results for clients and we believe he is the right person to lead our operations in the North West. We're backing him with a major investment to significantly ramp up our Manchester team and he's already identified several key signings that we'll be unveiling in the coming weeks."
Rob McCann said: "I've been keeping an eye on Big's Manchester office for a few years now. From a standing start, it's grown to become one of the UK's largest independent agencies and one of only a few who can truly boast a full service offering to its clients. Once I learned of its plans to significantly ramp up its base in the city, I jumped at the chance to become a part of that journey.
"As the industry evolves, I believe we are seeing a trend in clients looking to benefit from the economies of scale and efficiencies that come with having a single agency partner to cover all their marketing and communications needs. Clients often don't have the time to brief multiple agencies and deal with what can be competing interests. As a full service agency, I believe Big is ideally placed to capitalise on that shift."
Big provides PR, marketing, digital, public affairs, design and events to more than 350 clients nationwide, from offices in Manchester, Glasgow, Aberdeen and Edinburgh. Clients include the likes of Apple, Red Bull, NatWest, Peel Ports, The Macallan and Aldi.