People: R&B Switchgear Group; Rapleys; Exchange Chambers; Nugent; Vee24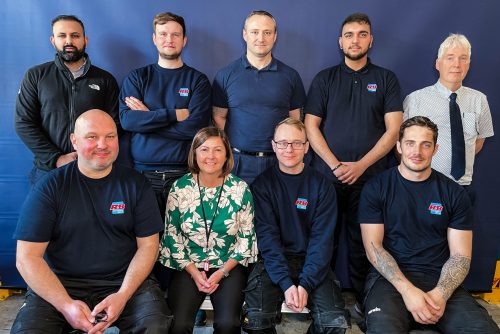 Heywood specialist engineering firm, R&B Switchgear Group has bolstered its team with 14 new hires as the company seeks to create a focused, high performing culture, primed for a new era of growth.
The talented new recruits have been appointed in response to soaring enquiries and landmark contract wins and will support the business's growing finance, operations, engineering, project management and CAD departments.
Mohsin Nawaz joins as group financial controller and brings with him 10 years of industry experience. He will take on a strategic role, using data and insights to drive growth across R&B's global network which spans the UK, USA and APAC regions.
The company's engineering department has also undergone an exciting transformation following a nationwide campaign to attract the industry's top talent.
Among the newly appointed experts are Paul Casanove, who brings a wealth of testing experience from Siemens, Mike Hardy, who joins from Anord Mardix, Alison Rhodes starts in a newly created operations coordinator role, and Lukasz Rudnicki who will bolster the group's electrical design capability.
In Scotland, Robbie McMillian will build on R&B's marine credentials, drawing on his training with the Ministry of Defence and, V.Ships. Scott Ritchie brings five years' experience with Terasaki and Jordan McDonagh returns having acquired industry insights from Schneider and Anord Mardix.
The company's retrofit and Whipp & Bourne expertise has also been supercharged with two key hires. Heath Horton brings 13 years' experience from legacy manufacturer, Hawker Siddeley, and David Billington returns as technical project manager to help diversify the existing heritage offer.
Managing director, Mark Beswick, said: "This is a historic moment for R&B Switchgear Group, and we are delighted to welcome so many skilled experts into our ranks as we set the foundations for the future.
"As specialists in our field, we strive to engineer bespoke solutions for our clients. Every project we work on is unique, which is why we need to attract unique talent and nurture the unique skills within our team.
"We are excited about the potential to grow our service offer and embrace new ideas and new technology to ensure we remain at the forefront of our industry."
This strategic expansion comes as the company celebrates landmark project wins with new and existing clients, including the UK Atomic Energy Authority, Tesco, the NHS, Tata Steel, Royal Caribbean, and P&O UK.
Newly-appointed project manager, Robbie McMillian, said: "The vision and potential of the R&B Group of companies is hugely exciting to me. With a legacy spanning more than 35 years, the business has evolved a great deal over the course of its history – and it continues to tackle new technical challenges and set new industry benchmarks.
"I look forward to joining the team and working towards a bright, bold future for the business and its people."
::
Andrew Bradshaw has joined Rapleys, as a town planning partner in the Manchester office, from GL Hearn.
He has more than 25 years of experience working in both the public and private sectors and is a specialist in residential planning and development and town centre regeneration.
He said: "I am delighted to join Rapleys as a town planning partner and look forward to working with the team to grow the business in the residential and town centre regeneration sectors."
Andrew has extensive experience in promoting and securing planning permission for new residential developments and preparing town centre strategies and masterplans.
Key projects Andrew has worked on include the negotiation of numerous planning permissions for Homes England across the UK and the preparation of town centre masterplans in Newbury, Blackpool and Rochdale.
Lead town planning partner in Manchester, Richard Huteson, said: "We are pleased to strengthen our team in Manchester through the appointment of Andrew who will be leading on the residential sector in the North West."
The appointment of Andrew as partner now equips Rapleys' town planning team with nine partners who provide assistance in relation to the planning system across the UK through their network of centrally located offices.
::
Ian Whitehurst, from Exchange Chambers in Liverpool, has been appointed to a number of new academic roles, reflecting his expertise in financial and cyber crime.
Ian has been appointed as a guest lecturer at Northumbria University in financial crime and a guest lecturer at Nottingham University in cyber crime. He will deliver a series of lectures over the next academic year.
The appointments complement Ian's existing role as an associate lecturer at Liverpool John Moores University.
Ian has also been invited to deliver a guest lecture at Galway University in February 2022, in relation to the use of technology in the criminal trial process and how to challenge forensic computer evidence focusing on the prosecutions arising from the Post Office litigation.
This follows on from a previous series of guest lectures at Galway, Ulster Universities and University College, Dublin on cyber-related crime issues.
Ian, who has long been ranked a leading junior in Chambers UK and the Legal 500, said: "I am delighted to complement my criminal practice with a number of new lecturing assignments.
"It is very fulfilling to help develop the next generation of lawyers."
::
Independent charity, Nugent, has announced a new addition to its all-female leadership team to drive forward its ambitions to transform and raise standards across the care sector.
At its annual leadership summit this week, the Liverpool-based charity's CEO, Normandie Wragg, welcomed Sarah Dimmelow as its new chief operating officer. Sarah joins Nugent from Polaris Children's Services where she was managing director, and brings with her more than eight years' experience at executive level. In her role at Nugent Sarah will act as its executive lead for safeguarding.
Completing the team is Joanne Henney, Nugent's deputy chief executive and chief governance officer, a role she has had for more than two years. Joanne leads the organisation's growth plan alongside Normandie.
Now in its 140th year, Nugent is an independent registered charity that provides life changing and life saving care and support to the most vulnerable children, young people and adults in society, through its network of schools, care homes, and community and social work services.
The leadership team will now drive forward an ambitious agenda for change in funding to create positive outcomes for its people and beneficiaries, especially post-pandemic.
Normandie Wragg said: "If the pandemic has taught us anything, it is that we can never rest on our laurels and we have to be ready for every eventuality.
"With the addition of Sarah, I am confident we now have a leadership team that can drive forward an ambitious strategy that will innovate and expand our services at a time when they are needed the most, to fulfil our vision of becoming a truly outstanding organisation and to ensure the charity has the biggest impact on the lives of the people we are proud to serve."
She added: "It is incredible to think that Nugent has been around for 140 years. It is now about taking that proud legacy forward and learning from the past to push forward change in the care sector that improves the life chances for all."
Sarah Dimmelow said: "I am very excited to be joining Nugent. Having spent time with the trustees and leadership team recently, two things really stood out.
"First, values drive the work of the organisation. How we treat others and how we behave as individuals defines our impact and our success. Second, the quality of services is paramount. Keeping children and adults safe, secure and able to reach their full potential defines not just our purpose as an organisation, but our professional identity. As someone who shares these priorities, I am keen to join and support Nugent's journey."
To celebrate its 140th anniversary and help continue its work in supporting the most vulnerable in the community, Nugent hopes to raise at least £140,000 in unrestricted donations by the end of this financial year.
::
Vee24, a specialist in person-to-person digital customer experience solutions, has announced that Jeff Barovich has joined the company as senior vice president of global sales.
The addition of Barovich to the management team is an acknowledgment of the rapid growth the Macclesfield company is experiencing and the worldwide reach of Vee24's live engagement technology, it said.
As the newest member of the leadership team, Barovich's responsibilities will include supporting a disciplined sales process, motivating the global team to reach the next level, and demonstrating to leading brands how Vee24 helps them accelerate their digital business with immersive, connected virtual customer engagements.
Chief executive, Joseph Noonan, said: "We're excited to welcome Jeff to the Vee24 team and looking forward to his leadership in growing our worldwide sales operation. As virtual shopping continues to grow exponentially, it's clear that successful retailers are turning to Vee24 to launch white-glove sales and service that meets the needs of discerning online shoppers. Jeff's expertise will help Vee24 bring this technology to the world's biggest brands."
Barovich comes to Vee24 with a proven track record in sales leadership, including previously working at Forrester Research, where he held several sales leadership positions over a decade.
In those roles, he led the organisation's largest and most successful global sales teams, helping marketing and technology executives build customer-obsessed strategies. Barovich has also led sales organisations at high growth SaaS companies, including Invoice Cloud, Neolane, and Cymfony, and he'll bring the expertise he built driving sales team growth and new client acquisition to the Vee24 brand.