People: Hurst; 438 Marketing; Payl8r; GHP Legal; Prepare to Achieve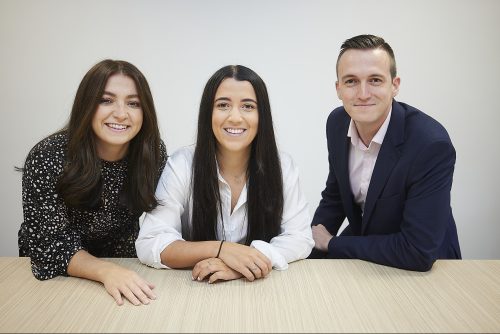 Accounting and business advisory firm Hurst has strengthened its fast growing business services team with six appointments.
Robyn Vandesande and Lizzie Hill have joined the North West firm as seniors, while the arrival of four graduate trainees has also bolstered the ranks.
Robyn has joined Hurst from KJG in Manchester, while Lizzie has moved from Langricks Chartered Accountants, which has offices in Cheshire and West Yorkshire.
The trainee recruits are Daniel Bulman, who has a music degree, economics graduate Jack Deegan, geography graduate Sam Green, and Bertie Watts, who has a physics and maths degree.
Meanwhile, Katie Waud and Ryan Tattler have been promoted to manager level. They are the latest promotions in the burgeoning team and more are due to be announced in the near future.
Partner, Mike Jackson, head of Hurst's business services team whose work for clients includes audit, compliance, strategic advisory, outsourcing and business planning, said: "We are seeing an exceptional period of growth across the practice, and within the business services team alone we have expanded our recurring client base by 25% in the past 12 months.
"Katie and Ryan have worked tirelessly to help clients through the challenges of the year, combining positivity with great leadership qualities. Their promotions are well deserved and reflect their fantastic contribution to the firm and our client base."
He added: "In line with the increasing demand for our expertise, we continue to invest in recruiting the right people while at the same time enabling existing team members to progress their careers.
"We work very hard to ensure the people who join us fit our culture. They must be passionate about helping our clients to achieve their goals, as well as being ambitious for themselves and the firm as a whole. Robyn and Lizzie fit the bill perfectly.
"At the same time, we are delighted to welcome to the team our four graduate recruits, who all came through a rigorous application process, and we look forward to seeing them develop their careers with us."
The latest additions take the Hurst team to 94. The firm expects its workforce to top 100 in the coming months in line with its expanding client base and a buoyant pipeline of deals for its corporate finance team.
The firm, which is gearing up to celebrate its 40th anniversary in 2022, has offices in Manchester, Stockport and London, and focuses on advising entrepreneurial owner-managed companies with a turnover of £5m and above.
Clients include entrepreneurial businesses such as Kinaxia Logistics, M&I Materials, London Lash, Beechfield Brands, Duerr's, Oliver Valves and Delamere Dairy.
::
438 Marketing has promoted Helenka Hodnett to managing director after a 14-year career with the Cheshire agency which has seen her play a pivotal role in securing major clients and business growth.
Helenka, joined 438 in 2007 as a graduate recruit and has risen through the ranks to be promoted from the role of client services director to take the helm at the agency.
She will work alongside 438's founders, Andy Whitmore and Paul Keen, who remain in the business and who will be focusing on business strategy and driving new opportunities for the agency.
Established in 2005, with offices in Knutsford and London, 438 employs 30 staff and has an impressive client portfolio, counting PepsiCo, Willis Towers Watson, Subaru, Isuzu, and Element Materials Technology, among its long standing clients.
Helenka said: "I live and breathe 438 – I've been here for 14 years – and have loved being part of such an entrepreneurial business.
"My appointment to the role of managing director is a huge privilege and fantastic opportunity. As we undergo a period of growth and expansion, now is the right time to build on the strong foundations already in place to make the business even better.
"Driving this change sensitively – maintaining the fabric of our culture which is so instrumental to our success – is something that I am hugely passionate about."
Helenka added: "We will always be a boutique agency, but this next stage of the business will be about nurturing and growing our existing client-base – many of which have been with us for a decade or more – as well as attracting new clients. Increasingly, our work is both supporting the digital transformation of national and multinational brands, as well as providing bespoke brand communications for SMEs via our WORKS by 438 function.
"2021 is proving to be a significant year us. We have secured some tremendous new opportunities from Assurant, Ecolab, Bright Horizons and Survitec, strengthened the depth of our team both in terms of creative and account management, and we have ambitious growth targets for the future. The coming months will undoubtedly shape the future of the agency and I'm excited about what is yet to come."
Paul Keen said: "Helenka is absolutely the perfect candidate to lead the agency and drive it forward dynamically into a post-pandemic, digital landscape of brand growth and evolution. From her incredible work on key accounts such as Element, Isuzu and TNT, to the instrumental role she has played in helping to grow the agency, she is part of the fabric of 438 and central to our success.
"There was never any doubt that she would be managing director one day and when she joined us 14 years ago, we knew that she was extremely talented. Her commercial acumen was evident right from the start – she even asked for a pay rise before she accepted her inaugural role with us."
He added: "Having weathered the impact of COVID and emerged from the pandemic stronger than ever, now is the right time to inject even more energy into the business and Helenka has the full backing of the board to make the changes needed to ensure it continues to thrive."
438 was founded by Andy Whitmore and Paul Keen in 2005. Its board members include Helenka, and its two creative directors, Damian Rawcliffe and Mike Willig.
::
Manchester's millennial buy now, pay later finance firm, Payl8r, is building a new in-house creative team and has appointed Stephen Bagshaw as creative director and Chris Pullan as head of marketing to help take the business to the next level and reach its ambitious growth plans of being a £1bn-turnover fintech business in the next five years.
Bagshaw, who honed his skills at advertising agencies such as JWT, MAP and Refinery during his 25 year career, has been given a blank canvas at Payl8r to bring in big creative changes. Having worked within the fashion, leisure and tech sectors for brands such as Alton Towers, Umbro and Deloitte, his vast experience of Payl8r's target millennial market, along with his creative ideas and strategic acumen, prompted Payl8r to hire him on the spot.
He said: "Joining Payl8r was a no brainer for me, as I've been given total autonomy to take the brand forward by a brilliant senior management team who trust in me. I already know where we need to go and am in the process of making big changes – the impact I could make on the business was too good to turn down."
Chris Pullan has also been appointed as head of marketing after working for a mix of large FMCG, e-commerce and most recently as a consultant and non-executive director for large domestic companies, including FTSE 100 companies.
A digital expert with years of f-tech experience, Chris and Stephen will lead the growing marketing team, which currently comprises seven experts in their fields.
Chris said: "I'm absolutely delighted to have joined Payl8r at the beginning of an exciting period of growth and expansion. Coming from a fintech background, I hope to make a big contribution to Payl8r's plans to be the go-to brand go to for buy now, pay later finance."
In August, Payl8r announced its first institutional funding line with Conister Bank, an achievement that will boost the award-winning business's expansion plans. The funding will enable further growth by helping Payl8r grow its customer base, partner with larger brands, move into new sectors, and bring new products to markets.
Payl8r's managing director, Sam Fogerty, said: "Our aim is to become the number one brand for retail finance and talent like Stephen and Chris will play a major role in helping this happen. I hope that building an in-house creative department underlines our commitment to growing rapidly in the sector and also our confidence that we'll achieve this."
::
North Wales and Shropshire law firm GHP Legal has announced the appointment of a new solicitor to the firm's 10-strong team of criminal law specialists at its Wrexham head office.
Lorraine McClure, a keen coastal rower from Jersey in the Channel Islands, made the move to the UK earlier this year, specifically to focus on criminal law.
After beginning her career in the Jersey finance industry, Lorraine qualified as an Associate of the Chartered Institute of Chartered Secretaries and Administrators before completing a law conversion and Legal Practice course at the University of Exeter in 1997. She later took a position as a legal assistant and by 2012 was working as a qualified Advocate of the Royal Court of Jersey.
Lorraine re-qualified as a solicitor of England and Wales two years ago and decided that she wanted to move to the UK to work in criminal practice. During her many years of experience in dealing with criminal law matters in the Channel Islands, Lorraine regularly attended the Magistrates' Court in Jersey and gained vast experience working as a Duty Police Station lawyer.
Euros Jones, a partner with GHP Legal and head of criminal law, said: "Lorraine has a wealth of knowledge and experience and is driven to succeed, making her a perfect fit within the team. She is currently working towards becoming a member of the Law Society Criminal Accreditation Scheme of England and Wales and is already proving to be a great asset to our criminal law department.
"As one of the largest law firms in the area we deal with every type of offence, including juvenile offences. Lorraine was drawn to the fact that we are able to provide consistency by representing clients throughout their case, from police station to Magistrates' Court and Crown Court."
::
Prepare to Achieve, a specialist apprenticeship end-point assessment service based in Bootle, Merseyside, has appointed Julie Sizer as its managing director.
Julie brings a wealth of experience from the Further Education sector, having dedicated the last 30 years to the industry.
Previous roles include leading DART Training, a specialist land-based training provider offering apprenticeships in Derbyshire, Nottinghamshire, Leicestershire, Staffordshire and South Yorkshire. Julie was also assistant principal at South Staffordshire College and chief executive at NTC Training, an organisation that specialised in training apprentices in the health and social care sector.
Prepare to Achieve works with employers and training providers in the health and social care sectors, to support them in their assessment of their healthcare professionals. As the number of apprenticeships continues to increase, it is now mandatory to assess the calibre of their apprentices at the end of their training.
The Prepare to Achieve team works with employers and training providers to ensure their Adult Care Workers (Level 2) and Lead Adult Care Workers (Level 3) apprentices have gained the knowledge, skills and behaviours required of their training.
The team uses the Situational Judgement Test (STJ), an online multiple choice test, and Professional Discussion (PD), a 45-minute interview to assess candidates on completion of their training.
In 2020, Prepare to Achieve worked with 39 different health and social care employers to support their apprentices through the end-point assessment.
Julie said: "I am delighted to have joined Prepare to Achieve in what is a pivotal moment in the health care sector.
"The combination of a shortage of workers in the health and social care sector and the Government's commitment to growing apprenticeships means it is more important than ever before to maintain quality of our apprenticeship provision. End-point assessments are a critical tool in maintaining this quality.
"As the impact of COVID and Brexit continues, health and social care employers' focus will be on recruiting and training new apprentices. I look forward to working with existing and new customers to support them in their apprenticeship training and development."