City's latest co-working space opens at Landmark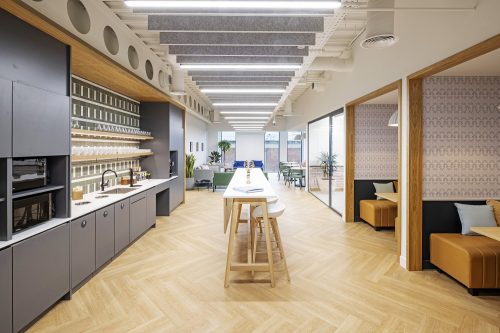 Workplace provider Industrious and real estate investment manager Barings have announced the opening of a new 32,000 sq ft flexible workplace in Manchester city centre.
Hana by Industrious St Peter's Square is located across the ground, second and third floors of Landmark, Barings' award-winning 180,000 sq ft development and marks Industrious' second location in the city, growing the brand's regional network to four locations across the UK.
Ralph Dorey, Managing Director, UK at Industrious, said: "As we continue to experience significant demand from global occupiers to incorporate greater flexibility into their workplace strategies, the opening of our St. Peter's Square location couldn't come at a more opportune moment."
He added: "We're thrilled to expand our reach in this thriving metro area, and provide an ideal flexible workplace solution for companies looking to either enter Manchester for the first time, or grow their current footprint, in an incredible destination building like Landmark."
The new space features 23 private offices accommodating more than 300 people across multiple conference rooms with state-of-the-art technology for both in-person and hybrid work and coworking spaces for individual workers.
The space also features a cafe, multiple lounge and seating areas perfectly suited for group meetings and collaboration.
Members can expect complimentary daily breakfast, coffee, tea and snacks, and a weekly calendar of virtual and in-person events.
Ian Mayhew, Managing Director at Barings, said: "The Hana by Industrious centre is a key component of the inclusive offering we have at Landmark and is launching at a time when flex space plays an increasingly integral role in business strategy.
"Not only does the space provide opportunities for businesses and individuals to take advantage of the benefits of a world-class building, it also offers additional options to the global occupiers we have in the other floors of the building."