People: Broadway Insurance Brokers; Base Architecture; Sundown Solutions; Champion Accountants; Voicescape; Exchange Chambers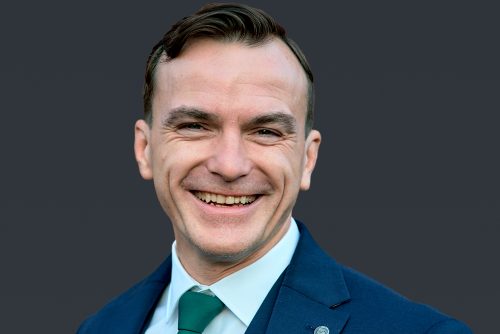 X

Register for free to receive latest news stories direct to your inbox
Register
One of the country's newest and most dynamic names in insurance broking has announced a further strengthening of its operations with another senior appointment.
The appointment of Martin Lilley as new director of corporate services is regarded as an indication of Broadway Insurance Brokers' growing status within the risk management industry.
It's the latest high profile post for Mr Lilley, who has advised some of Britain's biggest and most familiar brands in retail, sport and logistics during the course of a 25-year career.
His arrival comes just weeks after Broadway revealed it had significantly surpassed expectations during its first year in business.
Chief executive, Daniel Lloyd-John, has described how Mr Lilley's recruitment was in keeping with Broadway's intention of only hiring leading insurance professionals capable of enhancing the service provided to the firm's roster of business and private clients.
"Martin is genuinely acknowledged as one of the most experienced and capable individuals when it comes to advising both major corporate brands and emerging enterprises on their insurance needs," he said.
"To be able to attract someone of his calibre is not just tremendously exciting news for Broadway and its clients, but testament to the progress which we've been able to make in such a relatively short space of time.
"Martin adds even more credibility to a corporate offering which has already seen Broadway become the advisor of choice to many prominent North West companies."
He added: "The senior team which we have put together has made great strides and we'll be announcing further hires in the coming months to further develop the level of support which we are able to offer clients.
"It is that emphasis on providing a very tailored service of the highest possible quality which has quickly enabled us to appeal to a broad range of private and corporate clients across the North West."
A fellow of the Chartered Insurance Institute (FCII), Mr Lilley joins Broadway having spent the past decade working in senior positions with Marsh and AON, two of the world's largest insurance brokers.
The brands on whose behalf he has worked include many of the North West's best known and internationally recognised listed companies with turnovers between £10m and £17bn.
He is the latest big name in the domestic broking industry to join Broadway, which maintains offices at Ashley Hall in Altrincham, Cheshire.
Shortly after launching, the firm appointed Eleanor Moore as its private client director.
In addition to having spent more than two decades working for some of the North West's leading brokers, Ms Moore is also the current president of the Manchester Insurance Institute, the industry's oldest such organisation in the country.
Her arrival was followed by the recruitment of Robert Grindrod, one of the North West's best known and most experienced bankers, as its new director of business development.
Last month, Broadway disclosed that it arranged cover for more than £500m-worth of assets on behalf of corporate and private clients across the North West in the first year since it launched.
Mr Lloyd-John said the firm's existing corporate clients featured businesses right across the region involved in a wide range of sectors, including logistics, engineering, manufacturing, construction and property, with a "significant" number turning over in excess of £250m.
::
A Cheshire architectural practice has made a series of new appointments to support its burgeoning portfolio across the North West.
Base Architecture, which has its Chester office in Christleton Road, has welcomed four new employees to the team — architect Jake Boardman and architectural designers Harry Braid and Aaron Williams, with Jenny Powell taking on the newly created role of business and planning executive.
Managing Director, Harry Reece, said the new appointments came as the firm's reputation in the commercial and residential sectors spreads across the UK, and particularly Cheshire, the North West and Wales.
"Since we opened our Chester office in 2017, followed by our Conwy studio in 2019, our workload has increased by 40% with a 50/50 split between residential and commercial contracts," he said.
"We're now working on projects from as far south as Kent up to Yorkshire in the north and even across Europe, with a key focus on Cheshire and North Wales, which has led to the subsequent growth of our team."
Harry added: "Our new staff have been handpicked to ensure we continue to grow our reputation as architects that deliver innovative and creative solutions from concept to completion, and we look forward to seeing what we can achieve together in the coming years."
Jake, who graduated from Northumbria University, has spent the past seven years working in Manchester's competitive and growing commercial scene and Cheshire's flourishing private residential market.
His experience includes an extensive portfolio from award winning multimillion-pound developments working with some of the North West's biggest developers on numerous high rise residential towers, university halls of residence, office space and leisure facilities, to collaborating with private homeowner clients on high end residential schemes.
Aaron completed his Part I and II at Liverpool John Moores University and joined Base from a multi-disciplinary practice, working in a variety of sectors including residential, education, industrial and leisure. He is currently studying for his Part III qualification to become a fully qualified architect.
Harry Braid graduated from Part I of his Architecture qualification at the University of Wolverhampton in 2019, with an award winning final project and has worked with several practices in Birmingham and South Wales on a variety of projects from smaller householder applications to larger schemes for commercial developers. He has is now studying for his Part II qualification.
With a Master's Degree in Planning, Jenny will use her background in strategic planning, public/private partnership working and community engagement gained at several local authorities, to support the senior leadership team and help deliver Base's strategy for growth across the region and beyond.
Jenny said: "The creation of my new role demonstrates the importance Base places on inward investment, as well as supporting and servicing our clients. My experience in planning, specifically in heritage, land use planning and certificates of lawfulness, will mean I work closely with senior associate and Chartered Town Planner Joe Salt on planning issues."
Base also has an office in Shrewsbury that serves its client base in the Midlands and the south.
::
Accrington-based Sundown Solutions has boosted the ranks of its senior management team with the appointment of Matthew Griffiths as head of client delivery.
The continued growth of Sundown Solutions has led to this new role being created, with Matthew being responsible for the delivery of technology projects and services alongside Sundowns project management organisation and services teams to ensure they meet the client's organisational and performance objectives.
Matthew brings more than 25 years of experience and joins the technology and cloud transformation consultancy from UKCloud. Prior to UKCloud, Matthew worked for boutique consultancy organisations and global system integrators focusing on regulated industries in the UK, Europe and the US and the effective use of data.
At UKCloud he worked with clients and strategic partners in the health, defence and the broader public sector focusing on projects where security, compliance and confidential computing were critical.
Sundown Solutions' CEO, Heath Groves, said: "Matthew's appointment is fundamental to the company's continued growth as we continue our business improvement programme that will see us increase our headcount from 40 to 90 people by next year.
"Matthew brings with him an excellent track record of delivering high value projects in sectors that require confidential computing and building strong relationships with both customers and partners. His insight and approach will help us to further expand our market share and build on the client success we have delivered to date. He's a fantastic addition to the team, and we're extremely confident he'll help shape our business in the coming months and years."
Established in 2009 to deliver specialist IT consultancy and services, the company now works with leading organisations such as the College of Police, National Audit Office, Takeda, Capita and the NHS.
Matthew said: "As a company, we deliver services and products which make a difference to the organisations we serve and the people they employ. The experience of working with Sundown is as important as the outcome in that we value being the trusted technical partner for our clients and someone they can rely on.
"I'm looking forward to working with the board and the management team in helping to build what is already a strong brand with a clear approach and company values. We're a business that's known for helping clients make technology work for them, and not the other way round."
::
A Manchester-headquartered accountancy group has strengthened its team by adding 11 new recruits after a surge in demand for its services during lockdown.
Champion Accountants has bolstered its client portfolio in the past 18 months, as businesses have sought the support of professional accountancy and advisory experts in response to the coronavirus pandemic. The practice has expanded its team to ensure it can continue its promise of delivering outstanding service to businesses of all sizes and from all sectors.
The firm has recruited Craig Anderson (47), Bradley Wade (33), James Page (23), Angie Frangenheim (41) and Ben Wilkinson (31) to its payroll team, while Shan Syed (38) has joined the audit team alongside audit and accounts trainee Elle Millington (19). Keeley Roscoe (39) and Jack Holt (20) have joined the management accounts division, while Callum Foster (37) has also joined as IT manager, alongside Amy Lees (18) who has taken the role of apprentice administrator.
Champion Accountants – which also has practices in Chester, Preston and Blackpool – was established in 1971.
Ged Cosgrove, group managing partner, said: "The pandemic and resulting lockdowns caused hundreds of thousands of businesses across the UK to pay closer attention to their finances than ever before, with many never having had to consider things like loans, deferrals and redundancies and the impact they each have on cashflow.
"This, teamed with the usual challenges of running a business, saw demand for our services soar and we are pleased to have supported so many new clients during some truly unique challenges.
"To do so effectively – and as we look set to grow even further as companies scale up their operations – we knew we needed to bring a new cohort of experts into our team. These 11 new recruits each have individual specialisms but have demonstrated a collective willingness to hit the ground running and deliver the same level of client care we have become known for in our 50 years in business."
He added: "They're already making a valuable contribution to our team, with some only having been part of Champion for just a few short weeks. We look forward to seeing how their skills flourish with us and welcoming them on our growth journey as we move out of one of the most difficult economic periods in history."
New recruit, James Page, said: "Having worked in a similar role for the past three years, I opted to join Champion because it was clear that doing so would give me more opportunity to focus on my professional and personal development.
"I'm keen to constantly improve and in the short time I've been here, I've learnt so much from the team around me. No ask is too much, and everyone is willing to help one another. The culture at Champion pushes people to be their very best, helping them to constantly achieve more, and I'm really pleased to be part of the team."
::
The remote, digital services trend of the pandemic has helped drive 90% growth for Voicescape and led to nine new hires at the public services technology provider.
New demand from local authorities nationwide to enhance the digitisation of services has seen Voicescape grow beyond its social housing heartland to support more councils with compliance, collections, resident feedback and wellbeing requirements.
Expanding services beyond the social housing sector has seen the company create nine jobs at its Manchester headquarters, including two management hires in its customer success team, along with the appointment of a new business development manager and a new account manager. Voicescape has also grown its R&D team with the appointment of a new support engineer and an IT apprentice under the Government's Kickstart scheme.
As a result, company turnover has increased by 90% in the first half of its financial year, compared with the same period in 2019, and is recruiting for a further two roles across the company.
John Doyle, founder and CEO, said: "Local authorities have been increasingly embracing digital transformation – a trend that has been accelerated by the impact of the pandemic. This is changing approaches to core operational ways of working and how councils connect with the public and is a sign of long term evolution in service provision.
"We've innovated and diversified our range of services, building on best practice honed over more than a decade of working in partnership with housing associations to provide local authorities with new ways to work efficiently that also help improve public services and satisfaction.
"Our work has proven that processes can be digitised and automated, allowing valuable resources to be redeployed to other service areas to enrich the 'human touch' and create meaningful connections that members of the public really value."
The past year has seen Voicescape work with local authorities to address the approach to collecting council tax arrears. Using its collections service – an automated outbound telephone call and management system – councils are able to recover council tax arrears and increase resident engagement with a proactive and positive approach.
The automated solution also frees up resource within teams so it can be allocated to better supporting individuals that may need extra help with repayments, without the need for punitive and costly enforcement action.
John Doyle said: "We've expanded the team and will continue to make new hires to meet growing demand and to uphold and exceed the high levels of service our housing association clients know us for. There's a significant government-led shift towards improving the standards of public and housing services, and we'll continue to invest in expertise that delivers solutions for meeting changing compliance requirements and enhancing resident satisfaction."
::
Barrister David Mohyuddin, QC, from Exchange Chambers in Manchester has been appointed a Deputy High Court Judge for a six-year term.
David has been appointed following an open competition run by the Judicial Appointments Commission.
He will remain in full time practice alongside his judicial commitments.
David was called to the Bar in 1999 and took silk in 2016.
His practice as a barrister covers general commercial litigation matters, corporate and personal insolvency, company law, fraud and asset recovery, banking and claims brought against professionals.
Exchange Chambers is a full service barristers' chambers based in Manchester, Liverpool and Leeds.