Plans submitted for £5m 36-bed Merseyside care home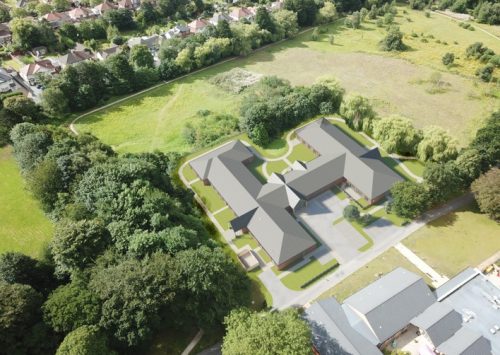 Plans have been submitted by Liverpool-based Parkhaven Trust for a new £5m 36-bedroom care home in Maghull, Sefton, which will help meet an increasing demand for high quality care facilities and accommodation in the local area.
The proposed purpose-built, 1,997 sq m, single-storey development will offer nursing care as well as a day service, providing vital support for people living with dementia.
Parkhaven Trust has provided care services on its estate on Liverpool Road South since 1988 and operates three other care facilities from the site, Parkhaven Court, the Willow Centre and The Beeches.
The application site was previously occupied by a single-storey building, demolished in 2012, and has been vacant since.
The wider 14.8Ha grounds are owned by Parkhaven Trust, which opens the park to the public to enjoy the woodlands and well established amenity gardens. The site's natural landscape will be celebrated and incorporated into the scheme, with all 63 trees on the site being retained.
Generous resident gardens will include sensory planting, circular paths and be well shielded, creating a green tranquil setting for the residents to enjoy.
Each of the scheme's 36 bedrooms will be en suite, and the communal spaces will include two flexible lounge/dining room spaces, a quiet lounge, a day room and a craft room. The building has been designed to avoid north-facing bedrooms and communal rooms are orientated to maximise views, aspects and the sun path.
Parkhaven Trust has been advised by Manchester-based planning consultancy, P4 Planning. The plans were submitted to Sefton Council and a decision is expected in early January 2022.
P4 Planning, alongside Bolton-based Seddon Construction, have project managed the planning submission, working closely with a trusted team of professionals.
Gillian Worden, P4 Planning director, said: "Parkhaven Trust is a well established, trusted member of the local community and is a major local employer. This development will create new jobs, not only during construction, but long term opportunities for Sefton residents.
"The proposed care home will help meet the evident demand for care facilities in Maghull and the wider area. Sefton's ageing population is set to increase in the coming decades and our proposal will meet this high local demand, providing local people with quality care accommodation."
Construction company, Seddon, is the contractor for the project and the architect is Condy Lofthouse.