Act on your 'eureka' moment to become the next disruptor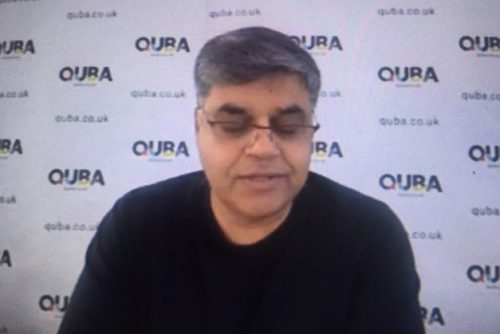 A true industry disruptor revealed his 'eureka' moment on the path to huge success, before five more potential success stories outlined their progress so far, at today's Disruptor's North online conference.
Ajaz Ahmed, founded Freeserve, the UK's £1bn internet company, an is chairman of Sheffield-based Quba, a web technology agency building big websites, applications and digital transformation projects for large organisations.

He was key speaker at today's The North's Next-Gen Disruptors session, which he opened by saying: "If you want to be a pioneer, the first think you need is a good idea. From that you need to have a eureka moment, which is usually a reaction to an event.
"In my case, when we founded Freeserve, it was simply I was a manager in PC World in Leeds and I had head about this thing called the internet. I wanted to get on the internet, and funnily enough, no-one in my shop, which was a computer business, could tell me how to get onto the internet. That was my eureka moment."
He added: "But it's not just having a eureka moment, you have to do something about it. If you speak to someone about it most will say, 'no'.
"It's like the Peter Kay garlic bread joke. He said to his boss he had seen the future and it was garlic bread. His boss said, bread, with garlic on it? No. But today, everyone is eating garlic bread.
"If someone has turned you down, what does that mean? Most of the ideas I get to see are poor ideas. The other thing I get to see is people who call themselves entrepreneurs.
"What's the difference between an entrepreneur and a business person? There's three things. An entrepreneur is someone who has got empathy with the customer, they can put themselves in the customer's position. They have also go more attention to detail and they can imagine it before it happens, whereas people can't imagine it until it happens, and there's many examples of that."
He advised would-be pioneers to also learn things like retail and the art of story telling, and how to write. He said many businesses can't get their message across on their website because of poor communication skills.
Ajaz also shared a cautionary tale about developing a business: "People think they are going to start a business and grow it organically.
"Quba came up with an event platform before eventbrite did. One of the mistakes we made was we didn't go out there and look for financial backing. Its doing quite well, but imagine how big it could have been if we had gone out there to raise money for the business?"
Closing, he added: "Learn to listen to that little voice in your head and that gut feeling you have got. It's no good in a few years' time thinking about something you should have done when really, all you had to do was do something about it."
Session chair, Alex Turner, joint managing director of TheBusinessDesk.com, then introduced five businesses from across the North who have found a niche and have the potential to be the exciting tech-led companies of the future.
First was Nikhil Seghal, co-founder and CEO of Vastmindz, an AI tool for remote physiology diagnostics to improve awareness of cardiovascular health and wellness.
He explained the technology is aimed at making health insurance more accessible, by allowing insurers to remotely track risk, becoming more inclusive. Mr Seghal added: "They reduce their claims risk while policy holders benefit from a health perspective."
Although based in Denham, Buckinghamshire, the business is working closely with health authorities in Leeds. Mr Seghal said: "Leeds has been the most receptive of NHS Trusts to new technologies."
The company is aiming to aggressively expand and has started to raise capital. Mr Seghal revealed that one of their most recent investors was Steve Wozniak, co-founder of tech behemoth Apple.
Cameron Lee, head of strategy with Manchester-based online payments fintech firm Total Processing, then outlined their great potential.
He said Total Processing powers the checkouts for more than 5,000 e-commerce business across the globe.
He explained: "Mid-pandemic we realised everyone's eyes were on the internet and bricks and mortar had died. We opened in Dubai and we have grown 100% during the pandemic."
Expansion plans include a focus on Europe, particularly Germany, including more opportunities in the Middle East, such as Oman and Qatar.
Mr Lee said: "We see ourselves tripling in size from a headcount perspective to 200-plus."
But he also emphasised the value of assembling the right workforce: "We are putting a lot of money into training people and making sure they know our mission."
He added: "We want to create a really global business from Manchester. In Manchester there's talent and we are able to get people who want to build something. We're proof you don't need to be in London."
Naudia Salmon is an entrepreneur and CEO of York-based WeDrifters, an innovative insect-repelling sleepwear that reduces 90% of insect bites which can reduce the risk of illnesses such as malaria and dengue fever.
She outlined the genesis of the company, saying: "I was travelling, but getting really badly bitten, so, that was my 'eureka' moment."
After establishing there was a market for her idea, Naudia said she realised that people are looking for better options across all areas of their lives.
She was part of the BUILD programme, which she said was incredibly helpful, enabling her to build a network.
Looking ahead, she said: "We're doing product development and hoping to extend our product range to go into everyday clothing, eventually, as well.
"We want to be at the forefront of empowering people to travel more safely."
She admitted that the pandemic has made conditions more challenging to engage with partners such as retailers and people in the travel industry, but added: "We're cautiously optimistic that things are going to pick up."
Gary Woodhead, is co-founder and CEO of Leeds-based Curveblock, a property fintech company that investors can back by buying tokens on a centralised exchange – combining the benefits of blockchain technology with the confidence of investing in bricks and mortar – albeit the buildings are delivered using modern methods of construction.
He said in the eyes of the Government the business is a fintech, but he prefers to be classed as a proptech.
He explained: "Real estate is the world's largest asset class, a $280 trillion asset class, but over 90% of the public are currently excluded from that asset class.
"Through digitisation you can digitise all future profits of the business and allow those digital shares to be owned by the public with a grand goal of ultimately making the public the financiers and the beneficiaries of the sector."
He said Curveblock's technology can offer a return on investment per annum at an average of 30.5%, saying investors can double their capital every two to three years. He added: "But they still own the digital asset, so every time we build and sell more houses they still get those dividends. It's evergreen. So, Tracey in Tesco who has only got £100, is able to play in that arena."
There are currently several sites either live or in the pipeline. Some are relatively small, while the biggest is 273 units in Sittingbourne in Kent.
He said: "The ultimate ambition is to roll this out globally. This is effectively Lego. It becomes infinitely scalable."
And he revealed: "We've already been approached by the High Commissioner of Canada to roll-out in Canada and I was with the CBI in London last week speaking to representatives from Jacksonville, Florida, keen to see this rolled out in their state."
He said millions upon millions of people want to play in this arena, which can create energy-positive houses that can de-carbonise the grid: "It's a win-win for the planet."
Manchester-based G20 Water Technologies is focused on water filtration, using graphene in membranes.
Chief operating officer, Craig Clement, said the market is ripe for G20's products, having not innovated over the past 30 years.
The company is aiming to 3D-print precision engineered membranes, to step change the performance of membranes.
He said: "The potential is huge. The water industry is key to life.
"People underestimate the energy that is consumed in providing people with clean water. If you can create technology that promotes water re-use, water reycling, then clearly you can have a big impact on carbon emissions as well."
Next year G20 aims to raise more funding, between £7-10m to get its technology to market.
Mr Clement said: "We're trying to leave a legacy and improve the environmental impact of water filtration that provides water in abundance.
"I'm sure a big partner will want to take this forward globally."
--- The Disruptors North conference is a free one day event brought to you by TheBusinessDesk.com alongside headline sponsors Deloitte, Clarion, UKFast and Quba which set the challenge for businesses to pick a side and decide whether to be the disruptor or the disrupted.
The virtual conference is also being sponsored by Nexus, Curveblock, Stickyeyes, Northern Powerhouse Investment Fund, WeLink and Ribble Cycles. It showcased the businesses already leading the charge and innovating from the north and the next generation of entrepreneurs and companies that are aiming to transform the regional, national and global economy.