US tech giant unveils plans for £61m Manchester data centre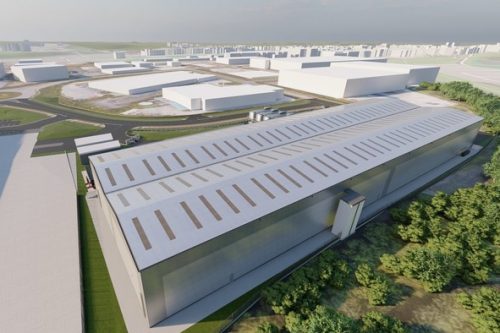 US digital infrastructure group, Equinix, is to build a £61m international business exchange data centre in Salford.
The facility, called MA5, based in the Agecroft Commerce Park, will be the Nasdaq-listed group's fifth data centre and is set to open in the first half of 2022, creating more than 50 jobs.
Equinix explained its choice of Manchester, highlighting that it is Europe's second-largest creative, digital and media hub, housing MediaCity UK— one of the world's most advanced media centres and home to BBC and ITV operations .
The city also has a fast growing technology scene, noted for eCommerce, and an emerging start-up ecosystem. It is home to low-latency connectivity through network routes to the US and has access to international subsea cables via Ireland and the West of England.
UK Science and Innovation Minister George Freeman, said: "The UK is one of the world's most digitally advanced economies. Through government and industry working together we are investing in new 5G and next-generation digital technologies to support UK businesses to build back better from the pandemic.
"Equinix's new Manchester data centre will not only help to create well paying jobs across Manchester and the wider North West, but will also make sure businesses have the digital technology needed to succeed and grow in global markets."
Lorraine Wilkinson, vice president of sales, UK, Equinix, said: "With a rich industrial history, Manchester has long been one of the UK's leading cities for business, catering to globally renowned companies and start-ups looking to grow and scale their operations.
"MA5 will provide high speed connectivity to the North of England, facilitating the next generation of digital transformation within the region.
"The new site will bring Equinix's total investment in Manchester to over £130m, and £1bn+ in the UK's digital infrastructure as a whole."
MA5 has been designed for high density deployments in support of digital transformation projects across industries.
It will offer state-of-the-art colocation, interconnection and edge services, including Equinix Fabric, Equinix Internet Exchange and Network Edge nodes, making MA5 an attractive new interconnection hub and remote geo-redundant deployment location for London.
Russell Poole, managing director, UK, Equinix, said: "This new investment is a significant addition to our existing portfolio in the UK.
"The site will cater to the growing number of enterprises — both regionally and internationally — that require ultra-low-latency connectivity to remain competitive. MA5 forms part of a wider investment in the UK's digital infrastructure, and further cements Britain's position as one of the most important markets globally to do business."
Findings from the Equinix 2020-21 Global Tech Trends Survey revealed that in the UK, almost eight out of 10 (79%) respondents said they agree Britain will remain a world leading international business hub for the next five years.
Additionally, more than three quarters (78%) agree Britain will remain a world leading international technology hub over the same period.
Katie Gallagher, managing director, Manchester Digital, said: "Greater Manchester continues to be a thriving region for both global tech companies and start-ups.
"We're pleased Equinix is opening their fifth data centre here, which will bring with it even more career opportunities for the tech industry, as well as supporting the city's digital infrastructure.
"We look forward to working closely with Equinix to support and develop the tech industry across the city as it continues to grow."