Hotter Shoes reports increased revenues following digital transformation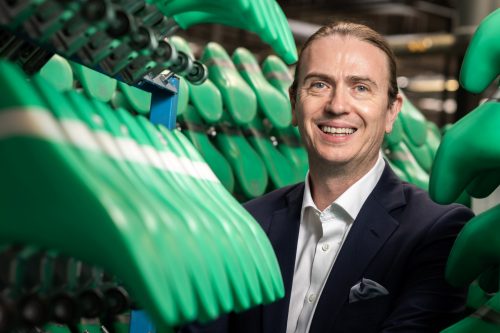 Hotter, one of the UK's leading footwear brands, has reported strong sales since overhauling its channel strategy to become a digital-first retailer.
In the 12 months to the end of October 2021, Skelmersdale-based Hotter generated revenue of £50.4m as the retailer praised "strong and extremely pleasing" trading in light of market wide supply chain issues and other headwinds facing e-commerce businesses.
UK sales surged 39% in the first six months of 2021, on 2020, recording a half year turnover of £25m, on a comparable £20m over the same period last year. In the first half Hotter generated EBITDA of £2.5m.
Founded in 1959, Hotter has excelled through the economic turbulence of COVID and Brexit, benefiting from the loyalty of its 4.6 million global customers.
Successfully offsetting declines across the retail sector, the brand, which has 17 stores and six concessions in the UK, compared with 82 pre-pandemic, now hails online as its core channel, with e-commerce accounting for 65% of all sales in 2021.
The retailer's growth has also been attributed to its £2m investment in its direct-to-consumer digitalisation including the launch of its augmented reality smartphone app aiding product choice and accessibility, and its dedication to its clearly defined, large and growing target audience.
With recent analysis reporting 78% of Hotter customers are over 55, the brand now successfully reaches 29% of the female population in the UK over the age of 55.
Chief executive, Ian Watson, says the company's quick, decisive action surrounding its digital strategy has allowed it to successfully navigate the economic challenges it has faced: "We are delighted with our performance so far this year. It is testament to our ongoing digital transformation, our agility to adapt well to changing market dynamics, and the expertise of our team who have worked impressively hard to deliver stellar growth in an unprecedented 20 months for the retail sector.
"We have managed to successfully navigate through the turbulent economic periods that are continuing to affect the sector, and Hotter is now a resilient and profitable online-first retailer."
He added: "We will continue to focus on the digitalisation of our retail channels as we move through the Christmas season and continue our growth towards becoming one of the UK's leading online retailers."
Selling more than 1.3 million pairs of shoes each year, Hotter says it currently leads the market in comfort footwear.
In the coming fourth quarter, Hotter's parent company – Electra Private Equity – has announced plans to become Unbound Group and list on the London Stock Exchange's junior AIM market.
Unbound Group will leverage Hotter's existing extensive customer database and its scalable digital infrastructure to offer a variety of products and services with related consumer benefits to the same targeted demographic.
This development to incorporate other products and services into the Unbound Group portfolio will be delivered through a curated Unbound digital marketplace working with similarly focused partners to enhance and support the wellbeing and active lifestyles of Hotter's existing community.
Watson says that Unbound Group will utilise the understanding of its customer base to connect with its demographic in a personalised, curated manner,
"We have made excellent progress to date at Hotter which provides us with a solid base to expand our focused offer and create Unbound Group as a specialist hub for our demographic, which we feel is currently underserved and misrepresented online.
"Our plans are well under way, and we are on track to launch our consumer site in H1 2022, it's a hugely exciting time in our evolution."