CAPSLOCK raises £1m pre-seed as demand for cyber security talent hits tipping point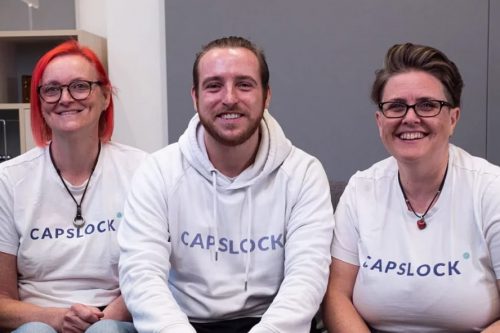 CAPSLOCK, a Manchester-based online cyber security bootcamp provider, has completed a £1.04m pre-seed round to help adults re-skill and land high paying jobs in cyber security, while simultaneously plugging the skills gap and deferring more than £1m of up-front tuition fees.
The pre-seed investment was completed in two tranches and investors include Ufi VocTechTrust, GC Angels, the British Government, and a group of nine angel investors.
The organisation says that, as the world continues to move towards a digital future, the unmet demand for cyber security professionals is becoming an urgent societal problem.
In March 2021, CAPSLOCK launched its pilot cohorts using Income Share Agreements, re-skilling 86 adults who didn't pay any up-front costs.
Professional dancers, chefs, military veterans, accountants, and other career-changers enrolled and have since started lucrative cyber security careers.
Dyson, BBC, ITV, BAE, HSBC, Boohoo, and PwC have all hired CAPSLOCK graduates.
As part of their Income Share Agreement, those graduates will repay a percentage of their monthly income back to CAPSLOCK over a set period of time, but only once they have landed a high paying role.
The pre-seed raise is one of the largest in the UK during 2021 and many investors recognise that there could be massive opportunities in the edtech sector, given that the shift from offline to online learning will continue long after students are allowed to return to physical classrooms.
Investors such as Tiger Global, Sequoia Capital, Google Ventures, and Y Combinator have all demonstrated their appetite for Income Share Agreements as a revenue model, too, and CAPSLOCK says it is now leading the way in the UK, having originated more than 140 FCA-regulated ISAs within its first eight months of operations.
CAPSLOCK has launched additional cohorts with the funding, taking its total number of cyber security learners enrolled this year to 172. In terms of cyber security enrolments, that is more students than any UK university has achieved in 2021, it claims.
Seventy per cent of CAPSLOCK learners land a role in cyber security within just three months of graduation, it says, with an average outcomes salary of £32,200, demonstrating the buoyancy within the UK cyber security sector.
Ninety five per cent of learners enrolled complete the intensive CAPSLOCK bootcamp, which lasts 16 weeks full-time, or 26-weeks part-time. In comparison, universities see an average 72% completion rate, and other online bootcamps, such as Lambda School, see just 71%, claims CAPSLOCK.
The company was founded by Dr Andrea Cullen, Jonathan Slater, and Lorna Armitage. Together, they recognised that traditional education isn't meeting the demands of an economy which is increasingly focused on digital skills.
Alongside the unmet demand, there are also difficult diversity issues within the current tech workforce.
CAPSLOCK is launching new cyber security cohorts in 2022, with applications currently open to those who want to re-skill and help plug the cyber security skills gap.
Next year, CAPSLOCK will be developing a new curriculum to plug other key technology skills, such as secure software development and cloud engineering.It intends to raise a significant seed round to launch new curricula while scaling the current cyber and ISA offering.
Dr Andrea Cullen said: "Increasing diversity within the UK's cyber security workforce is something we're proud to be leading.
"It's at the heart of everything we do, from removing financial barriers with Income Share Agreements, through to encouraging people of all genders, ethnic backgrounds and types of neurodiversity to enrol and re-skill with CAPSLOCK.
"This funding allows us to scale throughout 2022, grow the CAPSLOCK team and look towards re-skilling thousands of UK adults a year."
Alex Bishop, investment manager at one of CAPSLOCK's investors, Ufi VocTech Trust, said: "At Ufi, we continue to be enthused by the unique learner proposition at CAPSLOCK, enabling learners to access skills needed for work in high demand sectors in the UK, such as cyber security, whilst removing the upfront financial barriers to training, through their innovative Income Share Agreement model.
"The evidence of impact demonstrated through the career transformations of their learners to date has been striking, with salary levels increasing post-enrolment across the cohort.
"We are excited to support the business moving forward as they scale their bootcamp model to even more learners."