£75m industrial scheme could support up to 1,500 jobs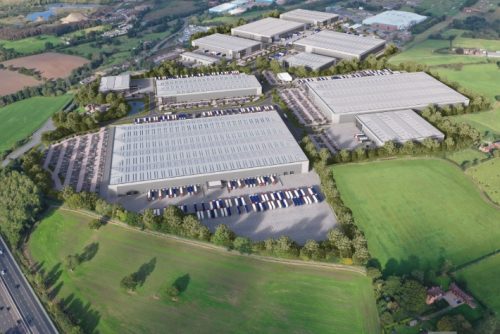 Plans have been submitted for the development of 1,020,000 sq ft of new warehousing and industrial floorspace as an extension to the Radway Green Industrial Estate, Alsager.
The planning application, which was lodged with Cheshire East Council this week, has been put forward by specialist warehouse investor, Warehouse REIT and represents a potential investment of more than £75m.
The development will expand the existing Radway Green Industrial Estate by extending it on to an adjoining 25 hectare site, previously allocated for employment use in both the Cheshire East Local Plan and Alsager Neighbourhood Plan.
If approved, the scheme will deliver on the ambitions that Cheshire East Council and Alsager Town Council have for job creation in the area and the wider Cheshire economy.
It has been calculated that the extension to the industrial estate could, when operational, support up to 1,500 new jobs in the area. These would follow the jobs created during the construction phase and many more which would be supported in the supply chain.
Through the introduction of modern new industrial and warehousing accommodation close to the motorway network, this development will enable Cheshire to take advantage of some of the fastest growing sectors in the economy.
In addition to the investment into the local economy, the proposals for the site also look to:
Significantly improve local footpaths to promote greater use as well as making visual and practical enhancements, making them clearer and easier to use.
Deliver more biodiversity through a series of environmental features that will retain or enhance the natural habitats currently present on the site. These features include ponds and more than 1km of new planting around the perimeter, providing a home for foraging mammals such as badgers and bats and amphibious species such as frogs, toads and newts.
Achieve BREEAM 'Excellent' rating through sustainable construction, the incorporation of renewable technologies andn biodiversity net gain.
Provide comprehensive cycling and walking infrastructure links to and around the site, with cycle storage and showering facilities for those who arrive using active travel modes.
Andrew Bird, managing director at Warehouse REIT, said: "Warehouse REIT is keen to support the ambitions of Cheshire East Council by developing this allocated employment site.
"Radway Green is a fantastic location close to junction 16 of the M6 motorway and this provides it with unrivalled, quick access to the major economic centres of the North West and West Midlands and has huge potential to create up to 1,500 jobs for local people."
He added: "As a responsible investor we are always considerate of the communities that we want to become a part of. That's why we are serious about delivering improved iodiversity, enhancements to local footpaths and going beyond our obligations with measures to minimise the impact on local highways.
"We have also launched a community engagement process to explain our vision for the site."
A hybrid planning application has been submitted to Cheshire East Council Planning Department. It will be considered by planning officers before being put before the Strategic Planning Board for decision. This is anticipated to take place before spring 2022.