Co-op Live on track to deliver UK's largest indoor music arena

Co-op Live, which will become the UK's biggest arena when it opens in 2023, is on track to deliver on its commitments with hundreds of millions of pounds in investment, thousands of jobs, and new community programmes within the first year of construction at the site in Manchester.
The construction project is one of the most significant to be undertaken in the UK following the pandemic and is already generating a hugely positive economic impact in the region.
Developers Oak View Group (OVG) and construction partner BAM began enabling works on site in November 2020.
Since then, £150m in orders have been placed with suppliers across the North West, boosting local employment and supporting the economic recovery following the pandemic.
These include a 9,000-ton order of steelwork from a depot in Bolton.
BAM is playing its part in helping OVG deliver the most sustainable arena in the UK.
During construction BAM is forming the concrete cores off-site, which has taken 630 lorries off the roads.
The use of modern methods of construction for the mechanical and electrical services and plant room installation has saved 50,000 hours of manual work on site, also helping to make the scheme much safer as well as a commitment to local procurement where possible to remove the impact of road haulage
The progress of construction of the arena has been rapid with extensive preparatory works completed on time.
The work in the last year has seen 105,000m of ground removed, equating to 53 Olympic swimming pools' worth, and over 1500 piles installed, together the same height as 265 Beetham Towers.
There are currently up to 400 people working on site daily and, over the three-year construction period, it will directly create over 3,350 full-time jobs. Co-op Live's commitment to local procurement is also supporting thousands of jobs throughout the supply chain in the North West.
Mark Donnelly, Chief Operating Officer, OVG International, said: "Co-op Live is already delivering on the promises to bring a huge private investment, thousands of jobs, and new community programmes to Manchester and the North West.
"We're still on track for opening in 2023 when we can create even more jobs and eventually bring the world's best events to this great city."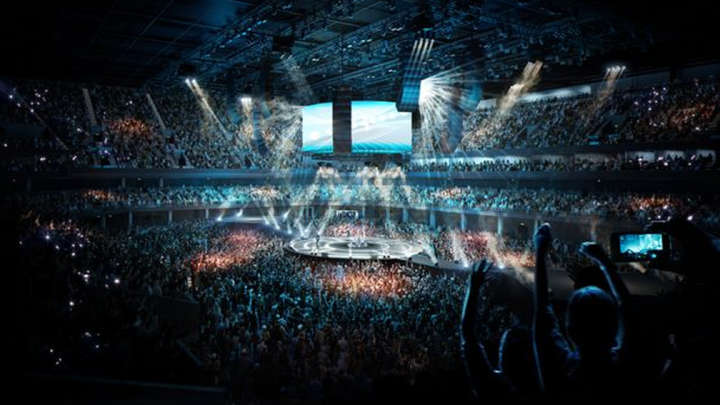 Amanda Jennings, Director of Customer Experience, Co-op said: "It is amazing seeing Co-op Live start to emerge from the ground and for us to really start to see how we will be bringing to life Co-op and the venue's vision.
"Co-operation across all the partners has been so valuable and enabled us to remain on track, meaning we will soon be able to engage our members, which is so exciting and, we will be able to start giving back to the local community without delay."
Stuart Prosser, BAM's Construction Manager, said: "One year in and we are pleased with progress and on track to deliver everything that was promised at the outset.
"The quality of our collaboration with OVG, CFG and Co-op has been outstanding and are great motivators for my team. Good partnerships can shift mountains and mean we can deliver so much more than just a building, by transforming an area and helping people around it."
Co-op Live was given the green light by Manchester City Council in September 2020, and since then it's been announced that Manchester-based retailer the Co-op is the naming rights partner while international superstar Harry Styles is an investor. In April this year, City Football Group was announced as equal joint venture partner in Co-op Live.