People: Cassidy + Ashton; Pilkington UK; IoD; M247; Belong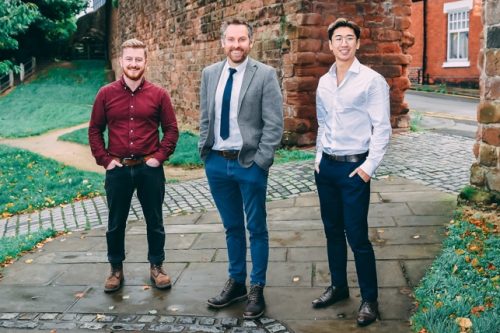 The Chester office of architectural, planning and building surveying practice, Cassidy + Ashton has appointed an architect and architecture assistant in response to a growth of client projects across the region.
Qualified architect, Richard Williams, and graduate, Regan Jay Lee, join Cassidy + Ashton's architecture and design team, bringing the total headcount in its Chester office to 14.
Richard previously worked at D2 Architects in Chester. Prior to that he worked for several practices in London where he began his career in architecture after gaining a Masters in Architecture from the University of Kent.
Regan recently graduated with first class honours and a Bachelor's Degree in Architecture from Liverpool John Moores University. He will continue his education towards full qualification as an architect, combining studies with his day-to-day work at Cassidy + Ashton.
Architect Dan Thorpe, head of architecture at the Chester office, said: "It's fantastic to welcome Richard and Regan to the Chester team. Richard is an excellent architect, his design ability has already made an impact, which, coupled with Regan's 'fresh out of university' enthusiasm and creativity, strengthens our team's continued delivery of high quality projects including working with Halton Borough Council, Cheshire West and Chester Council and the University of Liverpool.
"The appointments also reflect the excellent projects and new clients we have secured recently, who we are delighted to be working with. It's an exciting time for our Chester office and I'm personally proud to have the opportunity to lead such a great team."
With extensive experience in residential design, Richard has worked on many projects involving the extension and renovation of high value bespoke domestic buildings.
He seeks to gain experience in the commercial sector in his new role at Cassidy +Ashton and has a particular interest in ecclesiastical projects.
Richard said: "The Chester team is very inclusive, my new role at the practice feels like a natural progression in my career. There is a wide scope of opportunities to work across many interesting projects of great scale. I am particularly keen to work on heritage and ecclesiastical projects and developing community and civic architecture."
As part of the architectural and design team, Regan will be involved in both residential and commercial projects. He has a particular interest in contemporary design, working with sustainable materials and creating spaces and places that improve the wellbeing and experience of the people that use them.
He finds inspiration from the designs of Kengo Kuma, a Japanese architect famous for his creative use of natural materials and spatial creativity. He said: "I feel very welcomed by the team at Cassidy + Ashton. I'm really looking forward to working across an extensive range of sectors and it's been particularly exciting to be involved in master planning projects right from day one in the role."
::
Pilkington United Kingdom, part of the NSG Group, has appointed Neil Syder to managing director to lead the glass manufacturer as it adapts to an age of decarbonisation and targets new opportunities.
Neil brings more than 30 years' experience within the company to the post. Most recently as head of operations, Neil has brought a new standard of efficiency and customer focus to the St Helens manufacturing operations.
He was the second Syder to hold the position of head of operations at the glass giant, moving temporarily to Sweden as a child as his father established the company's Halmstad plant.
Neil began at the company working in R&D in the 1980s, building extensive experience over four decades in specialist glass coatings, running production lines, and operational planning.
He takes over from Matt Buckley, who takes retirement after serving as managing director for more than a decade and having spent 30 years with the business. The change takes effect from the end of December 2021.
Neil said: "It's an exciting time to take this new post, with the glass industry set to play a transformative role in an age of decarbonisation. We've undertaken the world's first trials in powering a glass furnace with hydrogen at our base in St Helens to help improve our carbon impact within supply chains, while simultaneously delivering the materials that will enable better energy performance in the built environment.
"What's more, Pilkington UK has a fantastic team with a wealth of expertise, operational efficiency, and range of advanced production capabilities to grow as an even more dynamic supplier.
"Agility will be crucial as we target more collaborative growth opportunities with our customers, while seeing off current headwinds facing the wider manufacturing sector."
Pilkington UK recently became the first glass manufacturer to trial the use of hydrogen in a glass furnace. In 2022 Pilkington UK will also mark the 70th anniversary of the float glass process – the method of manufacturing glass pioneered by Sir Alastair Pilkington in St Helens, Merseyside, and used to this day around the word.
In 2006, Pilkington was acquired by glass supplier The NSG Group, which today has principle operations around the world and sales in more than 100 countries.
::
The Institute of Directors has strengthened its Cheshire team with the appointment of Steve Hodkinson as an ambassador.
Steve is HR director for Müller Yoghurts and Desserts. A solicitor by training, he started in private practice as an M&A lawyer before moving in-house.
He has been general counsel and company secretary for businesses in several industries including Bentley Motors, Umbro, Brammer and Celestica Inc.
IoD ambassadors drive greater connectivity with members, support learning and development and give a local voice to the Institute, while ensuring that IoD national policy reflects local issues.
Steve, who holds LLB and MBA qualifications, joins recently appointed Cheshire ambassadors Stuart Waddington and Helen Tonks.
Richard Huxley, Cheshire branch chair, said: "We are building a strong Cheshire committee of ambassadors to support our members. Steve brings a wealth of experience in the legal and HR sectors which will be invaluable as directors and their businesses recover and build post-pandemic."
::
Global connectivity and cloud services provider M247 says it has lived up to its people first ethos and created an industry-leading innovation team, comprising a selection of existing employees and new recruits, to drive its product and service strategy.
The nine-strong team based at the company's Manchester HQ, brings together solutions architects and product managers – a unique approach within the industry and one that has eliminated silos from within the business, allowing the company to refine, evolve and develop solutions that satisfy the complete customer need.
Greg Hudson, head of technology, said: "Historically, like every other business in our sector, solutions architects and product managers worked separately which narrowed their focus and reduced the opportunity for collaboration. By uniting these two teams, it means that we can harness individual expertise whilst joining forces to not only respond to customer demand but also innovate and move ahead of the demand curve to further advance our offer to the market.
"The people who form part of this team are a hand picked group of highly experienced, experts who are used to working with C-Level decision makers and are not afraid to break down barriers and bring innovative thought leadership to the table for the benefit of the company and our customers.
"In such a fast-paced industry, it is vital to have a team like this at the centre of your organisation with a continual eye on the roadmap and continuing to innovate for the future and we know our customers can only benefit from these advances and the comprehensive 360 degree solution that we provide to them."
New appointments to the innovation team include Nathan Carroll, cloud solutions architect, David Palmer, network and security product manager, Auzzam Chaudri, cloud product manager and Karthik Ramiya, voice UC&C solutions architect.
They have been joined by existing employees Chris Beswick, network solutions architect and customer solutions architects Geoff Campos and James Smith. Further appointments will also be made to the team in the new year.
::
Dementia specialist care operator, Belong, has appointed Patrick Butler as the general manager of Belong Chester to head up the team when the care village and its nursery open their doors on City Road, in spring 2022.
Patrick, who lives in Nantwich, brings with him more than 30 years' care experience, including leading numerous care facilities across the region. Most recently, he held a number of senior positions with Bupa Care Services, overseeing multi-site environments with nursing, dementia and residential care provision, as well as taking up a regional director role and building positive relationships with stakeholders including local authorities, NHS clinical commissioning groups and the general public.
He said: "I'm thrilled to be leading the new Belong Chester care village. I'm passionate about care for all ages and, having previously worked in the city, I'm pleased to be back and looking forward to setting the highest care standards from day one. Our goal is to build what will become the premier dementia care service in West Cheshire."
Patrick's experience in childcare will also lend itself well to the post, with Belong Chester set to become the organisation's first care village with an on-site nursery, and the first of its kind in the North West. In the 1990s, he ran two successful nurseries in nearby Shropshire – both of which are still operating today.
The Nursery in Belong will provide a high quality care environment for up to 25 children from birth to five years, offering shared learning experiences for children and the village's residents, as well as a blueprint for intergenerational practice.
Stacey McCann, chief operating officer at Belong, said: "We're delighted to welcome Patrick to the team. He is incredibly passionate about care and his empathy and engaging manner have enabled him to foster strong relationships as he's earned his reputation as a care leader in the region.
"We know he is keen to make Belong Chester a happy place to live and work when we open in spring 2022."
Also joining the Belong Chester team will be Caroline Newton, who will be responsible for all care as the CQC-registered support manager. Caroline moves from Belong Atherton in Greater Manchester, having demonstrated an exceptional performance as lead senior support worker at the CQC Outstanding-rated care village. She was also named 'Best Carer who Contributes to Activity Provision' at the 2018 National Activity Providers Association (NAPA) Gala.
Recruitment at the village is ongoing, with opportunities for support workers at the village and home care in the community, catering, housekeeping and administration roles set to open in spring 2022.