North West business briefs: CityFibre; Port of Liverpool; Liverpool Sportswoman's Lunch; Bruntwood; Lightwaves
X

Register for free to receive latest news stories direct to your inbox
Register
CityFibre, the UK's largest independent full fibre platform, has joined Cooperative Network Infrastructure (CNI), supported by Blackpool Council.
As a CNI member, CityFibre will be better positioned to collaborate with local stakeholders to ensure residents and businesses get the best possible services. CNI brings together public and private sector organisations to create and share new digital infrastructures in and around Tameside, Blackpool, Manchester, Brighton and Sussex and streamline the building process.
The cooperative, which includes ISPs (internet service providers) and infrastructure providers, offers members wholesale access to fibre and exchange point facilities allowing them to build and operate advanced digital connectivity services. Nationally, CityFibre is building new and better digital infrastructure for up to eight million homes and businesses through its up to £4bn Gigabit City Investment Programme. In Blackpool, it is investing £60m in a new area-wide network that will bring full fibre connectivity – the best technology for the job – within reach of almost every home and business. Construction has been under way since April this year and is progressing well.
Steve Thorpe, city manager at CityFibre, who leads the Blackpool project, said: "With our teams already starting to build the network in the borough, collaboration and coordination with local partners is imperative. Membership of the CNI is a critical and positive step forward and we're looking forward to the new opportunities that this will bring."
Tony Doyle, Head of ICT Services at Blackpool Council, said: "We're pleased to welcome CityFibre to the CNI, which plays an important role in driving greater digital collaboration in the region, and look forward to their ongoing contribution towards the digital vision for Blackpool and Fylde Coast."
Chris Wade, co-founder and director of The Networking People (TNP), said: "As long standing members of the CNI, we're always pleased to see the ecosystem grow and CityFibre's contribution will no doubt be significant for Blackpool's digital future."
::
Dock workers employed at the Port of Liverpool have accepted a significantly improved pay offer.
More than 500 workers employed by the Peel Ports Group will receive a 4.5% increase backdated to June 1, 2021. This is a major improvement on the two per cent offer that was originally made, said trade union Unite.
Unite general secretary Sharon Graham said: "This is a noteworthy deal which not only addresses pay issues but also improves conditions for Unite's members. Unite is totally committed to defending the jobs, pay and conditions of its members and other port operators need to take note that attempts to undermine the pay of our members will be totally opposed."
The union said the deal is highly significant as it will put additional pressure on other UK port operators to follow suit. Despite ports recording extremely high levels of activity other major UK port companies, including Forth Ports and PD Ports, are trying to implement wage freezes or force workers to accept very low pay increases, which amount to a pay cut in real terms, said Unite.
Unite regional officer, Steve Gerrard, said: "This is an important settlement which met our members' expectations and which not only dealt with pay but other workplace issues that Liverpool dockers had demanded needed to be addressed."
::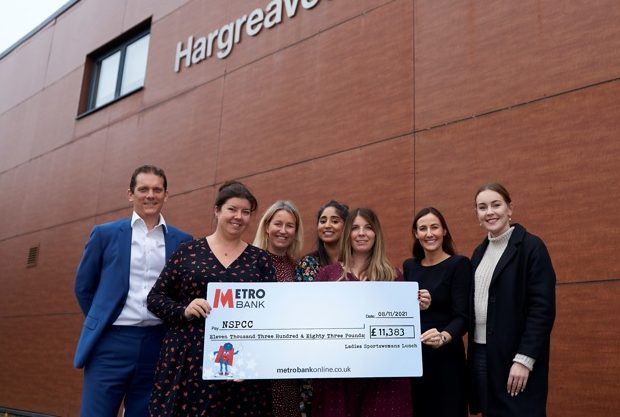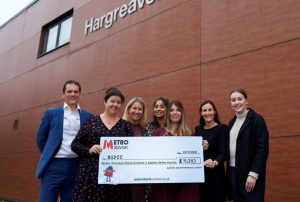 A special event in Liverpool helped raise more than £11,000 for the NSPCC, which will help support children and young people across the region.
The Liverpool Sportswoman's Lunch was created by Clare Brookfield of Professional Liverpool, Marena Mondair of DTM Legal and Natalie Dye of Bathgate Business Finance in 2017, as a way to celebrate the sporting achievements of women in the region.
This year's event took place at Anfield, the home of Liverpool FC, with a talk by Olympic cyclist, Elinor Barker, and raised £11,383 for the NSPCC – the highest total in the dinner's history to date. Clare said: "We realised that there were very few events that were focused specifically on women. There are plenty of sportsman dinners and lunches but nothing that focuses on the sporting achievements of women and, like that, we had our lunch."
She added: "We have been so lucky with the support we have received from the Liverpool business community over the years, and while our plans were hit by the pandemic, we were astonished by our ticket sales this year with 300 attending to raise an incredible amount for a really great cause."
Members of the board – which also includes Natalie Dickson of Brabners, Lucy Shotter of Bibby Financial Services and Lynne Pierce of Flavell Wealth Management as well as the three founders – presented a cheque for the amount at the NSPCC's Hargreaves Centre, and Tess O'Callaghan, NSPCC senior corporate partnerships manager, said: "We're absolutely honoured to have received such an incredible donation from all the generous guests and organisers of the Liverpool Sportswoman's Lunch, and incredibly grateful for their support."
::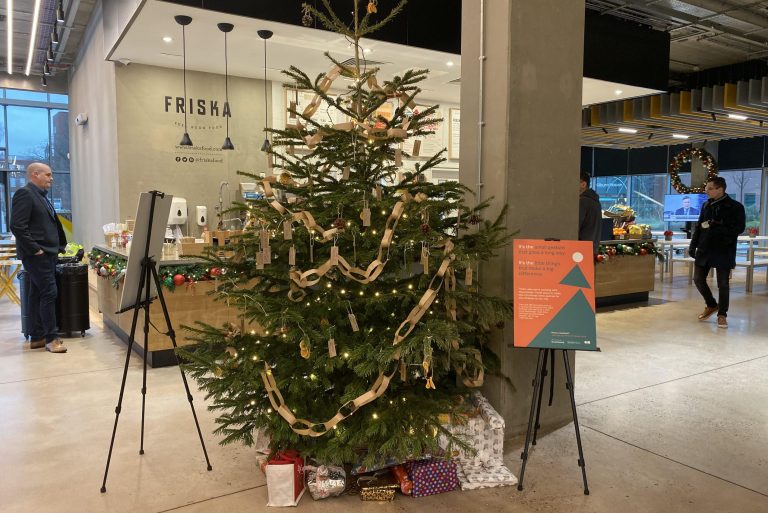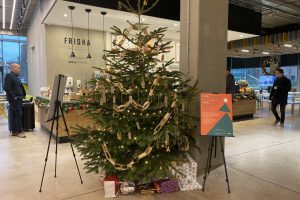 Manchester-based commercial property group Bruntwood has launched its Wishing Tree campaign for the third year to support local charities and communities during the Christmas period.
The Wishing Tree is an annual drive, during which Bruntwood partners with local charities within the city regions that they operate in – Birmingham, Cheshire, Leeds, Liverpool and Manchester. The charities work mostly with young or vulnerable people in the community, who are then invited to make a wish for a gift that would brighten their Christmas.
These wishes are hung on tags on the Christmas trees in Bruntwood's buildings, and customers and colleagues are invited to pick one and donate the gift. This year's charities include Grand Union's The Growing Project, Cre8 Macclesfield via the Cheshire Community Foundation, An Hour for Others, Flourishing Families via the Leeds Community Foundation, Manchester Youth Zone and HideOut Youth Zone.
Genta Haxhija, social impact manager at Bruntwood, said: "The incredible charities that we are supporting this year help some of the most vulnerable young people in our regions, so we are really pleased to be able to launch The Wishing Tree for the third time. The initiative gives the opportunity to our customers and colleagues to give back to our local communities and, in previous years, we have seen incredible generosity. We hope that this year will be much the same and we can make a real difference to those who need it most."
Since its launch in 2019, the campaign has donated more than 3,000 presents and this year is providing 2,000 tags across the regions, giving 2,000 chances for customers to donate a gift. Bruntwood's chief executive, Chris Oglesby, said: "Christmas is all about giving back and supporting those around you, and especially helping our local communities. At our core, we're a community-minded firm, and we care deeply about the cities we operate within, and The Wishing Tree demonstrates that commitment, especially to those who need it most."
::


Lightwaves is returning to Salford Quays this month with its most impressive and ambitious light festival to date. Taking place from Friday, December 3, to Sunday December 12, Lightwaves will illuminate Salford Quays with its most ambitious line-up so far.
Presented across Media City and Salford Quays, Lightwaves attracts thousands of visitors across the free 10-day festival, to explore a trail of illuminated installations that animate and transform the surroundings. Expected to bring in its largest ever audience, Quays Culture has announced this year's exceptional line up.
With a focus on bold new commissions, Lightwaves supports international artists alongside local and emerging talent. This year's spectacular commissions come with messages of protecting the planet and building a sustainable future. Lightwaves 2021 will see the arrival of the epic Floating Earth, by Luke Jerram. The centre piece of the festival, this awe-inspiring artwork lets visitors see our planet floating on the surface of the water in three dimension.
Situated in Mariner's Canal, Sirens, by Davy and Kristin McGuire, is a beautiful, but haunting, display of water-based projections, featuring life like mermaids and sea creatures as they encounter the devastating effects of plastic pollution and climate change.
Celebrating a UK premiere in partnership with Submerge, Cygnus by Loomaland is a mesmerising water ballet that features 12 synchronised, glowing robot swans. The magical birds are illuminated from the inside, gliding on the surface like ghosts and changing colours to the rhythm of the music that is coming from within their bodies. The work will be accompanied by a newly commissioned soundtrack 'Swan Songs' by Anil Sebastian, commissioned by Submerge earlier this year. Submerge seek to create opportunities for marginalised artists and to ensure that these voices are amplified within creative tech arts and music projects.